If you forget your morning coffee while you're in Sardinia, this Mediterranean island has a built-in solution: few things wake one up quite as quickly as rounding a bend in a supercar-style SUV and finding the road entirely blocked by a flock of sheep.
Fortunately, the brakes in the Aston Martin DBX707 work as well as the rest of the vehicle does. We came to a stop in time to watch a hundred or so sheep walk right past us as though nothing had happened. Crisis averted.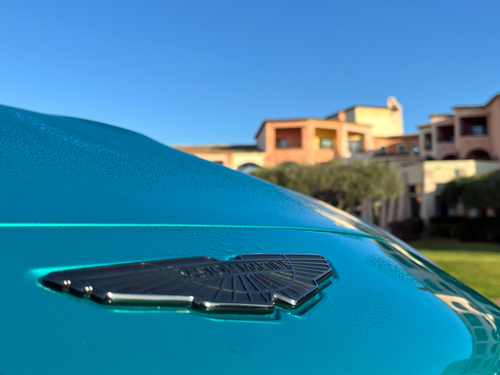 This Italian island is otherwise peaceful and pastoral, particularly outside of the peak of summer. Late winter daytime temperatures in the high teens may sound appealing enough to Canadians, but they're not especially favoured by European sensibilities. This makes the slower months an ideal time for exploring Sardinia's driving roads: here, rock-crested crags surround lush valleys, and curves in the road seem to hang from the hills as though built on a shelf.
These roads are made for the Aston Martin DBX707, the second iteration of a performance SUV from a brand that not so long ago declared it would never build SUVs at all. Such is the way of the world today: SUVs are in high demand, especially in Canada where they're chosen by more than 80 percent of buyers regardless of size or price. Any constructor unwilling to come along, it seems, risks being left behind.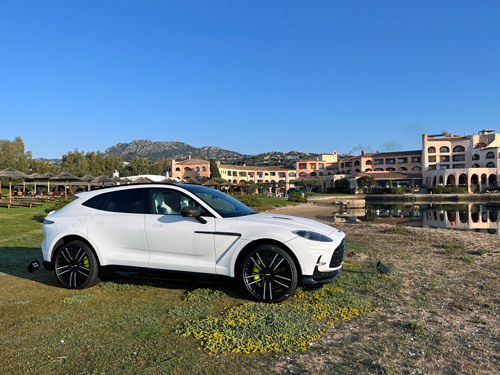 Fortunately, building an SUV with true performance cachet no longer requires significant compromise. Between developments in powertrain, suspension, chassis rigidity, and aerodynamics, a well-executed performance SUV can put power to the pavement with precision.
And the Aston Martin DBX707 is a well-executed SUV. The brand dubs this the "supercar of SUVs," and our time in Sardinia leaves us satisfied that this description is appropriate.
We should note, however, that the figure quoted in its name is not a direct reflection of the DBX707's horsepower, at least not in Canada. This SUV's 4.0-litre twin-turbocharged V8 produces 707 Pferdestärke (PS), a metric measure of horsepower slightly different from the North American standard. The Canadian specification shows the power figures at 697 hp and 663 pound feet of torque. This still places the DBX707 at the top of its segment for power output above the Lamborghini Urus and the Porsche Cayenne Turbo GT, which is the only point that truly matters.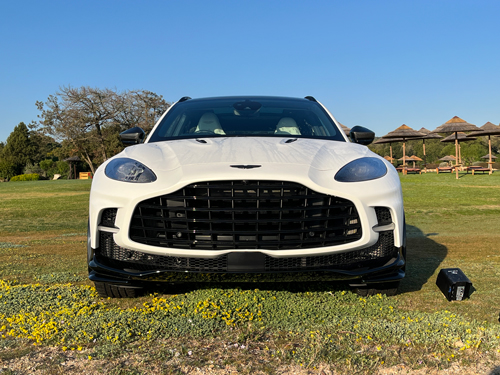 This engine is sourced from the AMG toolbox thanks to a technology agreement between Aston Martin and Mercedes-Benz. Front mid-mounted to give the DBX707 a weight distribution of 52:48, this engine hustles the SUV's relatively light 2,245 kilograms or 4,940 pounds from 0 to 100 kilometres per hour in 3.3 seconds to a top speed of 310 km/h, two more figures that land above those of the Urus.
A nine-speed multiplate wet clutch automatic transmission shifts 40 percent faster than the version used in the standard DBX. The DBX707 also receives a 7 percent shorter rear differential, which better distributes the massive amount of torque through the standard all-wheel drive system.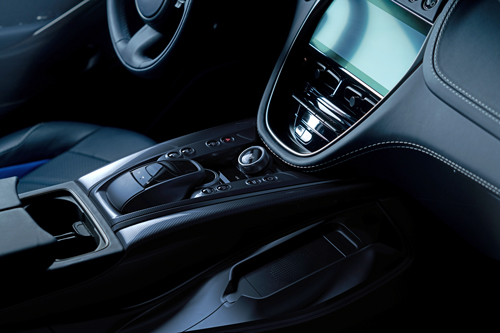 But none of this is quite as impressive as the DBX707's handling, a point that until recently has been a performance SUV's primary limitation. An improved front end lateral stiffness of nine percent versus the standard DBX does part of the work, but it's the standard triple-chamber air suspension with adaptive damping that truly steals the show. This configuration gives the DBX707 a ground clearance of 200 mm by default, allowing it to raise to 220 mm over terrain or lower to 175 mm for improved handling and cornering, depending on speed and drive mode. Power reaches the pavement through standard 22-inch or optional 23-inch forged wheels, and — fortunately for that flock of sheep — it has standard carbon ceramic brakes with 420 mm front discs, 390 mm rear discs, and 6-piston calipers to bring all this performance to a halt.
On the outside, the DBX707 has a 27 percent larger grille than the DBX, which aids in cooling performance. Flanking it, a pair of horizontal running lights is set toward the bottom corners, which Aston Martin's designers say creates an elbows-out look that makes this SUV appear ready to tackle any obstacle. There are small aero winglets on the side sills, but the most evident differences can be found at the back. Four 20-mm-diameter stainless steel exhausts sit below an elongated diffuser, which along with an exposed carbon fiber extension on the spoiler reduces lift on the DBX707 by 5 percent versus the standard DBX. Aston Martin says these updates have not changed the DBX707's approach, breakover, or departure angles, which measure 22.2, 15.1, and 24.3 degrees respectively.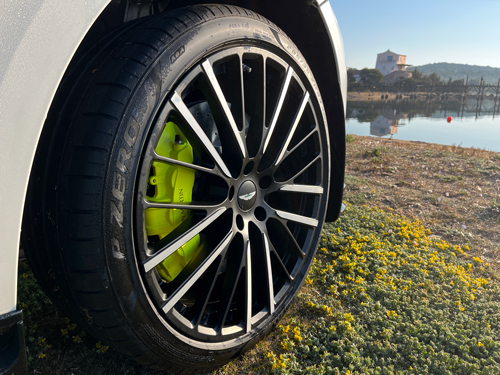 Most importantly, for all the capability it houses, the DBX707 is not overly complicated to drive. Most actions are completed at the push of a button, including starting the engine and shifting into gear. Five drive mode settings are selected through a simple dial mounted on the center console: terrain, the default GT, sport, sport+, and individual. Manual shifting can be completed temporarily by pressing on the steering column mounted paddle shifters or permanently through a button at the center of the drive mode selector, and while the engine note is automatically enhanced in sport drive modes, this setting can be activated at any time by pressing a button.
Drive modes aside, having nearly 700 horsepower at your disposal never feels like a handful here. GT mode feels relaxed without becoming overly compliant. Sport mode firms up the DBX707's handling noticeably but still soaks up imperfections in the pavement. Sport Plus is the most engaging mode for spirited driving, delivering an appropriate amount of urgency through shifts that are assertive without lingering. Most importantly, the DBX707 responds well to modulation. If you're ready to hustle, it's ready to come along; if not, it can meet you where you are.
The interior is a combination of supportive sport seats covered in semi-aniline leather offered in 38 colours, accented by glossy carbon fiber and extensive natural light through the large panoramic sunroof. Somehow, it exudes premium without feeling excessive.
However, the DBX and DBX707 have one important detracting factor, which is the dated infotainment technology. Aston Martin taps into the Mercedes-Benz parts collection again here to equip a modern infotainment system, but the latter constructor reserved its newest MBUX system with touchscreen capability and virtual assistant voice controls for itself. Instead, Aston Martin's SUVs employ the previous generation of Mercedes technology, which is controlled through a dial and touchpad interface on the center console and does not include a touchscreen despite being well within reach of the driver. Wired Apple CarPlay functionality is included, but Android Auto is not. This is not entirely out of line for a supercar brand, but it nonetheless takes away from the premium feel of a vehicle priced at more than $300,000 Canadian.
Regardless, the Aston Martin DBX707 is an exceptional SUV, even more so thanks to the approachability that accompanies its high-performance credentials. It's also properly beautiful, which is not something that can be said universally for high-priced SUVs.
The DBX707 may be an SUV, but its styling and performance still permit it to stand out in a crowd — or a flock.