It's no secret that the fat has been trimmed from the North American minivan segment to the point where there are basically just 4.5 models to choose from across the board. Toyota, however, sells quite a few of their entry into the segment, the Sienna, and if the all-new 2021 model is anything to go by, they're looking to sell quite a few more.
To do so, however, they know that they're going to have to reach the millennial buyer as that group is nearing its late 30s/early 40s and historically according to Toyota, it's that age group that buys these as they tend to be the ones with expanding families.
So what has Toyota done, then, to millennial-ize their van?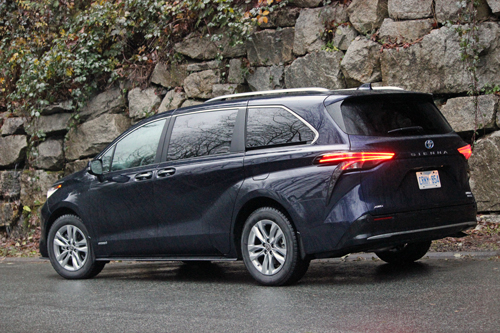 Well, it's available only as a fuel-sipping hybrid for a start, and Toyota has spent a tonne of time styling this thing – yes, a minivan with some style. What a time to be alive!
Toyota turned to two sources for inspiration, one internal, one external: latterly, the nose is shaped to reflect that of the Shinkansen trains in Japan, better known here as "bullet trains". They have rounded noses and steep windscreens that scythe through the air, since as much as power is important for these, so are their aerodynamics. A look at the Sienna's front end, and you can see it: the way the leading edge of the hood drops abruptly down to the grille is very Sihinkansen-esque and why you hear almost no wind noise on the highway.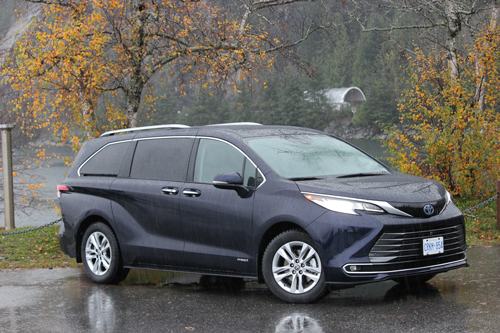 The headlights, meanwhile, are very on point with Toyota and remind me of the current Corolla compact; I'm surprised the shape transitioned so well to the Sienna's much broader fascia.
The front end is one thing, but you can graft an attractive front end on to pretty much any vehicle style. The rear end of a minivan, though, is a whole other story.
For that, they looked within for inspiration, and found some in the form of – wait for it – the Toyota Supra sports car. So what you have here, then, is a minivan with the front end of a bullet train, and the rear end of a sports car. The styling tweaks brought on from the Supra include quite aggressively flared rear fenders – yes, flared fenders, on a van – and the taillight shape. You can see it, namely in the way the taillight housing kind of drops down from the corner of the light to the bumper below. If that's not enough, they're even doing a 'sporty' XSE version with big, dark wheels and bright paint. I still think the Chrysler Pacifica cuts a more wagon-like profile and is the more attractive of the two, but there will be plenty that disagree with me because this Sienna is one heck of an effort.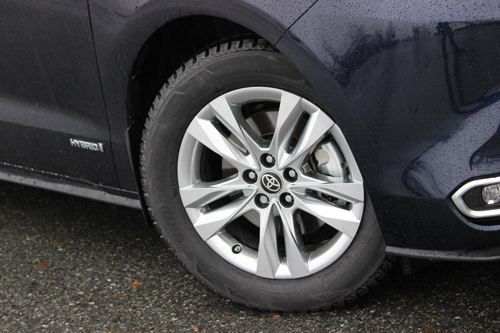 What you see here is the Limited version. It comes with a starting price of $56,190, but mine comes it at $58,190 because it has – wait for it – all-wheel-drive. That is going to be a huge selling piece in Canada and you have to think a great many Siennas will be specced this way, as you can get AWD all the way down to the base LE level, for the somewhat-less-than-princely sum of $41,990. The range is rounded out with the LE FWD model ($39,990), XLE model (FWD $42,990/AWD $45,390), the XSE model (FWD $45,690/AWD $47,690) and the XSE Technology model (FWD $51,190/AWD $53,190) as well as four wheelchair-accessible mobility models, ripe for taxicab use.
As stated before: Every Sienna comes hybridized with an Atkinson Cycle hybrid system that includes a 245 horsepower four-cylinder engine and 1.85 kwh battery so you can get some full-EV driving. In a very smart move in terms of packaging, the battery has been placed underneath the front seat, so as not to interfere with the rear seating area and the colossal 2,100 litres of cargo space you get if you fold the second and third row seating.
That's if you have the second-row captain's chairs as my tester did; if you have the also available bench seat in the second row, that number increases to almost 3,000 litres. That's a whole heck of a lot of hockey bags. Want to haul just one hockey bag, but need all of your seats? No problem. Even though the third row seats are thin (but padded enough for comfort) for easy folding, a big bin, essentially, is left behind if they're deployed and that provides 949 L of space. Which is a lot. This is minivaning done right, and we haven't even gotten to the very smart second row or ultra user-friendly cockpit yet.
Rather than tell you about that here, we figured it'd be better to show you – so have a look at the video below to see what the Sienna's cabin is all about.
Infotainment-wise, you've got a 9" main display with a responsive touchscreen and well-arranged menus, and, at the top two trim levels, 12-speaker JBL audio. That's not a bad speaker count, but with much smaller vehicles packing 16-plus speakers these days, it does seem a little on the chintzy side. Having said that: a Platinum version is on the way, so perhaps we may find a higher speaker count there, and perhaps the fridge and vacuum cleaner system that Toyota says they currently have plans for, but were unable to deliver at launch due to supply constraints.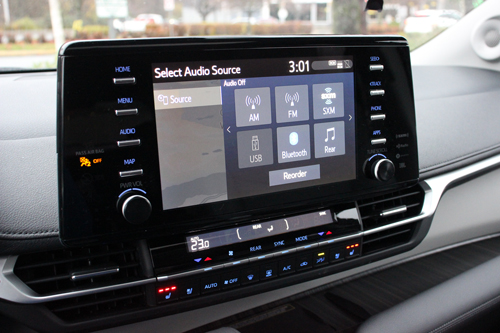 If you want to use either Apple CarPlay or Android Auto, you have to plug in your device – there's no wireless connection available – and while there are seven USB ports in the cabin (four USB-A, three USB-C), the only one that actually boots up CarPlay or Android Auto is the one placed somewhat randomly just to the right the steering wheel.
If you don't want to be using the touchscreen all the time, there are knobs for both volume and radio tuning, plus traditional buttons either side of the screen for your infotainment controls and just below that for your climate control system. Which, as it happens, is a four-zone system in my tester, with even third-row passengers getting their own climate controls. Heck, with this much space inside, it's not hard to believe there could be a number of ecosystems in here…
Power-wise, the best compliment I can level at the Sienna is that it will get you there. It is not a fast vehicle and at 2,100-plus kilos, it's not a light one either so you will not be sprinting off the line so much as leaving it with a confident, if a little loping, stride. The continuously-variable automatic doesn't really help matters as it's loud and economical above all else. Far as I cold tell, Toyota hasn't even bothered to program in "virtual" shift points so it could at least it feels like you're changing gears; it's just one constant amelioration of acceleration, and that's it. There is a "Sport" mode, if you can believe it, but I found that all that really did was make progress even louder and more laboured. My advice? Leave it in normal on the highway, and "eco" in the city, as that really does deaden throttle response to the point where I was weary when passing at highway speeds; not exactly a feeling you want to have while driving a road-trip king like this.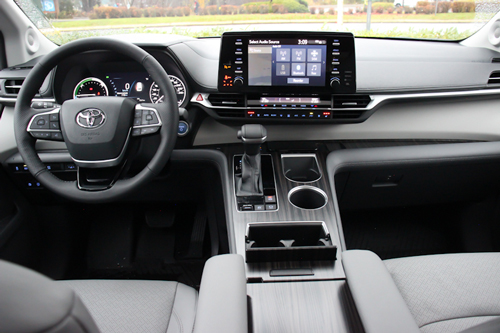 What you do want to feel from a vehicle like this is serenity. You want a vehicle that's quiet, rides comfortably (which the Sienna does; thank you very much, new multi-link rear suspension) and saves you at the pump; we saw 7.9L/100 km on our mostly highway drive, which is just fine thank you very much as these hybrids often perform better in town where speeds are low and the EV motors are able to do more of the work.
Speaking of the EV motor: it's great in that when on the highway and with AWD, it allows for more instant torque delivery and I'm sure by now, dear readers, you can appreciate that the Sienna can use all the help in can get in this department. In the city, meanwhile, it allows for short bursts of full-EV driving that you can activate with the press of a button, as long as you have the charge and aren't going too fast. If you do, the Sienna will literally scold you with a message displayed between the gauges explaining why EV mode is not available.
An efficient powertrain for in-town work is one thing, but the other important factor in a vehicle this big is just how easy it is to manoeuvre in tight city environs. Of course, in order to navigate the many obstacles the city throws at you, it helps if you can see them and the way your seating position and the various windows and the electronic driver aids (like a top-down view camera during parking) combine to make this big lug of a vehicle eminently threadable in-town has to be seen to be believed. Actually, you can't really see it; it just kind of happens, subconsciously as you drive. It's hard to explain why, but I almost always ended up perfectly in the stall during parking, I knew exactly the clearance I needed to squeeze past that bus and I just felt so at-ease behind the wheel, even on a dark, dreary and rain-soaked day in Vancouver in late fall. This is piece-of-mind motoring at its best, and wouldn't you know it, it's coming courtesy of the ol' minivan.
Has the Sienna turned me into a minivan guy? I'm not sure yet. I like the fact that there are simply more three-row crossovers to choose from and that they're often more powerful, or at least can be made to be as they tend to offer a couple of powertrain choices. Normally, I'd say they tend to be better-looking as well, but this Sienna – and the Pacifica – kind of turn that argument on its ear a little. I think I'd still opt for a three-row crossover, but I will not sit here and argue that it's the more practical choice. It's not, in fact those pesky CUVs and SUVs can't hold a candle to the Sienna in that department because it is so singularly-focused and exceptional at what it's meant to do.
Which, I don't mind saying, makes it almost the perfect vehicle and a strong contender for the various car of the year awards ran throughout the world.
2021 Toyota Sienna
Price as tested: $58,190.00
Configuration: Front engine/all-wheel drive
Engine/transmission: 2.5L four-cylinder Atkinson cycle hybrid, CVT
Power/torque: 245 horsepower
Fuel: Regular
Combined fuel economy ratings (L/100 km): 6.7 L/100 km
Observed combined fuel economy: 7.9L/100 km
Competitors: Chrysler Pacifica, Chrysler Grand Caravan, Honda Odyssey, Kia Sedona
Links: Toyota Canada