The city of Victoria, BC is a unique destination in Canada to test drive a new car for the first time. In this case, I would have the opportunity to drive two new cars in the market, something we as automotive journalists enjoying doing whenever possible. What makes Victoria so inviting is that it offers a relatively small city footprint with exceptional ocean views and unique two-lane highways just a few kilometres away. It is truly a city that has it all.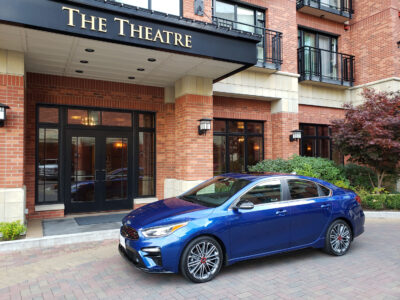 Having it all is something Kia Motors is working on as well. With the recent introduction of their full-size SUV the Telluride, it rounds out what is already one of the strongest model line-ups in the market. So what's next?
Everyone knows by now the world has gone SUV crazy and it looks as though this unrelenting trend will continue. But here we are on the west coast of Canada test driving two new sedans, a market that is by all accounts on the decline. Then again, not everyone needs to pretend they go off-roading on a regular basis or requires rear storage that can handle the starting line-up of a pickup hockey team. This is a reward for the rational thinkers in this world.
The 2020 Kia Forte and Forte5 are both impressive to drive and pleasing to look at. The Forte is a four-door sedan, while the Forte5 is what we in Canada would call a hatchback. Both models are available in various trim levels; LX, EX (EX Premium, EX Limited) and GT. Two engine choices are also available, the difference being power and performance, features and the fun-to-drive factor.
The Forte and Forte5 offer a 2.0L 4-cylinder Atkinson gasoline engine matched to either a 6-speed manual transmission or an automatic IVT (Intelligent Variable Transmission). It delivers an impressive 147 horsepower at 6,200 rpm and 132 lb-ft of torque at 4,500 rpm. Zero to 100 km/h is somewhat irrelevant here as the engine is designed to return excellent fuel economy, while at the same time deliver enough power for your typical daily commute.
By contrast, the Forte GT and Forte5 GT step down in litre-size, but up dramatically in performance. It highlights a 1.6L 4-cylinder Gamma Turbo GDI engine with 201 horsepower at 6,000 rpm and 195 lb-ft of torque at 1,500-4,500 rpm. It is matched to a 7-speed dual clutch automatic transmission and accelerates smoothly and with passion as we drive through the scenic backroads around Victoria.
Built on a steel unibody, the Forte family features independent MacPherson struts and twin tube shock absorbers up front and a coupled torsion beam rear axle with the 2.0L engine or a multi-link setup with the turbo 4-cylinder. Steering is electronic power for both, as well as vented disc brakes up front and solid disc in the back. 4-wheel ABS is standard, so too is electronic stability control (ESC) and hill assist control (HAC).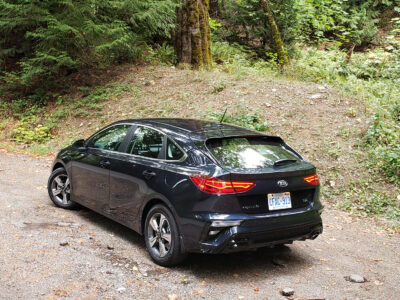 Safety is paramount in the new Forte and Forte5 with 6 airbags as standard equipment and improved front, rear and side crash zones. A rearview camera makes it easy to get in and out of tight spaces, something that is so much easier to do in a sedan or hatch, rather than an SUV. Step up from the LX to the EX and Kia adds lane keeping assist, driver attention alert, forward collision-avoidance assist, blind spot detection, rear cross traffic alert and tire pressure monitoring. EX Premium and up further distinguish with advanced forward collision-avoidance assist.
The new Forte's not only look good on the outside, they offer superior fit and finish, as well as excellent front and back seat room throughout. The GT model I spent the most time in came with standard leather seating, heated front seats (standard on all) and rear seats (EX Limited and up), a four-spoke multi-function steering wheel with flat bottom and GT logo, plus a look and feel that belies the affordable price point. If there is one thing Kia knows how to do is to provide driver and all passengers with an elegant sense of space.
The Forte5 GT also featured an excellent 8" navigation system with touch screen access. On the inside, harmonious sounds are provided by Harmon/Kardon Premium Sound. On the outside, the GT model has a somewhat aggressive exhaust note which you can joyfully hear inside the car as well, though it isn't overpowering. Back seat room is excellent for up to three adults and trunk space is more than adequate in both the sedan and 5-door models.
The 2020 Kia Forte and Forte5 are an excellent option for anyone not looking at an SUV. It returns good fuel economy at a combined 7.0 L/100 km in the 2.0L IVT and 7.9L/100 km in the 1.6L DCT. In a city such as Victoria, it proved itself in every scenario and was fun to drive, especially on the winding single lane roads through the old growth park.
Surprisingly, I had no desire to venture off the road, but rather hug each turn with the tenacity of a sporty sedan sitting lower to the ground. SUV's are great and they are here to stay in all their varied forms, but there is something so enjoyable about driving a car, it makes me long for the good old days.
2020 Kia Forte and Forte5
Price range:
Forte: $17,695.00 – $28,995.00
Forte5: $22,245.00 – $29,995.00
Freight: $1,645.00
Configuration: Front engine/ Front-wheel drive
Engine/transmission:
Forte and Forte5: 2.0L 4 cylinder/ 6-speed manual/IVT
Forte GT and Forte5 GT: 1.6L 4-cylinder turbo/DCT
Power/torque:
Forte and Forte5: 147 hp/ 132 ft-lb of torque
Forte GT and Forte5 GT: 201 hp/ 195 ft-lb of torque
Warranties: 5-years/100,000 km (comprehensive)
Competitors: Honda Civic, Hyundai Elantra, Mazda3, Nissan Sentra, Toyota Corolla
Links:
Kia Canada