The province of Quebec has so many quaint townships, it is hard for me to pick a favourite. But there is one that stands a little taller than most and that is the region of Charlevoix, located on the shores of the St. Lawrence River approximately one and a half hours northeast of Quebec City.
The scenery in and around the Le Germain Charlevoix Hotel & Spa where we are staying is spectacular and everything you would expect in this part of Canada. Mountain skiing in winter, watersports and hiking in the spring, fall and winter; this is an outdoors person's dream.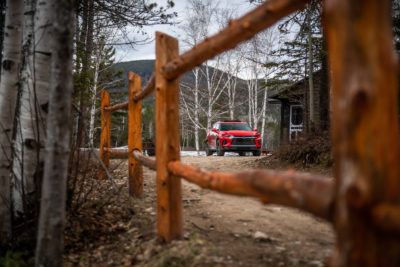 So it was no surprise this would be an excellent location in which to take a first drive in the 2019 Chevrolet Blazer and in particular the racy RS AWD model. For all intents and purposes, the new Blazer is the SUV version of the Chevrolet Camaro and it looks every bit the part gleaming in red and black as we arrive at the hotel. It should be an enjoyable test drive, putting this sporty utility vehicle through its paces on highways, two-lane backcountry and gravel roads.
The 2019 Chevrolet Blazer is available across Canada in four unique variations; Blazer, True North, RS and Premier. Pricing starts at $35,200 and tops out at $48,700 plus options. Our RS AWD test vehicle is listed at $55,635 with the Preferred Equipment Group and Sun and Wheels Package added.
Two engines are available for model year 2019. The base powerplant is a 2.5L 4-cylinder that produces 193 horsepower and is matched to a 9-speed automatic transmission on the entry-level Blazer FWD model.
The RS AWD test vehicle we are driving features a 3.6L gasoline V6 that produces 308 horsepower at 6,600 rpm and  270 lb-ft of torque at 5,000 rpm. Matched to an electronically controlled 9-speed automatic transmission, it delivers significant pulling power and strong acceleration in almost all situations. Only when we are on the highway driving at cruising speed, then pulling out to pass on an incline, do I get the sense the six-cylinder is working a little too hard for my liking. Overall, the performance is commendable.
The exterior design is completely fresh for 2019 and quite stunning to look at. Our RS AWD test vehicle features the optional 21" gloss black aluminum wheels, P265/45R-21 tires and a panoramic sunroof. Simply put, it looks ready for prime time. Especially with the Red Hot exterior paint scheme, blackened front grille, side skirts, window surrounds, roof rails and rear diffuser. It also includes Bi-functional HID headlamps. An aggressive look such as this is not what you would normally expect from a family-size SUV, but that is exactly what you get with the new Blazer RS AWD.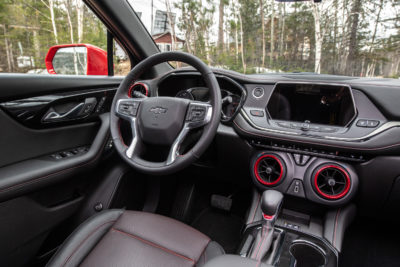 Inside, the seriousness of what Chevrolet has created continues with a sportiness and overall quality that belies the true intentions of this off-road capable grocery-getter.
The RS features perforated leather seating, 8-way driver and 6-way power passenger heated front seating, a heated steering wheel and dual-zone climate control with sporty-designed round vents (yes I said sporty and vents together in the same sentence). The Preferred Equipment Group adds front ventilated seats, heated rear seats and a driver's memory seat with 2 settings.
A premium Bose 8-speaker audio system delivers excellent sound throughout the interior. The leather-wrapped steering wheel houses a full compliment of controls, plus it offers tilt/telescope adjustment. Adaptive cruise control and rear camera mirror are also part of the package.
Seating for five is very comfortable and trunk space is more than adequate for family trips to the rink, soccer field or cottage. Wireless charging is easy to use and there are enough plug-ins throughout the interior to satisfy the needs of everyone.
There is much to like in the new 2019 Chevrolet Blazer RS AWD and very little to complain about. If there is one concern, it is the speed with which the cost increases as you add various packages to the base price.
While many buyers in today's market expect to pay $40,000+ for a midsize SUV, passing the $50K mark is aggressive and the competition at this price point is well established. It may be that styling wins over buyers and if that's the case, the new Blazer has it in spades.
As a reborn entry into the marketplace, Chevrolet's newest creation promises to make shopping for your next family vehicle a little more fun. Choice is always good and for those who require a little sporty in their life, along with the functionality and all-road prowess of an SUV, the new Blazer deserves to be on your list.
2019 Chevrolet Blazer RS AWD
Price as tested: $55,635.00
Freight: $1,895.00
Configuration: Front engine/ AWD
Engine/transmission: 3.6-litre V6/ 9-speed automatic
Power/torque: 308 horsepower/ 270 ft-lb of torque
Fuel (capacity): Premium unleaded recommended (70 L)
Combined fuel economy ratings (L/100 km): 11.3 L/100 km
Observed fuel economy (L/100 km): 11.7 L/100 km
Warranties: 3-years/60,000 km (basic)
Competitors: Acura RDX, Ford Edge, GMC Acadia, Honda Passport, Hyundai Santa Fe, Jeep Grand Cherokee, Mazda CX-5, Toyota 4Runner, Volkswagen Atlas
Links:
Chevrolet Canada