Montreal — This ain't no Route 66, but we're getting our Kicks anyway.
The 2018 Nissan Kicks subcompact crossover has just hit stores and is shaping up to be quite the contender in an increasingly crowded segment. Competitors include Ford EcoSport, Hyundai Kona, Kia Soul, Mazda CX-3, Honda HR-V, Toyota CH-R and Chevy Trax.
Carmakers are trying hard to get a piece of this pie, which Nissan expects to grow by 60 per cent from 78,994 units sold in 2017 to more than 126,000 units a year by 2022, a number that would be nearly 10 per cent of the market.
As a later entrant, Kicks has the advantage of some hindsight, which gives it a couple of competitive edges. It's the lowest-priced SUV to feature automatic emergency braking as standard equipment, it offers amenities such as heated seats on a trim level thousands less than some competitors and proclaims to have the segment's best fuel economy, at 6.6 litres per 100 kilometres on the highway.
Kicks also has some interesting "issues" that may or may not be a deal-breaker for some buyers: you cannot get it with all-wheel drive, at any price. The platform just won't support a rear driveshaft. It's one of, it seems, only a few vehicles remaining with rear drum brakes, and it has a CVT, or continuously variable transmission.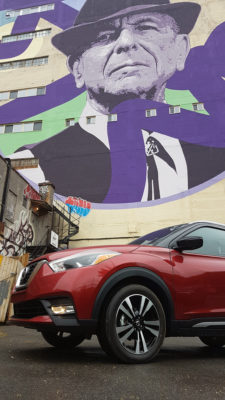 Most automotive writers don't like driving CVTs. Most average drivers don't even notice. So take my dislike for CVTs with a rather big grain of salt. That said, Nissan generally doesn't offer a shiftless transmission that isn't a CVT — Titan, GT-R and Armada are the exceptions — so the company's engineers have become pretty adept and building and tuning CVTs.
All of which is to say this one works pretty well. It does a good job of transferring the 1.6-litre engine's meagre horsepower and torque to the wheels, and it simulates the shifting of an automatic.
The suspension features independent struts upfront and a twist beam semi-independent at the back. It's set up to be very tight, which improves handling but at the cost of a comfortable ride. I liked it but your mileage may vary.
While the engine's output may not seem great, the Kicks' light weight gives it an acceptable power-to-weight ratio. It's a bit poky, but for most situations it's an acceptable trade-off for fuel economy. "It's not lugging around that much weight relative to its horsepower," said Scott Pak, senior manager of product planning at Nissan Canada.
The vehicle starts at $17,998, with air conditioning, power windows, rear-view camera and automatic emergency braking as standard. A move to the SV, at $20,898, brings in heated seats and an available two-tone colour package ($150) that lets you choose a contrasting roof colour. The top-line model, SR, is priced at $22,798.
The SR is loaded, no other package are available. Music fans — a population Nissan is targeting with its advertising — will appreciate the Bose sound system in the SR. It features a driver-centric digital processing routine, which uses headrest-mounted speakers to improve the driver's appreciation of the music. It works quite well, with crisp, clear sound and none of the often muddled soundstage a surround-sound system can produce.
No sunroof is available.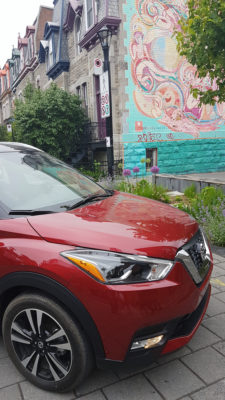 Steve Rhind, director of marketing for Nissan Canada, explained the lack of all-wheel drive was an effort to come to market at a certain price point. Engineering an all-wheel-drive capable platform would add to the price.
"Besides, with a great set of winter tires, you're well-positioned to take on whatever the weather throws at you," he said.
Getting Apple CarPlay and Android Auto requires moving up to the SV model.
Cargo space is 716 litres behind the rear seats, 915 litres when the second row is folded.
Even though Kicks was designed to hit that sub-$18,000 price point, in many ways, it doesn't look like it. The exterior design is edgy without being Juke goofy. The interior has a pleasing design and excellent execution, with enough details the dash doesn't look plain.
The Kicks might not set the world on fire, but it gives Nissan a credible entry into a segment that's increasingly becoming the go-to for entry-level buyers. Its high seating position and open greenhouse gives drivers a level of visibility that may be a compelling argument to step up from Versa Note.
2018 Nissan Kicks
Engine: 1.6-litre DOHC four with variable valve timing
Power: 125 hp @ 5,800 rpm
Torque: 115 lb-ft @ 4,000 rpm
Transmission: continuously variable
Brakes: front disc/rear drum
Suspension: independent struts with stabilizer bar (front); twist-beam axle with stabilizer bar (rear)
Fuel economy (l/100 km, city/highway/combined): 7.7/6.6/7.2
Price: $17,998.00 (S); $20,898.00 (SV); $22,798.00 (SR)
Related links:
Nissan Canada