Details; so much in life is all about the details. No matter how hard we try to gloss over them, make them seem insignificant or even hope that no one will notice then they aren't quite right, they are glaringly obvious, especially when done incorrectly or incomplete. So, when a company goes to great lengths to ensure the smallest of details is precise — and on an item that is (as a whole) quite large and distracting enough on its own — I take notice.
The very first time I drove a Land Rover LR3 mid-2000s, I fell in love. Big, boxy, kinda temperamental, this British brute could handle anything and everything. It wasn't the most luxurious inside (at least not compared to its Range Rover brethren), but I didn't care. Here was a utilitarian vehicle that really could tackle everything from snow-covered city streets to mountain climbs to country cottages (both of which I've done multiple times with the LR3 and LR4 generations). Hands down, the LR4 — known as the Discovery everything else but North America — was always my favourite Land Rover. Always.
Then it was announced the LR4 was no longer going to be called the LR4 and would change to the Discovery nameplate, which I had no problem with… until they also revealed that the body style would also be changing, completely.
Now, don't get me wrong; I'm all for change and evolution and all that good stuff, but how dare they take away the Discovery's iconic boxy shape?! In that very moment I decided I was never going to be satisfied with this newest version and resigned myself to disliking a product I used to absolutely adore, simply because it had evolved and grown with the times to offer a more modern and current look and feel…
Somewhere it seems I should be making some sort of correlation to personal growth and changing friends and partners… but I know you'd all much rather read about the Discovery's performance through the Utah desert.
OK, let's deal with the fact that the 2018 Discovery looks completely different from the outgoing model. Square, boxy edges have been replaced with smooth, modern lines. Large, oversized headlights have been replaced with sleek, aggressive headlamps that make the Discovery look much more muscular, as do the large (and functional) side intakes on either side of the front bumper. Designed to drag air along the sides of the Disco, they serve a drag co-efficient purpose (and can also be dressed up with diffuser-style stripes in Dynamic trim level). Round the back, instead of bulbous ginormous taillights, you'll find minimalistic and dynamic rear lights that integrate perfectly into the design of the rear.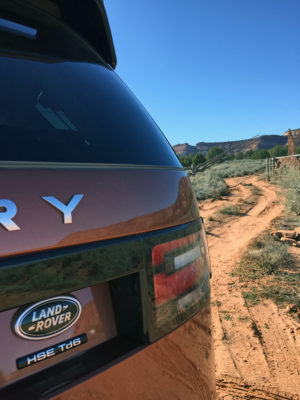 What hasn't changed on the outside are a few known design cues, such as the roofline "step" that's not obvious at first, but it's there. Also the signature side gill remains, just updated and much more modern than the outgoing generation. Also, while the split-rear trunk hatch no longer exists (it is one solid hatch that opens), Land Rover designers incorporated the off-centre plate placement by integrating the step design just below the large Discovery lettering in the rear. Also, of note, there is a drop-down tailgate you can electronically control for easier cargo storage or a place to sit that's part of the trunk floor. And whereas the previous gen had an exposed rear wiper, this latest generation has it hidden up inside the roof spoiler which, supposedly, should keep it safe from harm's way. Land Rover also claims that the rear spoiler (which didn't exist at all on the outgoing LR4) wasn't just put there for aesthetic reasons, but also to keep the rear windscreen clean during messier drives.
Inside the 2018 Land Rover Discovery, and the overall feel of the cabin isn't that different from the outgoing model, if I'm honest. However, it's the subtle little details that make all the difference and really elevate the new Disco in my opinion.
From the available nine USB charging ports, Wi-Fi hotspot for up to eight devices, and even a hidden compartment in the front centre console that can hold four iPads at once (yes, four … or two DSLR cameras as my drive partner and I discovered), there's also seating for up to seven full-size adults, and four child safety seat latch points. The dual glove-box design remains up front, and there's even a nifty integrated purse hook in the passenger footwell to keep your Coach off the muddy floor mats, of course.
Of course, steering-wheel mounted controls are used to navigate the onboard entertainment system as well as cruise control and a host of off-road functions that I'll get to in a moment. A note about the onboard entertainment system: For generations I've complained about it (this is no secret in the industry, or even to the JLR people who lend me their cars for me to review), however, I finally think they've got it right. It's intuitive, easy to navigate, and not at all as laggy as it used to be. It has a Apple-product feel to it and the swipe function on the home screen is easy to adapt to as we're all used ot the motion already anyways. On bumpier terrain, it can make for difficult precise selection for the passenger, but then that was mainly my fault for desperately needing to switch stations from a horrendous song while we were in the middle of a rock climb … because music is life, didn't you know?!
Alright, the juicy part you've all been waiting for: the drive.
Land Rover brought us to the absolutely incredible region of Canyon Point, Utah. Like driving on the surface of Mars, I felt as if I'd journeyed to another planet. So incredible was the scenery and the terrain, I was almost shocked when the performance of the 2018 Discovery overshadowed even that: it was that impressive.
Here's the thing: To me, the LR4 was always just a utilitarian vehicle, and one that more often than not lived a sad non-off-road existence in the suburbs. But the magic there is that it COULD go on any and all terrain if it had to. I wasn't as convinced with this newest version, and mostly because of its now softer, slightly hipster looks.
Well, I was wrong. So wrong.
Over the course of two days, and after close to 15 hours of drive time, I got behind the wheel of both the 3.0L Supercharged V6, and the 3.0L turbocharged diesel. Both felt great, but I can say that I definitely preferred the petrol's performance over the diesel that at times felt heavy and kind of weighed down. Horsepower differences are 340hp (gas) to 254hp (diesel), and of course the gas has less torque than the diesel at 332 lb-ft vs. 442 lb-ft. Both are coupled to an 8-speed automatic transmission with paddle shifters for a sportier ride, when desired or during off-road adventures when needed.
Now, about those off-road adventures because, let's be honest: We all know the 2017 Land Rover Discovery will be perfectly happy and responsive in the suburbs, in the city, and on clear open tarmac. What you all want to know is does that rock-climb setting in the Terrain Response dial actually work. Well, I'm here to tell you, that it most definitely does.
As I sat in the driver's seat, my burnt-orange Discovery diesel was sitting at a 24-degree angle toward the earth, with its nose pointed up 12 degrees, with its right front wheel fully off the ground. To quote Clarkson, in that moment, "a little bit of poo may have come out." But deep down, I knew the Disco had the guts to get me over the crest, and it did. Much to my, and my co-driver's, delight. With the ability to traverse angled terrain up to the 30-degree point, with a maximum ascent/descent gradient of up to 45 degrees, as well as a water wade depth of an upgraded 35" and a total ground clearance of 11.14" (with air suspension) the world is truly your oyster in this savage SUV from the Brits.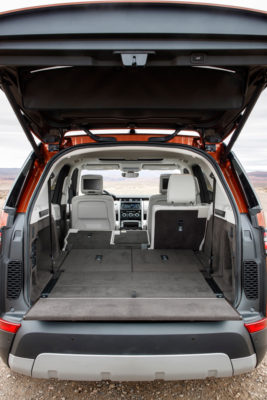 The rock climb was nothing short of impressive, and controlling the brute myself was both intimidating and liberating. However, the 2017 Land Rover Discovery is also equipped with something called Auto Terrain Response wherein you tell your Disco you would like to crawl some rocks or drive over some sand or snow/ice, set it into ATR, take your foot off the brake and throttle and away it goes. You simple offer steering input, the vehicle does the rest maintaining a steady pace and even controlling hill-descent speeds as it constantly detects the surface beneath its tires and adjusts accordingly.
Now, that's the type of automated driving I can fully get behind.
Thankfully, when we hit the wide-open and insanely fun Coral Pink Sand Dunes, we the drivers were fully put in control.
I'd only ever driven on sand once and truthfully it was rather hard-packed and more like mud than sand. However, with ample instructions given by seasoned Land Rover staff, I managed to only get myself stuck a half dozen times…
To fully appreciate the capabilities of the 2018 Land Rover Discovery I highly recommend finding sand dunes to play on — really. Never have I been more impressed with an off-road vehicle than when I was in the Disco playing in the pink sand in Utah. From steep gradient climbs to hairy drops and angled hill climbs that had the weight of the British brute dragging us down as we hammered the throttle and used momentum to get us up, it handled it all with ease. Only the driver was at fault when confidence levels dipped and so throttle response followed suit causing the vehicle to sink and bog down in the soft sand. However, the vehicles never stayed "stuck" for long … backing out of a pile of sand was a breeze, and given enough of a run-up and momentum the Landies always conquered the task at hand on the second go.
Equipped with air suspension, any road imperfections, ruts in sandy off-road trails, and even fallen tree branches are barely felt on board, so comfortable is the 2018 Land Rover Discovery. Sipping a coffee while blasting across a wide-open Utah desert expanse was precisely how I started my morning on day two, as you do.
And therein lays the 2018 Land Rover Discovery's charm: it's highly capable of handling the roughest, toughest, meanest terrain you can throw its way thanks to a multitude of fantastic engineering details and designs, while it's also just as at home in the nearest posh neighbourhood perfectly free of mud or sand with each occupant on board sipping a flavoured latte, charging their smartphones and enjoying heated seats (in the cooler months) as all the interiors small but significant details come in to play.
With a starting price of $61,500 for the base SE model (and $70,500/$75,000 respectively for the two models I was in the HSE Td6 diesel and HSE Luxury petrol), the Land Rover Discovery is just as much luxury as it is practical.
The devil is in the details they say; and by God have they ever made the 2018 Discovery one helluva vehicle.
Related links:
Land Rover Canada