San Antonio, TX — Vehicle names fascinate me, always. Like, who thought it was a good idea to name a car the Brat? Or the Gremlin? Probe anyone? Oh, and don't forget the Mysterious Utility Wizard … Now, Kia's latest model doesn't necessarily have a weird or off-putting name, however, when they explained how the name came to be, that's where my interest piqued.
The Kia Niro's namesake is derived from a combination of "near zero" and "hero." Now, upon initial explanation I questioned the Korean manufacturer equating their car to nothing (near zero) while simultaneously calling themselves the best (hero). Then they delved a little deeper into it.
You see, the 2017 Kia Niro is a hybrid vehicle, built on an entirely new platform for the company. So, the "near zero" portion of the name refers to the Niro's ability to produce near zero emissions. And, of course, the "hero" portion refers to its strong stance in the segment.
What segment is that exactly? Well, Kia's branded it as a compact SUV, and I don't completely disagree. It offers a slightly higher ride height and headroom inside, and plenty of space in the boot thanks to the battery storage under the seats instead of in the back. The Niro actually has almost identical interior space to the Sportage.
So, why introduce it at all?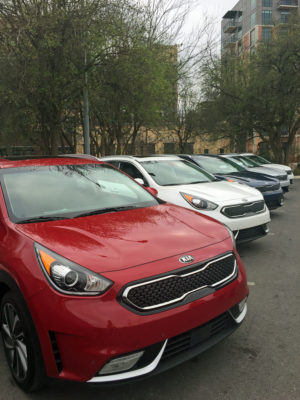 Kia's got the Rondo (in Canada at least), the Sportage, and the Soul. So why bring in a vehicle that's similar in size with the Sportage and ever so slightly the Rondo? Won't it hurt those two vehicle's sales? Kia admitted that they may lose out on some Rondo purchases in Canada, but they're willing to take the hit for this brand new product they feel will really elevate them in the hybrid-vehicle world.
And I have to say, after traversing the roads in and around San Antonio, Texas, I'm very glad they did decide to release the Niro.
This stylish little SUV is great to look at, which really comes as no surprise. With the likes of Peter Schreyer in their game plan, Kia's taken home no less than 60 design awards over the past 10 years. Yes, you read that correctly: sixty. That's a helluva lot of design bling. But tell me they didn't deserve it! And the 2017 Kia Niro is a prime example of how a hybrid SUV can be elevated to appealing, modern, and dare I say even sexy?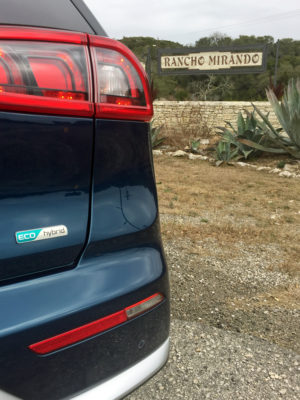 Athletic and bold, the Niro sits on either 16" or 18" shoes, and features an updated, modernized version of the manufacturer's signature honeycombed kidney-esque grille as well as available HID headlights that also take it all up a notch. Subtle roof racks embody the Niro's bolder, adventurous side, and the integrated roof spoiler adds a touch of muscle and speed (while simultaneously protecting the rear windshield and rearview camera located on the rear windshield wiper mechanism from the elements). Everything about this CUV's exterior was carefully crafted and thought about, and it shows.
Now, step inside and it only gets better. While my particular Niro featured a gorgeous and oh-so appealing light grey leatherette fabric with contrasting light-blue stitching (I loved it!), for the moment Canadians will only be able to order the Niro with a black interior. But that's OK, too, because you'll enjoy your time in there so much you'll forget the lack of grey and blue colouring, I promise.
Here's the deal; Kia's managed to rank itself higher than a number of luxury brands as J.D. Power voted them the No. 1 for quality. That's the first time that's happened in 27 years. That means Kia interior beat out Porsche, BMW, Mercedes… you get the idea. And, no, J.D. Power haven't gone mental.
The quality of materials inside the 2017 Kia Niro are a step above what I'd expect to find in a vehicle that starts at just $24,995. Soft-touch abounds, and the standard 7" colour infotainment screen (8" if you take the navigation package) is clear, concise and a breeze to use and look at. Behind the wheel, you'll discover a pleasing 4.2" TFT digital gauge where you can easily view your hybrid stats and the like.
Of note: Those who have a competitive nature (*cough*yours truly*cough*); in the centre stack you'll see a leaf icon. Select it. You will then be shown all your hybrid driving wins (and losses). There is also a large "tree" made of little lights that you can either turn on or diminish. The more hypermiling you do, the more the tree of lights grows … challenge accepted.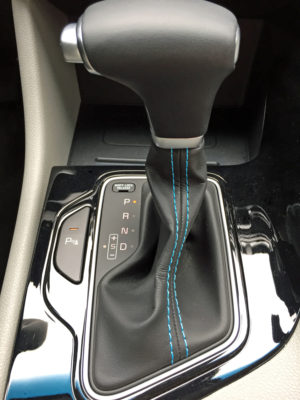 Now, about that drive. The 2017 Kia Niro features an Atkinson Cycle 1.6L GDI mill that produces, on its own, 104 horsepower. However, coupled with the 1.56kWh lithium ion battery, that total power output jumps to 139 horsepower and 195 lb-ft of torque. And let's not forget that said torque comes on fully as low as 1,000rpm.
The Niro is not overly quick, but it is spry and willing to play the game when pushed. My only gripe was the slowness with which gears engaged. Equipped with a 6-speed dual-clutch transmission (thank you Kia for not putting a CVT in this, you have my respect and love for doing so), I was excited at the prospect. However, my drive partner and I noticed on multiple occasions that when changed from P or R to D, the Niro took a few moments to process the request before engaging first gear and moving forward.
Rather stressful when you are pulling a U-turn in the middle of a Texas road with a large push-bar equipped RAM pickup baring down on you at full tilt … hypothetically speaking, of course.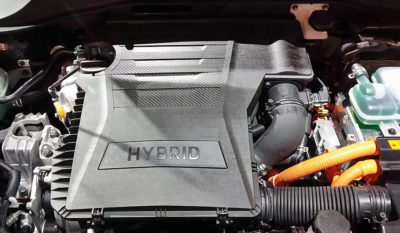 Eco nerds listen up: For the first time in any Kia model, the Niro features something called Eco-DAS (Driver Assist System). Said system works in conjunction with your navigation and will direct you as to how you should be driving your Niro to achieve the very best fuel economy (which by the way can be as low as 4.5L/100km). It will let you know when to coast, when to brake early, etc. in order to keep your battery optimally charged and working for you. Eventually, this feature will trickle down into Kia's other eco hybrid models.
For anyone who knows me, they know I am not a huge hybrid fan. I find them overhyped and underpowered. Sure, they save you a few dollars at the pumps, but is it worth the loss in power and dynamism behind the wheel?
Well, Kia's managed to make the Niro appealing in so many other ways that I'm willing to overlook the slightly piggish feeling behind the wheel (despite the responsive steering), as well as the overly mushy brakes that required engagement much sooner than would normally be required in a regular, non-regen brake compact SUV.
Am I 100% in love and ready to commit to a Niro? Nah. Would I let it take me out for a while and show me a few good road trips? You bet.
2017 Kia Niro
Price: $24,995.00- $32,995.00
Engine: Atkinson Cycle 1.6L GDI / 1.56kWh lithium-ion battery
Power: 104 hp (139 hp combined)
Torque: 195 lb-ft
Layout: Front engine, FWD
Transmission: 6-speed dual-clutch
Competition: Toyota Prius V, Hyundai IONIQ, Honda CR-Z
Related links: