Taycan. A name that when all is said and done will almost certainly go down in the lexicon of Porsche model names as an equal to Cayenne, the saviour of the vaunted brand from Stuttgart, Germany.
Turbo. A longstanding mechanical designation that typically defines the fastest vehicle of any model range, but now takes on the added meaning of being the one of the fastest without the need for an actual turbocharger attached to a fuel-burning engine. If that sounds a little confusing, let me explain.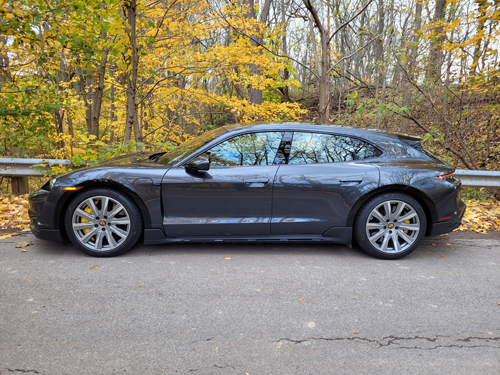 Powertrain: The 2022 Porsche Taycan Turbo S Cross Turismo is easily one of the fastest cars I have ever driven in my life as an automotive journalist and car enthusiast. No, I am not kidding.
It is mind-numbingly quick, requires you to reset your eyes down the road under hard acceleration and adjust your shoulders forward as it pins you to the seat back. But though it says it in the title, its not a turbo. Its an electric supercar with turbo DNA. And even the mighty Porsche 911 Turbo S pulls ahead by only .2 seconds as you crest 100 km/h. So the real question is this. Is the non-turbo Taycan Turbo S just as much a " turbo" in today's changing automotive landscape as the much celebrated 911 Turbo S? Thankfully these questions can wait for a few more years as Porsche still offers both and petrol is still an option when building new vehicles.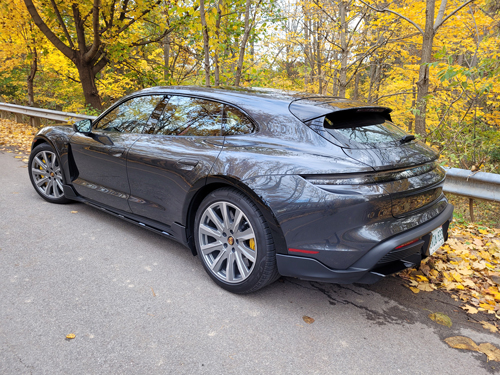 When it comes to electric vehicles, performance numbers can be a little confusing. Porsche rates power for the Taycan Turbo S Cross Turismo at 460 kW, which translates to 616 horsepower by conventional definition. Torque is rated at 774 pound feet. Add in overboost power with launch control and this climbs to 560 kW or 750 horsepower. No matter how you define it, it is enough to motivate the 2,320 kg contemporary sports wagon to a top speed of 250 km/h and 0-200 km/h in 9.7 seconds.
Charge times vary depending on the source. Someone owning a Taycan model is certain to install a home fast-charging station and plug-in overnight. Unfortunately, that was not my experience. Using a standard home AC outlet, I was able to achieve a maximum of 170 km of range charging overnight for 10+ hours, which is roughly 38% of the 455 km range when fully charged.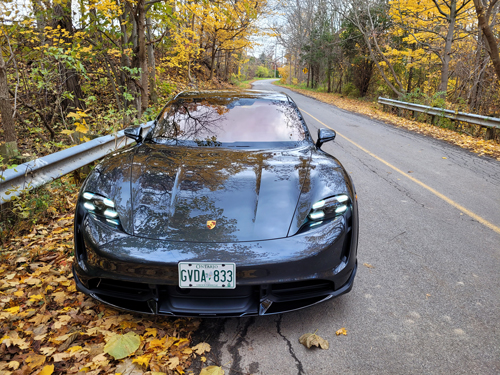 A better answer for me was to drive to a local dealership equipped with the required fast charger, plug-in, then walk across the street and enjoy a coffee outside in the sunshine for 30 minutes, then walk back and drive away with 80% charge on the dial. This is why, in my opinion, every Tim Hortons and Starbucks in Canada should offer charging stations for EVs. Coffee and charging your batteries, it's a natural.
Exterior: It may sound unrefined to refer to the Taycan Cross Turismo as an uber-cool station wagon for the 21st Century, but let's be honest, that's exactly what it is. Wagons have always been cool, especially those from Europe, and Porsche has taken it to the next level with the outrageously good-looking Taycan Turbo S Cross Turismo. So much so, passersby will actually stop on the sidewalk, stand and stare as you drive past. It has that kind of effect on people.
What separates the Cross Turismo from its fellow Taycan stablemates is its ability to go off-roading when the desire for a little dirt, mud and potholes takes hold. Adaptive air suspension, included as part of the PASM with Smart Lift, provides an additional 20 mm of ground clearance compared to the standard Taycan. Body cladding all around is not what I would call subtle, but it adds a layer of protection from rocks and debris, while not taking anything away from the looks of this potent off-road capable bahn-burner.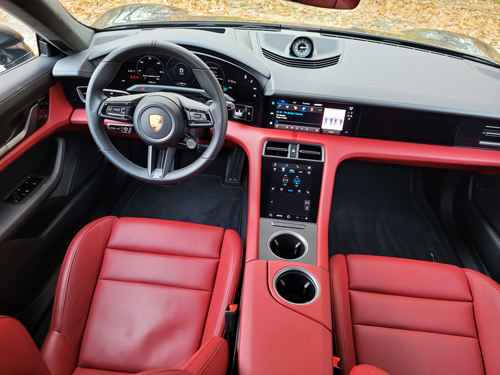 Interior: Our test vehicle featured Bordeaux Red leather seating paired with the Volcano Grey metallic body colour. As far as I am concerned, it is a perfect combination. Opening the doors of the classic grey exterior is like Christmas morning, it's a surprise to see so much red and it instantly invites you to get in, take a seat and hit the road.
Seats are exceptionally comfortable for both front and back seat passengers, though more legroom for the back would be appreciated. Large cupholders grace the center console and there is plenty of center and door pocket storage for phones, keys, wallets, you name it.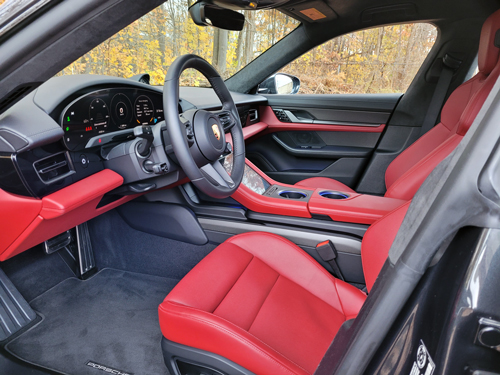 Elegant simplicity is how I would describe the dash and driving environment. The typical Porsche sport steering wheel with proper thumb grips is present and it houses the necessary sound, voice activation and drive mode adjustment. Adaptive cruise control and wiper adjustments are located on stalks within easy reach. Three round dials define the gauge package found on the Taycan Turbo S Cross Turismo and it's all you really need. There is little to keep you distracted, which is the point given the silent speed that is always just a touch of the accelerator pedal away from reality.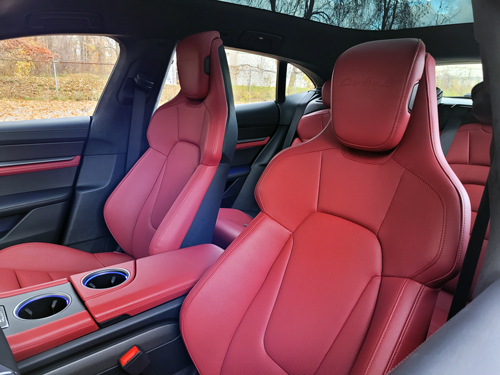 Infotainment: Bose surround sound with 14 speakers puts out a total of 710 Watts of sound. The direct touch control interface is relatively straightforward and even offers some visuals to enhance your listening experience. Or at the very least, remind you who you are listening to. Located below the audio system, HVAC controls are equally easy-to-use and respond quickly to touch input.
Drive: Personally, I am still learning to get my head around the notion of a silent, incredibly quick 4-door Porsche that handles like an F1 race car while being equal parts station wagon and sports coupe. The challenge is only that the Taycan Turbo S Cross Turismo does everything you expect a $200K+ Porsche to do, without the need for fuel or turbos. It drives with purpose, never feels flustered or out of its element. It's as if every road you drive on had a secret streetcar track and Cross Turismo was somehow always connected. Stops are equally fast and controlled, even on dirt backroads.
Conclusion: There is no perfect car in the world. There is always something we wish the automaker would have done a little differently, or added a few more features no matter how long the list of options is. But it is really hard to find fault with the 2022 Porsche Taycan Turbo S Cross Turismo, especially when you consider it is a full on, all-electric vehicle in a world that is quickly shunning petrol-based performance vehicles. Sure it could use a little more rear seat legroom and the price is out of my league, but if you have the means and want to have your cake and eat it too, this is an excellent choice.
2022 Porsche Taycan Turbo S Cross Turismo
Price as tested: $238,590.00
Delivery Fee: $1,500.00
Configuration: Front engine/Four-wheel drive
Engine/transmission: AC Permanent Synchronous Motors/ 2-speed automatic
Power/torque: 616/750 horsepower/ 774 lb-ft of torque
Combined fuel economy ratings (L/100 km): 3.2 L/100 km
Warranties: 4-years/80,000 km (basic)
Competitors: Lucid Air, Mercedes-AMG EQS, Tesla Model S
Links: Porsche Canada