Is this Mr. Miffy?" Clearly this morning's Vicarious Mag blog, submitted not three hours ago, has been published. It's Friday, two days ago, noon. I'm on the phone in the parking lot of a Swift Current Saskatchewan roadhouse that's reclaimed an old tractor factory. An old university friend, Trevor, was expecting my call and he's been reading about our progress through western Canada.
"Pretty much everything on the menu will be smoked," he predicts. Minutes later, he's proven right. I order smoked chicken wings with Prairie Fire sauce.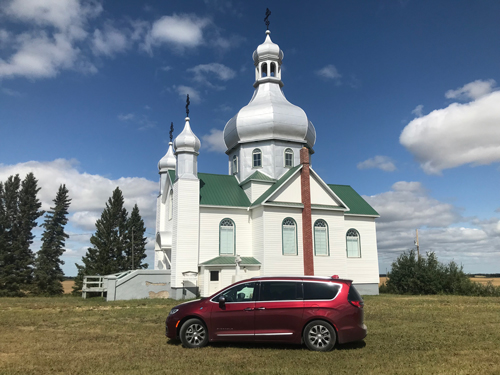 Last autumn, in the middle of the pandemic, Trevor and his spouse Mairi moved to Saskatoon from just 2km down my street in Toronto. Though she quit town after high school, Mairi never 'left' the prairies. No one who grows up here does. They all feel slightly, even unconsciously, claustrophobic anywhere but the wide open.
"We'll be in Saskatoon around four" I tell Trevor. It's over an extra hour north from the Trans-Canada but, in prairie-folk time and distance, that means a few minutes and just up the road a bit.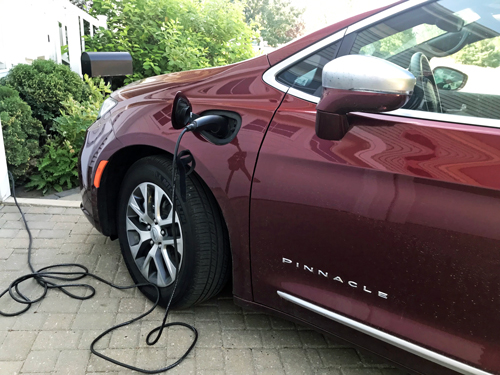 The first thing we do when we arrive — we've barely said hello — is plug in the plug-in hybrid Chrysler minivan. It's been days since it's used the electric drive mode. A single light on the metre bleeps an angry 0-19% charge. When it's filled fourteen hours later, all five lights will bleep, then the hybrid will rest.
This trip's started to develop a definite theme: uprooting and moving homes.
The whole point of this drive across Canada was to move our daughter from Victoria to Toronto to attend what soon will no longer be named Ryerson University. (The Beaverton recently bitchily joked that they've agreed to drop the "University.") Back in Canmore Alberta, the first people we stayed with were themselves preparing to move. Nearly everything was packed up after decades at the same address. They've left by now.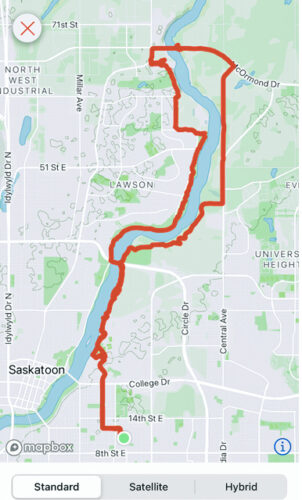 Three days later, these next people to host us are recently arrived settlers, still unpacking bit by bit months later, like prairie butterflies emerging from a chrysalis.
Saskatoon for Justine is the first chance to ride her beloved bicycle since packing it — last thing into the Pacifica — Monday morning. Mairi gives J a map and she's gone for two hours along the Meewasin Riverside trail. Saskatoon for me is decidedly less active. Mairi, Trevor and I walk to the local mall, housing the place good liquor stores go when they die, and purchase some decent wine for a bbq dinner. Then, we sit, chat and laugh for hours. In fact, we chat so much that Mr. Miffy doesn't get around to showering till Saturday morning.
But it was glorious.
Clean, charged and faces sore from laughing, we drove off by 11 yesterday morning. Around 5pm, we arrived at Moon Lake Campground in Riding Mountain National Park, just across the provincial border in Manitoba. (It would've been around 4pm, but we've entered another time zone.) We decide this place should be called Hiding Mountain instead because we don't even see a hill. Having driven through BC and Alberta, I guess we've been spoiled.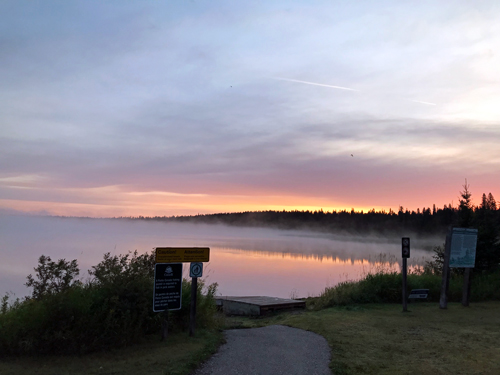 Though it's a clear Saturday night in August with almost zero chance of showers, the place is almost devoid of campers. What a shame. Camping and generally being outdoors is one of the only safe and affordable social activities left.
And this place is beautiful. In southern Ontario, you'd have to open and continually refresh three screens to book a site here 3 years in advance. Utterly solo, but for a daughter still asleep in the tent, I'm typing this with a view of the morning steam being burned off a glorious lake, the only noises an occasional caw from huge ravens — or crows. We can't tell the difference.
Either the Pacifica's growing or Justine's stuff is settling, but the minivan seems roomier than when we left nearly a week ago. Packing and unpacking to locate essentials from tents to free-range organic west coast coffee has become a quick choreographed ritual.
It's about a 3 ½ hour drive to Winnipeg. Today we'll attempt to visit the Human Rights Museum and maybe get that most iconic of Canadian photographs: one's selfie at the corner of Portage and Main.
How come nobody says Main and Portage?