Driving towards the Rocky Mountains, you're always impressed by the upward eruption of rock. Driving out of them, however, is calming, hypnotizing. Rolling foothills, then wide open prairie quietly appear, like a bunched-up carpet being pulled flat. The Trans-Canada Highway presents a straight line on a vast checkerboard. Traffic is blessedly light.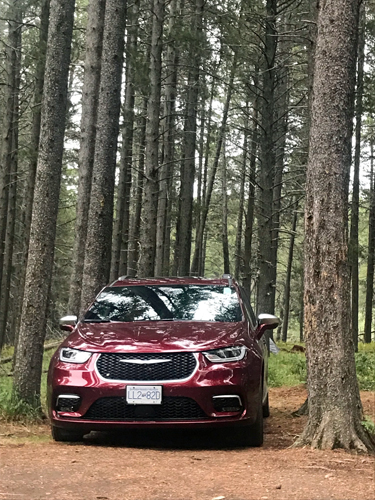 Two days ago, we drove from the impossibly scenic Canmore, Alberta, to the other side of the province, and beauty spectrum. Drumheller lies hidden in 'Badlands'. You even descend a few dozen metres from the seemingly flat prairie tableau to discover an otherworldly film set of desert scrub and 'coulees', brown hillocks that at once look like rounded-off pyramids, layered tiramisu and Roadrunner cartoon backgrounds.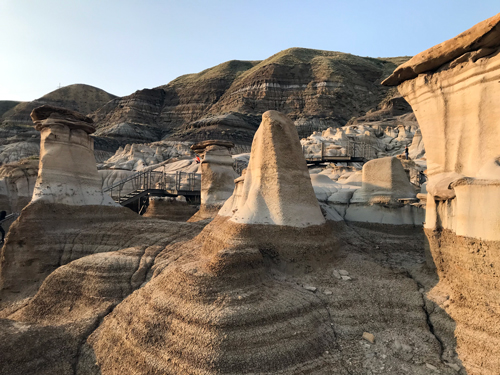 A visit to the world-famous Tyrell Museum with its rotating collections of dinosaur bones and fossils is cut short. After a little more than an hour amid more maskless people than either of us has seen indoors or out in 18 months, the majority of whom are hollering exited children — therefore definitely not vaxxed and possibly transmitting — we left for a walk in the scrubby, cool, coulees.
And Drumheller? It looks like most of the businesses in town are dinosaur themed. The funeral home is spared. And so is our campground where, two nights ago, we watched a good chunk of Jurassic Park on DVD from the Pacifica's comfy and fully equipped second row of captain's seats with their individual screens. The headphones fit snugly on our adult craniums, no doubt designed for younger users. Without a driver's foot feeding its battery, the Pacifica wanted to turn off. So, after an hour, we cut short the dino movie as well, wanting a working vehicle when we awoke.
Confession: We've set to charge the plug-in hybrid, despite my earnest speeches here over the past days. Charging requires more detailed scheduling than a simply gas-up, and we're nomads at the moment, planning in kilometres and days, not minutes and activities. We will charge it tonight, staying in a home, not at a campground.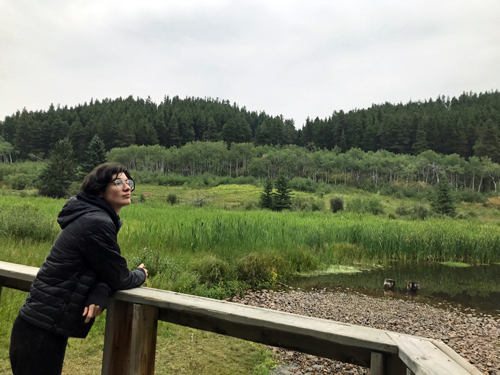 Yesterday we drove southeast from Drumheller to the Cypress Hills Interprovincial Park (Canada's only). Unlike BC and Alberta, there's no temporary fire ban here in the Saskatchewan side of the park. Indeed, they supply the wood at no extra charge. Parked head-on between tall trees, the Chrysler Pacifica Pinnacle Hybrid "looks like an angry beaver," my daughter Justine thinks.
The Cypress Hills debunk the lie that prairies are flat and featureless. This huge park is rich with scenic rolling hills, varied forest and silent lakeside walks. Last night we enjoyed a modest campfire.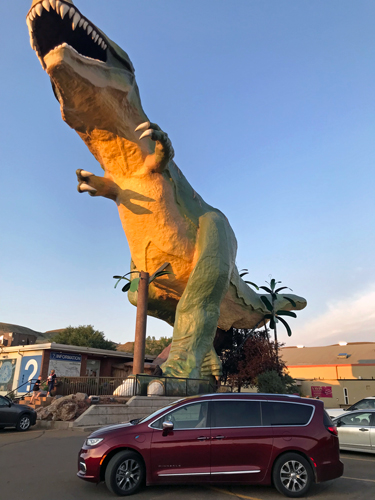 Today we drive to Saskatoon, zigzagging back up, once again slowing our progress east. That's OK. We've been adding a few hundred km to the total distance to drive through the (unfortunately often smoked-filled) Okanagan, the alpine Kicking Horse Pass into the Rockies, then the Badlands and now these Cypress Hills.
It's raining as I write this from the Pacifica's passenger seat. That's OK too. Today we'll be staying with friends who moved to Saskatoon during the pandemic. (I believe we'll be their first guests.) After two nights of camping, we're a bit miffy and hope they won't mind us using the laundry facilities.