Take one: Sabrina Giacomini
Wow! That's the first thing that comes to mind when laying eyes on the 2017 Infiniti Q60. I received the keys to the elegant, top of the line, Q60 Red Sport 400 AWD. My co-workers know that I get to drive different cars thanks to my line of work as a freelance automotive journalist and every week, I get asked about my latest ride. The morning I showed up with the Q60, I didn't have to tell them what I was driving; they already knew. That's to say how much the Q60 stands out.
The sports coupe is clad in a holographic red paint that draws the eye and makes you wonder how the maker came up with a paint with so much depth and layers. It's definitely a step up, even two, from the usual metallic coats. The design of the vehicle is also striking with a balanced symmetry and elegance that pleases the eye. Just like with the Infiniti QX60, the coupe sports the signature grille and a pair of feline headlights.
Under the hood of the Q60 400 AWD purrs a 3.0L twin-turbo V6 engine producing 400 horsepower and 350 lb-ft of torque. At peak rpm, this lady in red packs quite a punch! The only let down for me, however, has been the seven-speed automatic transmission. The electronically controlled transmission is said to benefit from a learning algorithm that allows the gearbox to pretty much mimic the driver's habits. It therefore becomes increasingly personalized and better suited to the owner's driving style. Or at least that's what you would expect, right?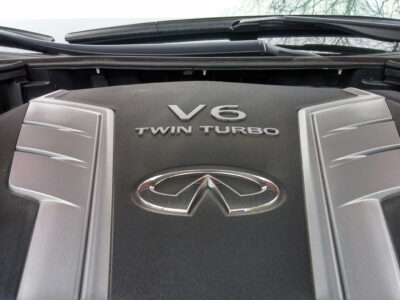 That means that by owning the vehicle and driving it on a daily basis, it turns it into what I imagine to be an on-wheel soul mate; but driving a vehicle that changes drivers every week most likely tampers with the algorithm, which would explain why it didn't feel as efficient. Even the sport mode, using the paddle shifters, lacked a bit of precision. The shifts were not as smooth as I had hoped for.
Infiniti's intelligent all-wheel drive system does an excellent job at distributing the power and has been impeccably teamed with Dynamic Digital Suspension. I was not able to take the car off trajectory in the bends on dry tarmac, and trust me, I tried. The system also turns this sports car into a great winter companion. No need to trade your Q60 for something more practical in the snow in the winter months; the Q60 does it all.
However, contrarily to Kevin who lives in Montreal-winterland and got to put it to the test in snowy conditions, I had to rely on my past experience of the system's behavior in the snow and assume that the Q60 iteration is just as good. I called Toronto's winter "green" the other day, until someone noted that it was actually rather brown. I had to agree.
Of course, the Q60 is a coupe and isn't exactly passenger friendly, unless you ride shotgun. When sitting at the front, the interior space is airy and comfortable. The car has definitely been designed with the driver in mind. The contrasting black-and-white leather is elegant, but not tacky, and the carbon fiber accents have been neatly integrated into the dashboard and center console.
The trunk volume is more than acceptable for the segment, meaning that utility doesn't have to be sacrificed for beauty. And as you would expect from a $60,000-plus vehicle in 2017, it is equipped with numerous features, including a superimposed double screen, one for navigation and the second for other functionalities, Infiniti InTouch infotainment system, heated seats and steering wheel, 13-speaker Bose sound system, wheel-mounted controls, navigation and such. It is also packed with safety features.
In my opinion, it is one of the better looking luxury coupes currently on the market. A manual transmission would probably make the Q60 a fantasy come to life, but let's not get too excited. Manual transmissions are a rare species nowadays. The intelligent automatic transmission will have to do, even though it has yet to blow me away. On the bright side, would you ever get tired of waking up to this in your driveway? With a price tag starting at $45,990 for the entry-level 2.0t with AWD – the Red Sport takes you over the $60k mark – you can get easy access to luxury done right for less than the usual German suspects.
Take two : Kevin Mio
Driving around in the 2017 Infiniti Q60 3.0t AWD made me feel old!
In my younger days, I only wanted two-door coupes for their sporty appearance – in fact, my first two cars were coupes.
But as a dad who needs to use a car seat for his little one, coupes are not as appealing as they once were.
So getting a child into and out of a car seat in the back of a coupe requires some acrobatics that my body just isn't capable of anymore. The back aches and knee pain after a week of that body-bending experience is what made me feel old.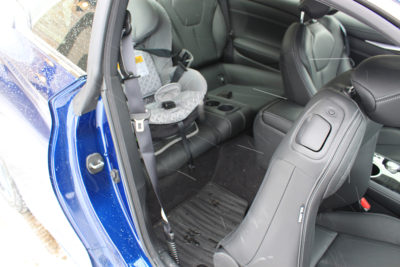 Luckily, getting behind the wheel of the 300-horsepower V6 twin turbo in the 3.0t (the middle child between the 2.0t and Sabrina's Red Sport) made me feel a little younger.
With the accompanying 295 lb-ft of torque under the hood, the Q60 has plenty of power to get moving, although that power is definitely held back when you opt for the Eco or Snow mode on the drive selector. Of course that's intentional, especially in snow mode, with the combination of a higher gear, and less torque and power to avoid wheel slippage on winter roads – of which there was plenty in Montreal during my time with the Q60.
The standard all-wheel drive also helps out with snowy roads.
The standard mode is better performance-wise, but the real fun comes out when you select the Sport and Sport+ modes.
As much fun as the engine is, however, its partner in crime doesn't always come to the party.
The seven-speed automatic transmission was on the sluggish side for my taste and sometimes felt like it couldn't keep up with what the engine was doing. Perhaps some of that is turbo lag, but the feeling remains the same.
The Q60's styling is definitely one that will attract younger buyers – maybe even too young.
One future Infiniti client walked past the Indigo Blue tester and remarked to his dad: "I like that blue car!" Did I mention he was about six?
But all kidding aside, the Q60's styling will appeal to those young and old (assuming the older ones can get into it).
I particularly liked the LED lighting treatment up front, the 19-inch alloy wheels and the wide and deep front grille that makes me think of a whale shark prowling for food with its mouth open (yes, I read too many kids books about sea animals).
The Q60 has shapely curves – especially over the front wheels and side body panels.
The trunk lid opening is a tad on the stumpy side for my liking, and the trunk space is also not very large – only 8.7 cubic feet.
Inside, the driver is enveloped in luxurious amenities, and the materials and finish are quite good.
The front seats are very comfortable and provide good support.
The centre stack features two large touchscreen (eight inches up top, seven inches below) that are used to display navigation and cameras (up) and a variety of functions (below).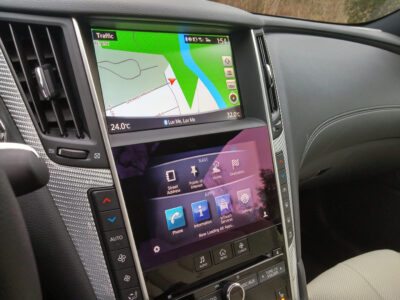 They are part of the Infiniti InTouch system, which does take some getting used to.
Music lovers will truly enjoy the Bose audio system in the Q60, which has 13 speakers.
Thanks to Mother Nature, I spent a lot of time in snow mode during my time with the Q60 3.0t, so it was a little subdued to drive.
The times I was able to open it up, however, showed that it has the guts required to bring a smile to a driving enthusiasts' face — and yes, even the child in the back seat despite his initial misgivings about the Q60 (he wanted it to be black!).
As mentioned earlier, I did find response from the gearbox sluggish at times, but that was mainly at slower speeds. I found it much more confident at higher speeds and when being pressed harder.
Our tester was equipped with the optional Driver Assistance Package ($2,000), which adds some nice safety features such as forward emergency braking with pedestrian detection, parking sensors, rain-sensing wipers and – a feature that saved me from hitting my garage door because the camera was covered in winter muck – backup collision intervention which stopped the Q60 on its own without any input from me.
The Q60 has some very attractive qualities, from the looks to interior comfort and power, so if you are in the market for a sports coupe — and have the acrobatic skills to get in the back seat — it's worth checking out.
Take three: Rob Rothwell
I just spent a week with the 2017 Infiniti Q60 Red Sport 400 AWD. Exhausted.ca readers will know that my esteemed colleagues Sabrina Giacomini and Kevin Mio recently completed an informative "he said, she said" review of the Q60.
Now it's my turn to ante-up and give our readers a third perspective. (Where else but on Exhausted.ca can you read three reviews on a specific vehicle stitched back-to-back?)
Like Sabrina's sunstone red Q60 Red Sport 400 AWD tester, my iridium blue example was also a 400 horsepower Red Sport edition, making it the most powerful Infiniti coupe ever thanks in part to the 350 lb-ft of torque generated by its 3.0L twin-turbocharged V6 power plant.
The engine is connected to a seven-speed automatic transmission, which rev-matches when downshifting. Both Sabrina and Kevin found the gearbox to be a little sluggish in its operation, and I sensed their concern, however, I didn't share it.
I felt that the transmission performed well when it knew what was expected of it, i.e. I'm driving aggressively and want crisp shifts. When driving normally, the transmission – like so many other automatic gearboxes of late – wants to upshift in order to drop the revs and conserve fuel. With so much low-end torque on-tap, lowering the revs didn't adversely affect the vehicle's driveability in my view.
A characteristic of the car worth-a-word applies to its steering dynamics. There's no mistaking the Q60's quick, precise steering response as anything but that of a sports car. That said, it took me the better part a week behind the wheel to fully appreciate its on-road execution, which initially felt lifeless and virtual to me.
There's precious little feedback in this steer-by-wire setup to allow a good read of the road and its relationship with the four patches of rubber. Despite the absence of old-school road-feel, the Q60 attacks corners with tremendous confidence while eagerly following the driver's commands with no discernible objection or body roll.
Thanks to its all-wheel-drive grip, the Q60 Red Sport departs a corner with warp-speed thrust and nary a slippage of wheel. Of course, such impressive handling capabilities don't come without a physical cost, and in this case the price is an overly-firm ride quality, even in the 'standard' setting of the adaptive underpinnings.
While the firm ride may get old over time, you've gotta love the Q60's wonderfully rigid chassis, which allows the suspension to do its work. Despite the suspension's "tough love," potholes don't assault the vehicle's occupants, or generate unnecessary hammering in the cabin.
And that cabin is a pretty special place for front seat occupants; those in the rear be damned.
The high-quality interior linings are pleasant to the eye, but the use of two touchscreens is troublesome. Frankly, I find it gimmicky and annoying. It almost feels as though Infiniti engineers had to come up with all sorts of apps and functions to give both screens sufficient meaning.
One final cabin irritant is the absence of easy to manipulate, intuitive switchgear. I used to laud Infiniti for its straightforward, logical HVAC and audio setups, but no longer. It seems they've followed the crowd to a place where form trumps function, and that's regrettable.
If just one thing can be added, make it a tuning knob next to the volume knob so that I can scroll through satellite radio stations without taking my eyes off the road to fight with a touchscreen.
Sabrina and I agree on a couple of aspects of the Q60, the first being its exterior design. Infiniti has produced a coupe that imparts a sense of excitement while being careful not to over-design the product as I've seen too often of late with the trend to create lightning-bolt patterns and over-caffeinated asymmetry.
Like Sabrina, I'd love to drive the Q60 Red Sport with a manual stick. It's sad that the art of motoring is becoming ever-more diluted by technology and drivers needing handholding. For the record, I'll never surrender the 6-speed stick in my Z4 to a dual-clutch wannabe.
Third-pedal arguments aside, I agree with Kevin Mio that the Q60 makes one feel younger and more youthful, though not so much upon getting into the low-slung ride as Kevin noted. And now with 58 years on my clock, I can assure Kevin that it doesn't get any easier with age.
Still, the Q60 Red Sport is an amazing performer. I was quite astonished by the force of its acceleration, which enables the Japanese warrior to hit 100km/h in a reported time of 5.0 seconds. Along the way, occupants will revel in the refinement of its force-fed V6 mill and the deep induction note it generates in Sport and Sport+ modes.
Fortunately, all of that forward thrust is well-countered with excellent braking performance that's immediate, precise, and perfectly balanced. I think it's fair to say that the three Exhausted.ca amigos each enjoyed their time partnered with a Q60. Outside of the instrument panel foibles and video-game-inspired screens, I certainly did.
2017 Infiniti Q60 3.0t AWD
Price as tested: $56,985.00
Freight: $1,995.00
Configuration: Front engine/all-wheel drive
Engine/transmission: 3.0-litre V6 twin turbo/7-speed automatic with manual shift mode
Power/torque: 300 horsepower/295 lb-ft
Fuel (capacity): Premium (75.7L)
Combined fuel economy ratings (L/100 km): 10.8 L/100 km
Warranties: 4-years/100,000 kilometres (basic)
Competitors: Audi A5, BMW 4-Series, Mercedes-Benz C Class, Cadillac ATS Coupe
Related links: