When it launched back in 1962 (as a '63 model), Jeep's Wagoneer unknowingly carved out an automotive niche that few back then would have bet on for future market dominance. A truck-based, body-on-frame 4×4 with amenities and luxury touches not then heard of in the space, the Wagoneer was an entirely new and different concept from its more agrarian roots, as well as the competition. And yet, nearly sixty-years since Brooks Stevens iconic SJ debuted, the Luxury Utility Vehicle (LUV) is inarguably king of North American roads.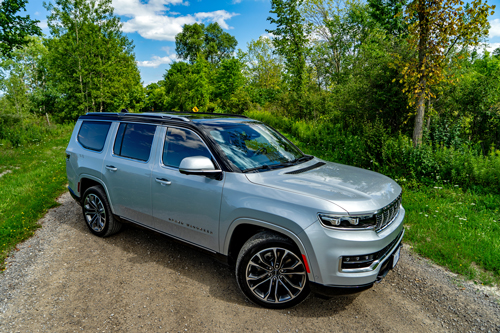 Which is exactly why Jeep has revived the Wagoneer and Grand Wagoneer nameplates after their thirty year absence from the market. And this time around they didn't just paste wood grain appliqués onto a Grand Cherokee and call it a day. No, both the Wagoneer and Grand Wagoneer are all-new flagship vehicles boasting seating for up to eight and a plethora of features.
The 2022 Grand Wagoneer Series III is the top of the line model. Infused with nearly every luxury amenity available in a vehicle (and a couple that are new to the space), it looks to repeat history and redefine what luxury means in this segment.
Back in the warmer days of 2021, Jeep hosted my wife Carolyn and I for a day of meandering through Niagara's wine region in a Silver Zynith ($595), pre-production version of said vehicle. They plotted some tracks for us, organized for a blind tasting meal at Pearl Morissette (one of Canada's 100 best restaurants), and even arranged a concierge for both drop off and pick up their whip.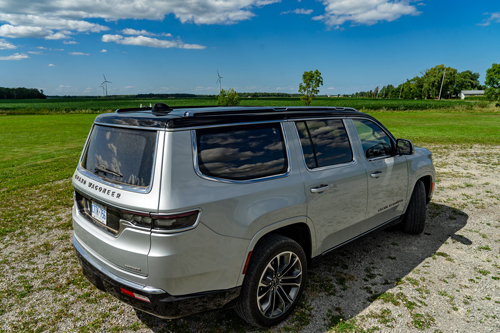 The route was scenic, the meal was epic, the concierge both dutiful and friendly, and the Grand Wagoneer? Well, you'll just have to read through to find out…
Powertrain: Built upon a revised version of the Ram chassis, the Grand Wagoneer is both large (at 5.4m long x 2.4m wide) and imposing (2,912kg). As such, it requires an engine of equal measure. Regardless of Series (I, II, or III) when "Grand" is added to the Wagoneer equation the only available engine is the 471 horsepower, 455 ft/lbs of torque wielding, 6.4l, pushrod V8.
Mated to an 8-speed TorqueFlite Automatic transmission, the Grand Wagoneer actually moves as if it doesn't occupy nearly as much space or mass. Tip into the throttle mildly and response is well measured and anything but sluggish. Plant your foot though — especially in Sport mode where the torque split is 35 front, 65 rear — and it will move. Jeep quotes a 0-96 km/h time of 6 seconds and, while this wouldn't be the first Stellantis product I'd reach for when heading to the drag strip, that's surely impressive.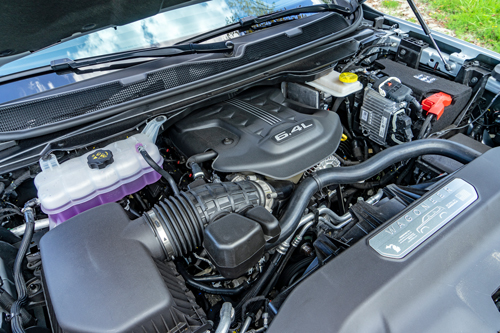 What is surprising is that there isn't a hybrid option. While the standard Wagoneer gets a 48-volt, 390Wh battery assist for its 5.7l engine, there is no such consideration for Grand Wagoneer. This seems like a bit of a miss, considering the aim to redefine the segment once again.
Mileage for our Series III was pegged at 16L/100km (combined) and even despite a combination of spirited driving, a couple of traffic jams and indulging in every amenity we could along the way (more on those below), we observed slightly better at 15.3L/100km.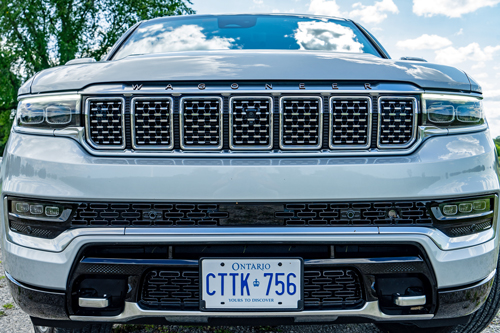 Exterior: While it may sadden some to not see any arboreal paint schemes on the Wagoneer's option list, I find the exterior styling to be clean and well accented. Instead of chasing the nostalgia of their much loved (even more so nowadays) SJ, Jeep's design team took a clean sheet approach and kept things modern and sharp.
Up front, the LED lighting array maintains a familial look and the laser-etched treatment of the seven-slotted grille is tastefully executed. From a three-quarter view it is a handsome vehicle, even when painted a ubiquitous colour like Silver Zynith.
In profile, the shapely glass towards the rear makes for a very large D-pillar. Overall, its slab sides and large windows really can't hide the Wagoneer's significant size. I don't say this as a negative, all vehicles in this category are faced with the same issues of physics, just don't expect anything vastly different here, although the blacked out roof does help.
Our Series III rode on optional 22-inch polished aluminum rims with "Black Noise" painted pockets ($1,995). They helped break up a bit of the colour-monotony and certainly do well to fill those arches better than the 20-inch hoops standard on regular Wagoneers.
Interior: In previous (and in some current) Jeep products the notion of luxury feels more like a byproduct of necessity — public tastes dictate that the minimum acceptable levels of opulence must include oh-so-much these days — and competition is fierce. That just isn't the case with the Grand Wagoneer Series III. While what those other guys were doing to meet demands surely spurred design concepts, the Wagoneer's interior has clear intent and is without compromise.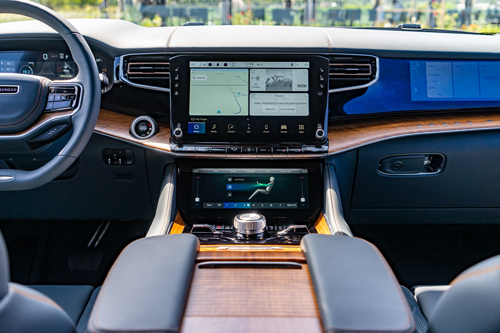 Wrapped in sumptuous, quilted, agave-blue Palermo leather and accented with enough walnut to send vintage furniture designer Nils Jonsson into a tizzy, the interior of our Series III Grand is extremely pleasing to the senses. From the leather wrapping and girth of the flat-bottomed steering wheel and the knurling of each knob to the Tambour treatment on the centre consoles (both front and rear), everything feels special here and its design is cohesive to a point well beyond what is the norm.
The seating up front is comfortable and supportive. Each captain's chair is equipped with 24-way power adjustment and a built-in massage feature that offers five different choices, at three different intensity levels. Judging from my wife's conversations with co-workers the following Monday, the massage options were welcome.
Our second row was equipped with heated, cooled and reclining captain's chairs. A bench style 3-seater option can be had at no extra costs. The third row seats also recline and will comfortably seat two humans, both my size (183cm) and even larger.
Cargo is boasted as best-in-class with 775L available behind the third row and with everything folded flat, there is enough room for thirty-two large Rimowa Classic Check-In bags (2,667l).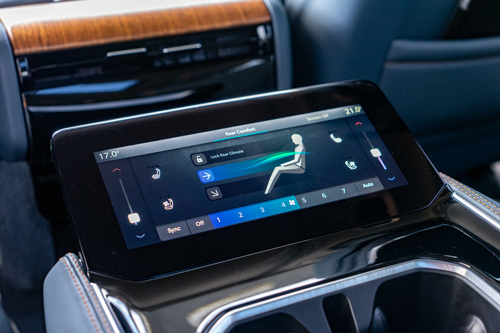 Amenities/Infotainment: Honestly, it's hard to know just where to start when it comes to the cornucopia of amenities on offer in this Series III Grand Wagoneer: there is a lot to unpack here. We've already spoken about those heated and cooled massaging seats, so how about screens?
There are seven of them — the main digital gauge cluster, a 12-inch infotainment screen, a flip-down climate and seating control screen, the passenger gets their own 10-inch panel, there are two entertainment units in the second row and the climate control back there has its own display too. Actually, there are eight, if you include the rearview mirror. In total, there are 1.9 metres of display begging for you to tap, swipe and scroll your way to info-tained bliss.
As a second-row passenger, you can explore Fire TV and catch up on The Grand Tour or any number of movies and shows on offer. And if you don't want to watch what your neighbour is into, no worries there either as they work independently.
Not enough? How about the sound system then?
Audiophiles will be pleased to know that the 1,375 watt, 23-speaker, McIntosh audio system in the Grand Wagoneer sounds absolutely exquisite. To demonstrate its capabilities, McIntosh put together a playlist for us to peruse and, while I was disappointed that the Canyonero theme song from The Simpsons didn't make the cut (Can you name the truck with four wheel drive, smells like a steak and seats thirty-five..), it ran the gamut from classical and jazz to hip-hop and rock and was sonically impressive regardless of style.
Specifically for the driver, there is adaptive cruise control and lane keep assist, both of which work quite well and allow for distance adjustments on the fly. The main instrument cluster can be customized with up to nearly twenty-four different menus available.
Apple CarPlay and Android Auto are both wirelessly supported and, best of all, your co-pilot can use their screen to finagle a trip route on the fly and simply "swipe" it on over to you to follow. Should you be the trusting sort, said co-pilot can also read and respond to incoming texts.
Selec-Terrain driving modes (Automatic, Sport, Rock, Snow, Sand/Mud) can be quickly toggled via a curvaceous selector to the left of the gear dial and its partner on the right controls the Quadra-Lift air suspension. Given that our routes to and from lunch didn't include anything all that extreme, I drove solely in Automatic and Sport with the ride height staying in the lower half of its 9.1cm of lift range.
Drive: Given its size, mass (12 yards long, 2 lanes wide, 65 tons of American Pride!) and the fact the Wagoneer is outfitted more opulently than an urban Toronto Mizrahi penthouse, you might expect it to handle like a stoned hippo, but it doesn't. Sure, you'll never forget that the Wagoneer is a large, body-on-frame SUV, (especially while trying to give cyclists some space in tight two-lane roadways) but the chassis and suspension do a good job of smoothing road imperfections and keeping things drama free.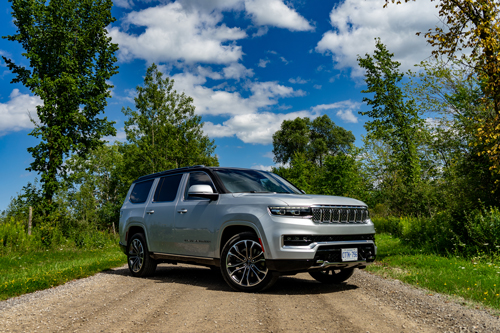 While we did dart through a few winding gravel roads, I can't comment on the off-road abilities of the Grand Wagoneer, though you should know that neither it nor the standard Wagoneer was designed as a vehicle to wear Jeep's Trail Rated badge.
The big V8 offers more than ample thrust to make passing vehicles on the highway a breeze and the transmission shifts fairly unobtrusively. Around town at slower speeds, there was a slight shudder between first and second but it wasn't off-putting and I'd wager with more seat time, one of the 40 shift maps would sort this out.
Parking lot maneuverability is relatively easy as the turning radius is much smaller than you'd anticipate and the visibility is quite good.
Conclusion: With their revived Wagoneer and Grand Wagoneer, Jeep has truly taken the fight directly to its North American competition as well as those from across the pond. The Grand Wagoneer, outfitted in top-tier Series III trim, offers an incredible amount of technology and luxury features that have been implemented in a desirable and cohesive way and packaged in a well-mannered, handsome package.
If you have longed for something special to tow your Bowlus Terra Firma, the Jeep Grand Wagoneer Series III is both up to the task with its 4,468kg towing capacity and moving from that first-class RV to the driver's seat won't feel like a downgrade into coach. The Grand Wagoneer Series III certainly has the most impressive, tech-laden and sensually pleasing interior I've ever experienced in a North American vehicle and I'd wager it rivals all others. Whether that's enough to convince buyers of its asking price (which is the highest of its domestic competition), remains to be seen.
2022 Jeep Grand Wagoneer Series III
Base price: $120,995.00 ($130,270.00 as tested)
Configuration: Front engine, four-wheel-drive
Engine/Transmission: 4.6-litre V8 / eight-speed automatic
Power/Torque: 471 horsepower / 455 lb-ft
Fuel economy (litres/100 kilometres): 16 combined (est.) (15.3 observed)
Alternatives: BMW X7, Cadillac Escalade, Lincoln Navigator, Land Rover Range Rover, Lexus GX 570, Mercedes-Benz GL
Link: Jeep Canada