How to describe Hyundai's Santa Cruz? A pick-up ute? The X Camino? A crossover that's crossed over again? All could work. Hyundai calls it a sport adventure vehicle which doesn't say much, but that it 'breaks new ground in the SUV, truck and crossover segments …unlike anything in the North American market.' That works.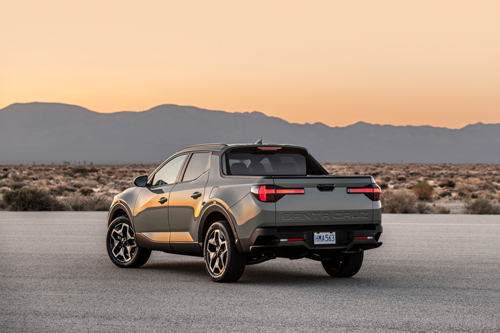 Let's be honest. Canadians need another compact SUV like they need another lockdown, but that open bed behind the Santa Cruz's cab makes it hard to look away. The French expression jolie laide translates roughly to ugly-beautiful which, though contradictory, neatly describes the likes of Mick Jagger, Sandra Bernhard and now the Santa Cruz. You'll get stares.
Whatever category you throw it in, the Santa Cruz is in production now, arriving in dealerships this August, and it looks like it's going to be, both, fun and useful to pilot. Yes, that's what it looks like. Automotive writers won't get to pilot one till summer (guess why). So, for now, we were given a guided introduction by Steven Flamand, Director of Product and Corporate Strategy at Hyundai Canada.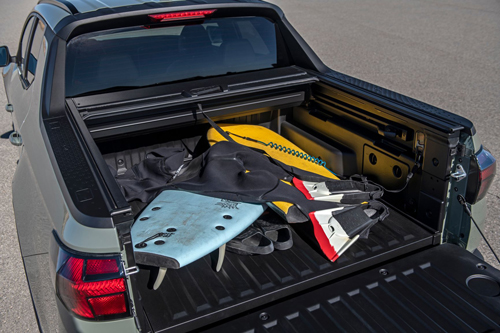 Among other demonstrations, Flamand slid the panelled and lockable tonneau cover across the top of the open cargo space, for the protection of whatever you're packing from the elements and thieves. The lid's made from polyurethane — a lightweight but almost indestructible plastic material — that can withstand 100kg sitting on top.
Though Metric has been our legal measurement system since 1975, nearly 8 years after Toronto last one a Stanley Cup, many Canadians still have trouble picturing what 100kg means. Ahem: According to NHL.com, Montreal's future Hall of Famer between the pipes, Carey Price weighs 99kg. So, you could drive away confidently with Carey Price nailed to the tonneau cover. At the time of writing, many Torontonians would appreciate that.
Is this a utility crossover or adventurer's mobile party unit? Well, the cab seats five. A lockable, secret storage space beneath the back the of the bed has drainage plugs 'in case you want to keep ice there' says Flamand. A 110-volt outlet is cached in the wall of the bed, where you can juice one power tool or several loudspeakers.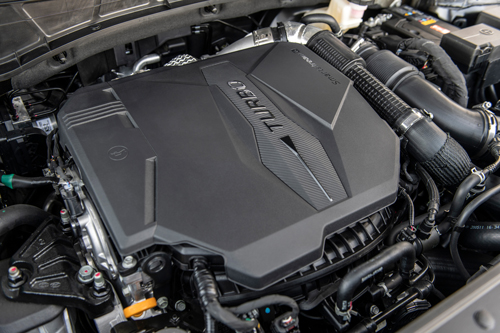 Whether you choose the standard 18-inch wheels or upgrade to 20s, the Santa Cruz rides nearly as high as compact trucks like the Toyota Tacoma, Honda Ridgeline and Nissan Frontier for what Hyundai calls 'ease of ingress and egress.' That's just fancy chat for not needing to bend your aging, aching back to get in or out. The Santa Cruz is also slightly less lengthy than those other three with a shorter wheelbase but is ever so slightly wider. All of which should add up to a grippy and entertaining ride in sport mode. We'll see soon enough, in summer.
Made in Alabama, strictly for the North American market, the Canadian Santa Cruz is powered by a 2.5L four-cylinder turbo engine with an 8-speed transmission and offers all-wheel drive (as Canadian as a double-glazed donut with a double-double dark roast). The engine is expected to put out over 275 hp and over 310 lb-ft of torque. But what does that mean in everyday language? Well, for one thing, it can tow 5,000 lbs. And what does that mean in everyday Canadian language? 99 kg equals 218.4 lbs. So, the Santa Cruz could drag 22.9 Carey Prices.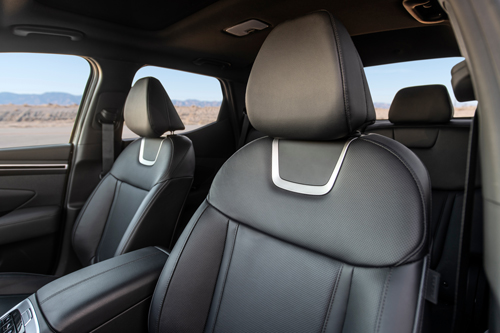 Flamand says Hyundai dealerships are taking orders now and first deliveries are expected in Canada in August. Look at the Santa Cruz again. After 15 months of walking the dog then watching the Sopranos over and over, it's not like any of us will need material for conversation this summer, but owning one will get your friends and family talking. This thing has crossed over.