Porsche has become a crossover company. While models like the 911 GT3 Touring, 718 Cayman GT4 RS and 718 Spyder snag headlines and command our attention, like it or not, the facts and figures speak – and they shout – that the sports car division is niche at best.
In Canada, Porsche sells more Cayennes than the sum total of 911's and anything wearing 718 script combined. And not just by a few units either, but by a healthy 22%. Factor in figures for the Macan – Porsche's bestselling vehicle by far – and its crossovers trample everything else in the portfolio, accounting for over two-thirds of sales.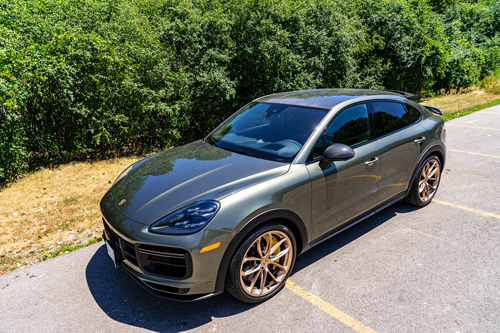 With twenty-two variants to choose from – four flavours of Macan, and some eighteen for Cayenne – there is potentially a Porsche badged crossover for everyone. But just because it wears the badge, does that automatically make each one "the Porsche of crossovers"? In an effort to wrap my head around the madness I sampled something from either end of the spectrum: a 4-cylinder Macan T and the all-new firebreather, the Cayenne Turbo GT.
2022 Porsche Macan T
The newest Macan to join the fold, the Macan T ($83,650 as tested) is designed to be the scalpel of the entry-level family. That "T", or "Touring" designation means that Porsche's engineers were focused on handling dynamics to deliver a purist's Porsche, albeit with a hatch in the back and an elevated stance.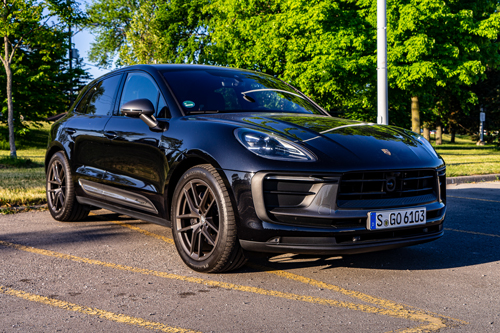 From the outside there's very little that separates the T from its brethren. The shapely body hasn't been festooned with any cartoonish spoilers or bits of aero, so it remains as attractive as ever. My Jet Black Metallic tester wears a few Agate Grey trim pieces at the sills and wing mirrors, but those blend in rather than stand out.
Keen eyes will pick up that that elevated stance isn't as tall as other Macans. The T does sit lower to the ground by some 15 mm, and if you tick the air suspension option box ($1,590) it hugs the Earth a full centimetre lower. In its most squat settings, the Macan T really does resemble a hot hatch, which stands to reason since it's powered by a Golf GTi's motor.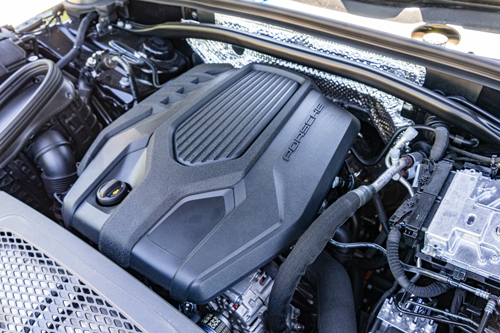 That VW sourced 2.0-litre, 4-cylinder turbo has been tweaked, though. In Porsche guise it delivers 261 horsepower and 273 pound-feet of torque, which is the same as all 4-banger Macans. However, the T does come standard with the Sport Chrono package, so the sprint to 100 km/h is two-tenths quicker.
The RaceTex interior ($3,210) is grippy in all of the right ways. Combined with the patterned inserts in the seats, it delivers a good mix of playfulness and serious intent. Those seats keep the driver locked in position with a healthy hug and deliver a feel much closer to a sport-sedan than crossover.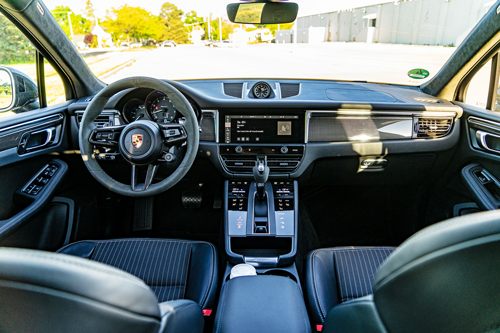 Toss the Macan T down a twisting path of asphalt and it feels Gorilla-glued to the ground. The lower stance and PASM (Porsche Active Suspension Managed) controlled air bags combine with stiffer sway bars and the optional Torque Vectoring + to make the Macan T unflappable at any speed. Just point, shoot and repeat. In fact, I think Porsche has actually made this thing too competent.
Drive it like you've stolen it (or like you've been loaned one for press evaluation) and the impression that sticks is that this car needs more motor. It's not that the turbo-four isn't a good engine for the application, but the chassis dynamics are so good that they've engineered out all of the drama. Driving well doesn't feel like an accomplishment, or that you were needed to complete the equation: it's just what the Macan T does. That's not what I expected of a "T" badged Porsche, nor what I wanted. I prize driver engagement above all and the Macan T made the experience all a bit simulated or robotic. So, yes it's a Porsche crossover but it's not even the Porsche of Macans, let alone crossovers.
2022 Porsche Cayenne Turbo GT
If there is one thing that cannot be said about the Porsche Cayenne Turbo GT ($227,160 as tested), it's that it needs more motor. Oh my lord, what a glorious thing that 4.0-litre, twin-turbo V8 is – and everything about the Cayenne Turbo GT was designed to make sure you're reminded of it with everything you do.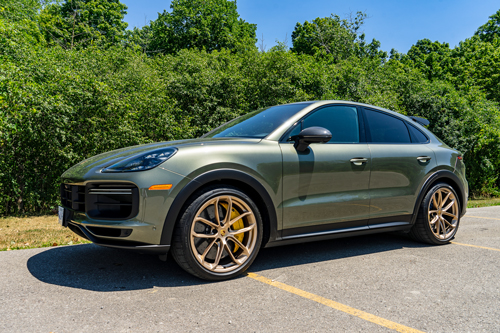 Fire it up and it growls. Give a stab of throttle and it barks. Hammer through the 8-speed Tiptronic transmission – in either direction – and the shifts sound like someone resurrected the Benson & Hedges Symphony of Fire.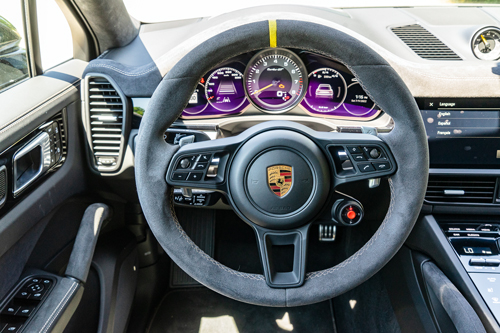 Even from the comforts of the well-appointed cabin, with the exhaust in its most muffled mode, the Turbo GT announces its intent. The RaceTex seats and steering wheel feel ripped from a LeMans racer.
Driver ergonomics are spot on and the Turbo GT will poke around on shoddy roads without causing too much discomfort, but point it towards something smooth and twisted and it starts to grin.
Pumping out a stonking 631 horsepower, the Turbo GT will shuttle you down the autobahn to the tune of 300 km/h, before physics and ECUs conspire against you. Not interested in a top speed run? No worries, thanks to a 23 psi boost from the turbos, there is 626 lb-ft of torque available between 2,300 and 4,000 rpm, so sprints are just as bonkers. Launch it and the Turbo GT will hustle to 100 km/h in 3.3 seconds.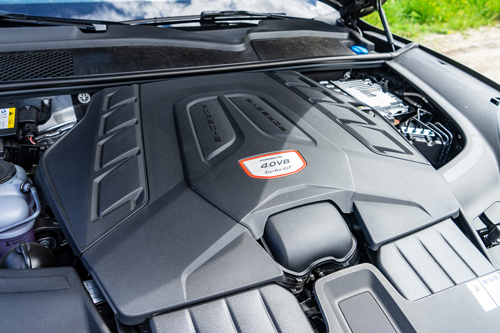 That engine may be a highlight but it isn't the only one. Copying notes from the Macan T's playbook, the suspension here is also PASM-controlled and hunkers a full 17 mm lower than standard Cayennes. There is torque vectoring of course, and something Porsche calls 4D Chassis Control which is a system that centralizes all of the chassis data to seamlessly maximize both stability and agility.
The all-wheel-drive system receives its own dedicated cooling unit and it is, of course, rear-biased. There is rear-wheel steering too and the staggered 22-inch hoops are wrapped in sticky Pirelli P-Zero Corsa PZC4 tires. What that means is that, like the Macan T, you can chuck this 2,200 kg crossover around with abandon. But unlike the Macan T, this thing won't leave you cold.
Driver engagement is maximized but our inputs have consequences and the Turbo GT is happy to remind you of this. Sure, the extraordinary efforts of Porsche's engineers will do everything in their power to keep the carbon fibre pointed skywards, but they've left some room in the margins for daring drivers to hang loose. You don't have to fight with the Cayenne Turbo GT but it does like to spar, and that is the sprinkling of magic that makes this the Porsche of crossovers.