Is there a band or a specific song that when you hear the music start playing, it makes you stop whatever you are doing and just soak in the moment? Or, if you're like me, the right song can cause you to keep going around the block a few more times just to listen to each note, or a specific vocalist work their magic.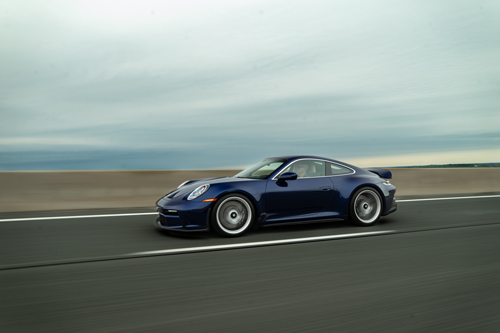 CCR (Creedence Clearwater Revival) is one of the original swamp/blues rock bands of the late 60's and a band that captivates me every time. Something about John Fogerty rasping Born On The Bayou between the elegant guitar riffs of his late brother Tom stirs my soul.
The 2022 Porsche 911 GT3 Touring is for me the mechanical equivalent of a magical song tugging at my heart strings. It's not the fastest Porsche 911, it's not even the most aggressive version of the GT3, but it just might be the perfect choice for when a favourite song comes on the radio and you feel compelled to go around the block at least one, if not 10 more times. I may even find myself turning off the radio to listen to the sweet sounds of that 60's inspired flat six work its mechanical melody with each stir of the manual gearbox up to it's stratospheric rev limit of 9,000 rpm.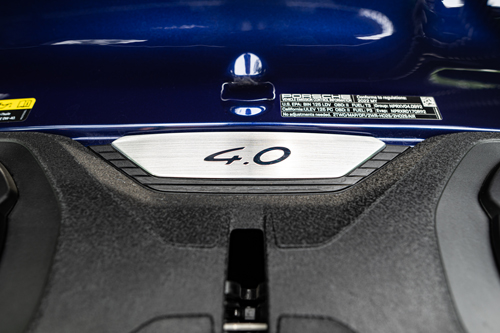 Powertrain: There is a raw edge to the 4.0L 6-cylinder boxer engine that drives my right foot to stand on it and go at every opportunity. There is no turbo whistle, how could there be, it's not turbocharged. There's just a solid flat-six growl that grows with howling intensity as you let the torque needle cycle through its clockwise rotation on the dial and engage the next gear through the perfectly-balanced 6-speed GT Sport manual transmission with Auto Blip available for those perfect shifts. Don't forget to turn the drive mode dial on the steering wheel to Sport or Track. The difference is legendary.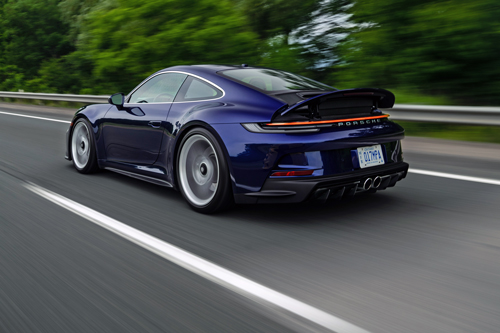 Power numbers indicate 502 horsepower at 8,400 rpm and 347 pound-feet of torque at 6,100 rpm. Zero to 100 km/h is achieved in 3.9 seconds, down a full .7 seconds from its massive rear winged GT3 sibling, but you hardly notice. Top speed peaks at 320 km/h for the manual transmission.
The subtlety of no rear wing in some ways heightens the experience and trust me, everyone who sees it and knows a thing or two about Porsches is certain to stop and stare. In fact, be prepared for a small crowd of automobile paparazzi to gather around the car when going into the store for a few groceries. There is something about a GT3 badge that gets hearts racing and smartphone cameras clicking.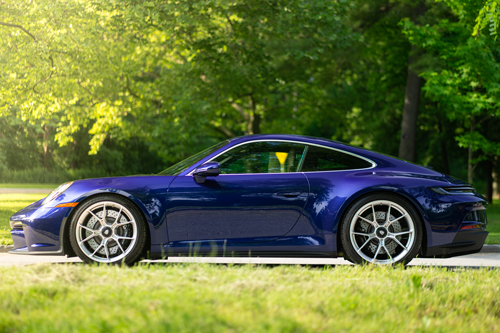 Exterior: There is a subtlety to the GT3 Touring that belies the beast that waits to be unleashed at every opportunity. The only other difference between the mighty winged GT3 is the addition of chrome accents around the window frames instead of black out trim.
Combined with the silver spoked alloy wheels, which look incredible and feature race-inspired center locking, our test vehicle also features optional gloss black brake calipers ($1,030). Additional options include puddle lights for night time illumination and an exclusive design fuel cap. Our vehicle is equipped with the optional and welcomed 90L fuel tank for extended range ($260).
Moving from front to back, the GT3 Touring builds on the classic rounded profile of the 911 with flared fender wells and a sophisticated, purposeful rear tail. Ground effects deflectors channel airflow under the car during acceleration and an integrated rear spoiler pops into place as speeds build to 90 km/h. Of course, you can manually activate the wing from inside the car by flipping the toggle switch. While not as big as the enormous rear wing featured on the standard GT3, it is highly effective at creating downforce and looks good while driving or at rest. Exclusive design taillights ($1,130) and dual chrome exhaust tips look impressive and are a sure sign to any onlookers this car means serious business.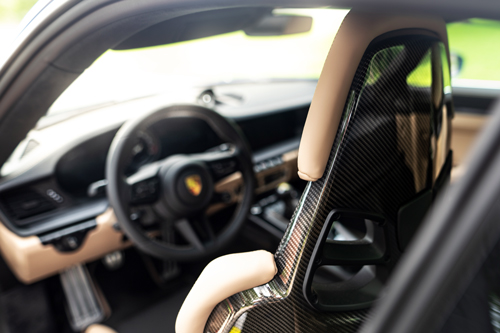 Interior: One of the many things that separates the GT3 from other 911's is the interior. Seats are fixed with a carbon fibre shell wrapped in two-tone exclusive leather ($17,510). Our test vehicle also highlights optional full bucket seats ($6,740) which are extremely comfortable given the lack of seat back angle adjustment.
Forward and back, up and down adjustment is available, but that's basically it. And guess what, it's near perfect. It must have something to do with forcing the driver to assume the proper driving position and the exceptionally snug materials used on the seating surface.
Our test vehicle is equipped with the optional Chrono Package ($350), black brushed aluminum door sill guards ($1,280), aluminum pedals and footrest ($720) and Race-Tex roof liner and sun visors ($680).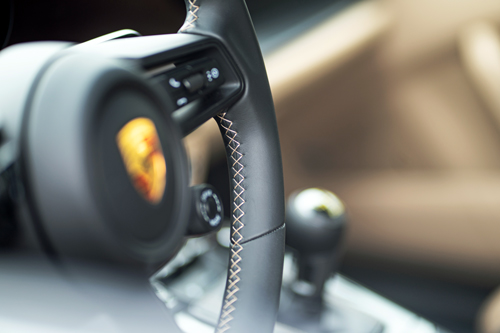 Getting in an out is a little challenging given the fixed nature of the seating. But take some time to master the intricacies of how best to enter and exit and once you are in, you probably won't want to leave. Outward visibility is exceptional, it's so easy to know where you are on the road in mid-corner and who or what is around that you can easily forget you are driving an elite sports car.
Infotainment: Bose provides the surround sound system in our test vehicle ($1,820) and when the desire for music takes hold, it works extremely well. Personally, it was off more than on as I typically prefer engine sounds when driving a car of this caliber, except for the aforementioned classics, of course. Porsche Communication Management (PCM) is standard and delivers an excellent up-to-date navigation system, plus a full suite of vehicle adjustments available via the touchscreen.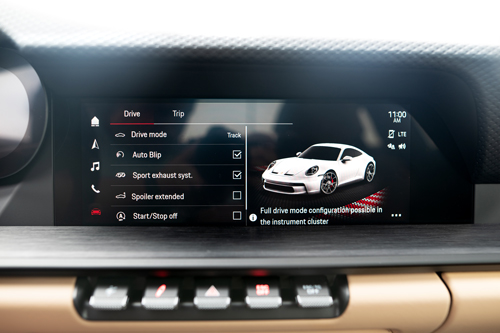 Drive: Continuing with the less is more theory that is inherent with this model, the 911 GT3 is rear-wheel drive and I take advantage of it at every opportunity. Rear axle steering allows for extremely quick turn-in and the large 20/21" wheels featuring 255/35 ZR 20 front and 315/30 ZR 21 rear Pirelli P ZERO tires hold the road like glue. On ramps are extra fun, especially in Sport mode, as grip strength takes on new meaning allowing for a steady but rapid power delivery exiting the apex. The simple exclamation of my co-pilot for the photo shoot is best at describing how it feels- WOW!
And then there is that beautiful sound of the flat 6-cylinder engine building its way toward 9,000 rpm at every opportunity. In all honesty, the chance to do this is somewhat limited given you will crest 125 km/h in second gear at 8,900 rpm, so choose your locations wisely. Track days would be my suggestion, there is no better place to enjoy what the 911 GT3 has to offer.
Conclusion: At a time in history when all the talk is about electric vehicles and where we are headed with next gen automobile technology, it's impossible to not take a moment and appreciate the bygone era artistry required to competently drive a vehicle so unflappable as the 2022 Porsche 911 GT3 Touring. "Save The Manuals!" is more than just a great t-shirt slogan, it's a statement that we as a society shouldn't be so quick as to dismiss everything old school as out of touch. It most certainly is in touch and like the 60's band CCR, worth your time and investment. Some things really do get better with age.
2022 Porsche 911 GT3 Touring
Price as tested: $228,020.00
Freight: $1,500.00
Configuration: Rear engine/rear wheel drive
Engine/transmission: 4.0-litre flat 6-cylinder/ 6-speed manual
Power/torque: 502 horsepower/ 347 lb-ft
Fuel (capacity): Premium Unleaded (90 L)
Warranties: 4-years/80,000 km (basic)
Competitors: Acura NSX, Aston Martin DB11, Ford Shelby Mustang GT350, Mercedes-AMG GTR
Link: Porsche Canada