This Racing Yellow 2022 Porsche 718 Cayman GT4 RS is spectacularly pissed-off. I can tell by the way it spits, barks, sucks air through its clenched teeth and hammers at my backside over this pockmarked road. It's a mechanical curled lip, and it ain't happy. I'd be upset too if I came all the way from Germany for this: a traffic jam through a construction zone on the 401.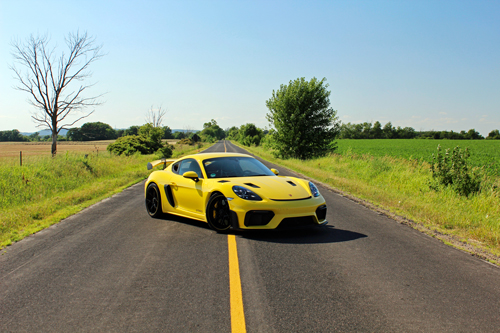 Certainly not the best way to start a three-day fling with Porsche's spectacularly unhinged ICE send-off of its mid-engine Cayman sportscar. The GT4 RS is what all Cayman fans have been waiting for – one that no longer lives in the shadow of the 911. It's a no-holds-barred effort that finally gets all the best go-fast bits – the most significant being the 911 GT3's 4.0L naturally-aspirated flat-six that rips to a dizzying 9,000 rpm. Okay, so it's down 9 ponies and 15 torques compared with the GT3, but Porsche tells us that's due to the Caymans's more restrictive intake and exhaust plumbing.
So I'm making do with 493 horsepower at 8,400 rpm and 331 pound-feet of torque at 6,750 rpm. And no manual transmission. The GT4 RS is all about putting up the best numbers, and that means Porsche's subline 7-speed PDK dual-clutch auto, here fitted with closer spaced gears and running through an RS-exclusive 4.17:1 ultrashort final-drive ratio. Luddites with their quaint fondness for clutch pedals and wobbly gear sticks are not invited.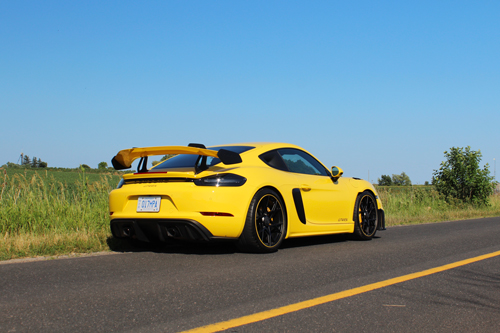 I'm learning quite quickly that the GT4 RS is a thinly-disguised racecar. Yes, the PDK's shifts are decently smooth in stop and go traffic, but once we break free of this mess, cruising at 120 km/h in seventh gear translates to a busy 3200 rpm. And I mean busy. Whereas the 911 GT3 with the same engine delivers some of that classic Porsche flat-six mellifluous song at reasonable revs, the GT4 RS kicks all that to the rumble strips. This masterpiece of an engine sits directly aft of your shoulder blades – its harsh metallic symphony punctuated with occasional gulps from the intake plenum that sucks air from a pair of intakes where a normal Cayman has rear quarter windows. And I'm guessing the lads at Zuffenhausen did away with any sound insulation or compliance in the engine mounts. It feels like the 4.0L is bolted directly to the non-rake-adjustable and un-heated carbon-fibre bucket, and you're riding a 9,000-rpm roller skate straight to hell. Or jail.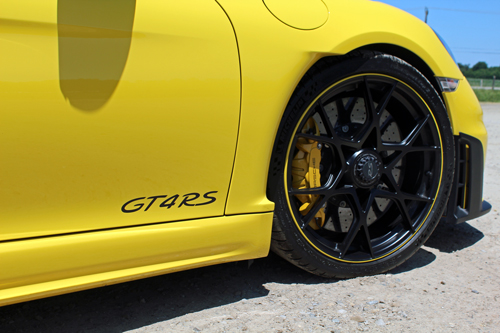 I wish I could say I took this GT4 RS and wrung its yellow neck til it cried for mercy, but I'd be lying. I tried hard to stay within the bounds of legality. I really did. Here's the problem: 9,000 rpm in second gear translates to about 115 km/h, so merely tickling the edges of the RS's performance envelope is a felonious undertaking. "Base camp" is around 4,500 rpm, and once beyond that magic number all hell breaks loose. The next 4,500 revolutions will corrupt your soul beyond all redemption and have you seeking out deserted roads with copious corners. You will forget about life, responsibilities, eating and quite possibly personal hygiene.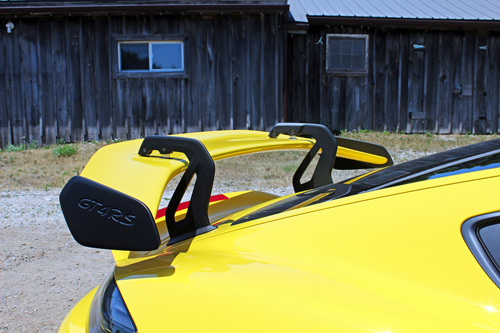 Power corrupts but so does handling. The mid-engine GT4 RS is a scalpel with laser turn in and limpet-like grip thanks to staggered Michelin Pilot Sport Cup 2 R tires (245/35ZR20 front, 295/30ZR20 rear) that stick to the road like a squashed 'possum. The adaptive suspension has been optimized for track work with bespoke tuning and ball-joint attachment points. This tester was fitted with the optional ceramic composite brakes ($9,130) that would surely prove their worth on the track. The upright carbon buckets keep you properly positioned and never let you forget you're driving something special.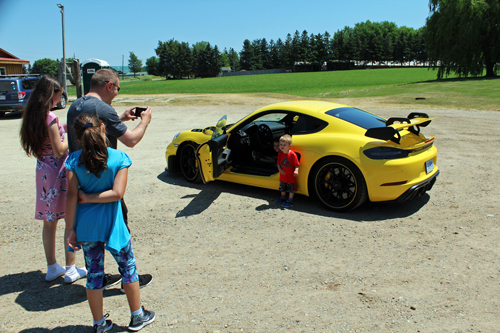 Not that you ever could. The feral racket and huge wing obscuring rearward vision make sure of that. In Racing Yellow, this German interloper turned heads like a Holyfield right hook. Of course, the adjustable swan-neck rear spoiler is the big draw, but we also have numerous scoops, vents, and a large rear diffuser. The GT4 RS's front wheel arches have their trailing edge cut away to improve airflow and brake cooling. How badass is that?
I stopped at a strawberry stand near St. Jacobs to snag some pictures of the RS in front of a rustic barn. Within a few minutes the farmer ambled over in his tractor – I assumed he was coming to tell me to get lost. "Is that the new GT4?" he asks. I told him it was the RS, over from Germany and presently the only one in the country. Soon a minivan pulls up, disgorging Dad and four kids. He respectfully asks if he can take a picture of my car. Well heck yeah, and would your boys like to sit in it? This really is the best part of the job. That and ripping to 9,000 rpm.
The Porsche GT4 RS will have a two-year production run, and as might be expected, Canada's modest allotment is oversold. Some will be tracked (good), some will spend their days cruising up and down Yonge Street on weekends in second gear (bad), and some will be put away – lonely garage queens whose only raison d'etre is to appreciate fiscally (tragic). The 2022 Porsche 718 Cayman GT4 RS carries a list of $166,600 CAD, with the as-tested price of this specimen showing $193,240. If you're lucky enough to snag one, do the right thing and track it. The last thing you want is a pissed-off Porsche 718 Cayman GT4 RS on your hands.