Today BMW unveiled the iX SAV Concept, an X5-sized sport activity vehicle (SAV) that is set to power BMW into the next era of electric driving. The iX is a make-no-bones about it full-EV vehicle with the footprint of the X5, is about as tall as the X6 and has wheels that are the same size – 22 inches — as an X7, hitherto the flagship when it comes to BMW's ever-expanding SAV line-up. A line-up that, once the iX arrives in late '21 as a 2022 model, will count eight; nine if you include the Alpina version of the X7. It's not quite there yet, but that means BMW's line-up now consists of almost as many SAVs as it does cars.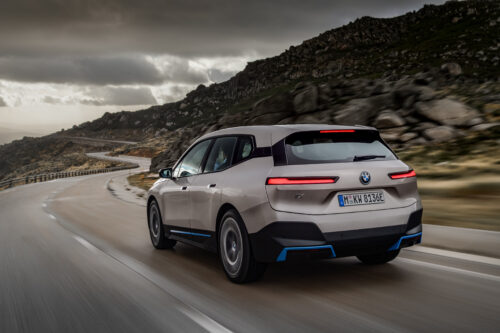 Of course, the iX was always going to be an SAV, wasn't it? When you think about it, the full-EV SAV – well, SUVs, anyway – segment is ripe for some competition with just the Tesla Model X, Polestar 2, Jaguar I-Pace and Audi e-tron Sportback to compete with. Full-EV cars such as BMW's own i3 are a little more prominent but the SUV platform makes so much more sense because A) they're bigger and have more room for larger batteries and the extended range that provides and B) the SUV and CUV world is one that continues to expand at a torrid pace. If it was time for BMW to start looking into the future of mobility, it was going to have to be EV and it was going to have to be an SUV.
"The iX is much more than a new electric vehicle from BMW I," said Adrian van Hooydonk, senior vice president of BMW Group Design. "It is showing how we intend to make mobility more sustainable, more connected, but also easier to use and definitely, much more human."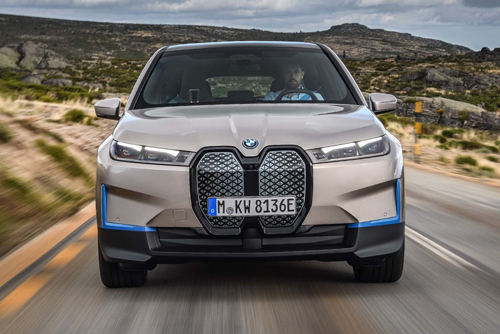 That last one's a bit of a weird one as a car with this much tech, well, that just seems just the opposite of human, doesn't it? Well, yes and no because as van Hooydonk explains, the amount of technology on-board – BMW claims there's 20 times the amount of data volume at work for the iX than any model before it – the iX is able to be an extension of your lifestyle by creating a kind of "loft on wheels", as he puts it.
The amount of buttons and switches have been reduced inside, and all manner of modern wood and glass features – including a quasi-freestanding curved touchscreen as your infotainment display (which makes use of an all-new operating system in the iX) slash gauge cluster. There are also less vent openings and certain clean-looking surfaces are actually touch surfaces with a number touch-style buttons installed thereon. The crystalized iDrive controller, meanwhile, is a combined traditional joystick and touch surface, though this is something we have seen before in many BMW products.
That's not all; they actually turned to Oscar-winning composer Hans Zimmer to craft some of the chimes and other sounds made by the iX, such as the low-speed sound used to warn pedestrians that the iX is approaching.
"The excitement of creating sounds for electric vehicles is of course that it's a carte blanche," said Zimmer. "There is no sound from an electric vehicle so it's literally painting on a blank canvas and being able to infuse it with your art…and trying to give people an experience they've never had before."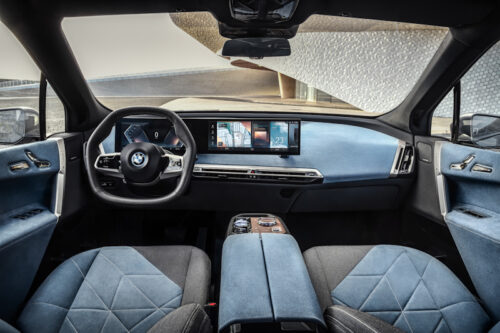 The clean design continues outside with reduced shutlines and smooth, curved surfaces styled to look like a monolithic rock formation with certain facets shorn off, according to van Hooydonk. While the massive kidney grille that first debuted on the recently-revealed 4 Series exists on the iX (but is mostly a graphic here as it houses the necessary sensors required for the iX's autonomous features), the rear is a little cleaner with slim taillamp lenses that actually look kind of like the items found on an old BMW 3.0 CS…if you believe what actor Christoph Walz – who helped present the iX to media and owns a CS – has to say about the subject. The black strip on the c-pillar, meanwhile, recalls similar touches on the i3 and BMW i8.
Power comes from two electric motors to the tune of 500 horsepower and the 100 kWh battery – yes, that is a big number – uses no rare earths and can be charged from 10 to 80 per cent capacity in 40 minutes on a DC fast charge system. Granted, that's actually a little slower than we're seeing from most EVs today – charge times tend to sit around the 20-30 minute range – but few are able to travel up to 600 kilometers, with just the Tesla being able to make that claim in the SUV world. That kind of capacity comes at a bit of a price.
Speaking of price: well, it should come as no surprise that there isn't one yet considering we're pretty far off the release date and this is the first anyone's ever seen of the iX. If we use the fact that the Model X  starts at around $112,990 and the X7 a little below that, don't be surprised to see the iX hovering around the $100,000-$120,000 range. We'll know more about the iX as it nears its release likely some time in Q4 2021.