I wasn't prepared for the onslaught of interest the 2019 BMW i8 Roadster would command as I drove back from BMW corporate office in Toronto. As someone who typically test drives a new and different vehicle every week, it has been my pleasure to drive many of the finest, fastest and most stylish vehicles on the road today.
But when I pulled up to a friend's house one evening with my wife in the passenger seat, the hoots and hollers from the front door were a surprise even for me. Apparently, this is the dream car for more people than I realized and after spending a week behind the wheel, I now fully understand why.
The first thing you notice about the i8 Roadster is that it is a just that, a roadster. This is the vehicle every BMW fan has been waiting for. Yes, the coupe first introduced in 2013 was and is to this day stunning and futuristic in design, but everyone knew the pick of the litter would be the open-top version of the i8 the day it finally arrived. And here it is. Lean, mean and green!
The roadster version is strictly a two-seater. The benefit of losing the two tiny rear seats is a lower roofline which accentuates the supercar looks of the i8. A power-folding fabric roof articulates to its hidden form in a mere 16 seconds. It is just as quick to close, making it easy to cover up should a sudden fall shower appear out of nowhere, threatening to dampen the mood. With the heater on and heated seats to the max, driving around even in less than ideal temperatures is comfortable and fun.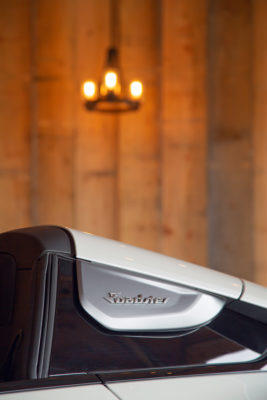 Power comes in the form turbocharged 1.5L 3-cylinder gasoline-powered engine matched with a permanent-magnet synchronous AC motor. In other words, it is a gasoline-hybrid-electric sportscar, as futuristic as it gets in today's market.
Performance numbers indicate 369 horsepower and 420 lb-ft of torque. This is an increase for model year 2019 of 12 horsepower and due solely to performance upgrades with the electric power output. Mated to a 6-speed automatic transmission, with a 2-speed unit managing the front electric motors, 0-100 km/h takes 4.6 seconds and top speed is limited at 250 km/h.
While this isn't the fastest supercar available, especially when you consider the price, it is more than enough to produce a steady stream of smiles for anyone fortunate enough to take the wheel or sit in the passenger seat and just enjoy the ride. Open the scissor doors, sit down on the door sill, swing your feet in as you slide into the seat, close the door and feel your heartrate increase.
Road manners are superb, it's as if you are strapped to the ground. Even on irregularly paved backroads with sudden twists and unexpected swells and dips, it is planted and ready for the next corner. Steering feel is a little artificial, but it has steadily improved in the coupe over the years and that carries over to the new roadster as well. The added weight of the roadster is hardly noticeable and immediately forgotten when the roof is open. There's just something magical about fresh air and blue sky overhead.
Similarly, applying the brakes feels a little less natural than you would expect for a BMW, but this is a hybrid so everything has the sense of being computer enhanced. Case in point, switch between the five available driving modes; hybrid drive with Comfort, Eco and Sport, as well as e-drive only Eco and Comfort, and the future of high-performance road travel is at your fingertips.
Where it gets a little over-the-top is in Sport mode, a deep guttural growl takes over and the gauges turn a sinister red and orange, a clear demonstration you have entered the dark side of the gasoline electric hybrid equation. How fun is this! While it might be engineered sound coming through the speakers, its still something to be celebrated.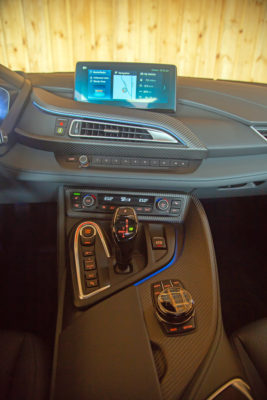 Seats are comfortable, if not a little light on padding. Over the course of 3-4 hours, I did find my back was a little sore upon exit, but anything negative is quickly forgotten in the sudden barrage of questions posed by onlookers as they are drawn in like a moth to the flame. Luggage space is very small, this is more about day trips then it is a long-haul cross-country excursion. Bring one bag and pack light.
The 2019 BMW i8 Roadster is a stunning achievement in bringing the future of supercars to life in today's market. The fact that so many people dream about it, is proof BMW hasn't lost their mojo. If this is the future of sports car driving, at least for the next 10-20 years as we get closer to an all-electric reality, then it's not too bad at all.
2019 BMW i8 Roadster
Price as tested: $177,300.00
Freight: $2,095.00
Configuration: mid-engine/all-wheel drive
Engine/transmission: 1.5L 3-cylinder/EV/6-speed automatic
Power/torque: 369 hp/ 420 lb-ft
Fuel economy ratings (L/100 km): TBD
Competitors: Acura NSX, Audi R8 Spyder
Related links:
BMW Canada