When we speak about New York, Paris and Milan, all cities well known for their design and fashion "penchant", one must not forget that there is one city in North America that has a truly European flavour and is a kind of sanctuary for lovers of design and all that goes with it, and that is Montreal.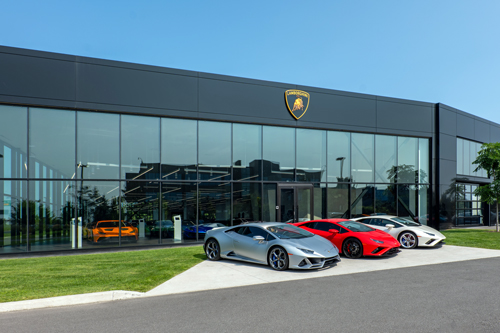 Lest we forget that Montreal is part of a network of "Design" cities throughout the world, voted by UNESCO in 2006. So, it is not a grand surprise that Lamborghini decided to establish "a new design aesthetic" for their local, newly renovated showroom, at the Lamborghini Montreal dealership in the west end of the city.
Andre Baldi, the CEO of Automobili Lamborghini America was present and very proud to be part of the ribbon-cutting, VIP ceremony to celebrate this newly minted showroom. Architecturally speaking, the showroom is an immense open space with very few visual obstacles and the main façade used as a totally transparent element, with glass spanning from floor to ceiling that infuses the space with natural light. The horizontal, dark band that serves as a transition between the vertical wall and the roof is dark and it seems to disappear at night, giving the impression that the whole roof simply floats above the well-lit showroom space.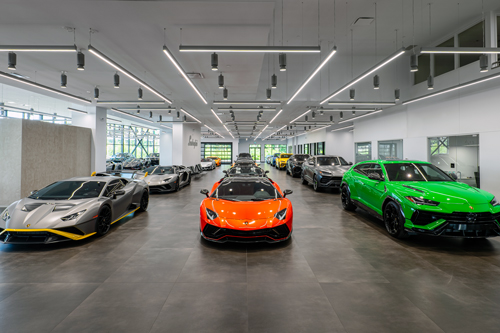 We obviously seized the occasion to have a chat with Mr. Baldi about this "new design aesthetic" as well as other highlights for the marque of the Raging Bull.
On the question of how the "new design aesthetic" translates into space, Mr. Baldi spoke about all the considerations needed to "mold" this new aesthetic language.
"When you change the interior of a showroom, you must consider that this will be applicable to the entire strategic plan. We wanted to bring a warmer atmosphere to our showrooms as well as more functionality, something that we look for in a dealership. Lamborghini's product line has grown enormously in the past 20 years; technically speaking, it all started with the Gallardo in 2004 and went from a yearly production of just a few hundred cars to many thousands. Customization has become a huge part of the customer experience, and this was a big change for us. This also meant that we now need to display the cars in a proper environment; the larger product line also meant that we had more derivatives and customization for our clients."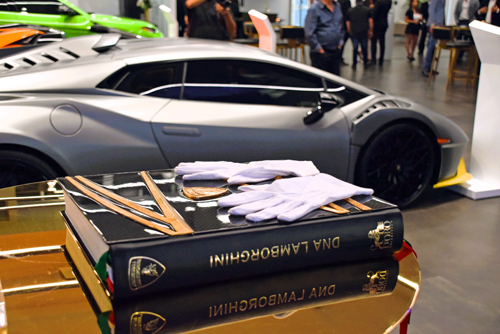 Lamborghini design imposes certain standards; materials such as tiles and other design elements but "John Scotti, with their Montreal dealership has exceeded what we were expecting", admits Mr. Baldi.
This is all in symbiosis with Lamborghini's initial "leit motif" which was to marry a passion for automobiles with an acute business sense.
Mr. Baldi then went on the say, "this is a declaration of love" between Lamborghini and the John Scotti family since it is the longest running business relationship with the brand, going back to 1979.
"John Scotti is considered as part of the Lamborghini family. Montreal is very special for us; it has that European spirit. I think that there is a maturity in the consumers that seek to invest in the super sportscars/luxury segment that is similar to what we have in Europe, and in this sense, you have an extreme sophistication. Many customers come from a history of collecting cars, maybe having started in a humble manner, and then going in the direction of sports and super sports cars, possibly because they were passionate about these and about motorsport."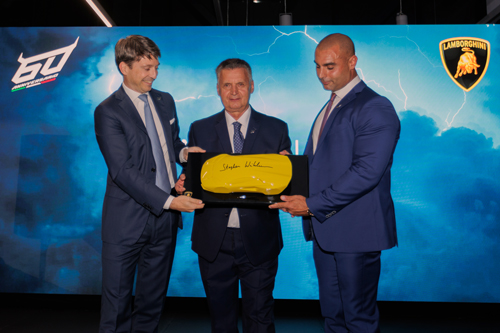 It is no coincidence that this is the biggest Lamborghini showroom in the world. The 33,000-square-foot showroom of Lamborghini Montreal, serves as the perfect canvas for the brand's latest supercars – the V10-powered Huracán Tecnica, the all-terrain Huracán Sterrato, along with two new Urus Super SUV models, the high-performance Urus Performante and the powerful yet refined Urus S. The former of which, the Urus Performante, made an appearance at the Montréal reception to the excitement of VIP guests in attendance. With a top speed of 306 km/h, the Urus Performante can accelerate from 0-100 km/h in 3.3 seconds and customers have already begun taking deliveries of this 300K$ plus super-ute!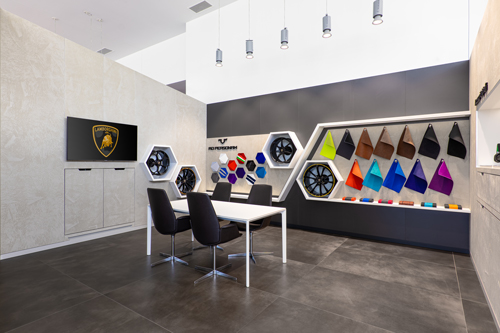 Adding to the allure of Lamborghini's distinct aesthetic, this all-new retail space features a 360-degree client experience representative of the brand's cutting-edge style, characterized by polygons, sharp forms and a diffusion of light and color. An Ad Personam customization room featuring the brand's bespoke offerings gives clients the ability to physically touch and play with combinations of colors and materials, including soft leathers and the appearance of carbon fiber. Collezione and Accessori Originali fashion offerings also add to the customer experience for those visiting the showroom.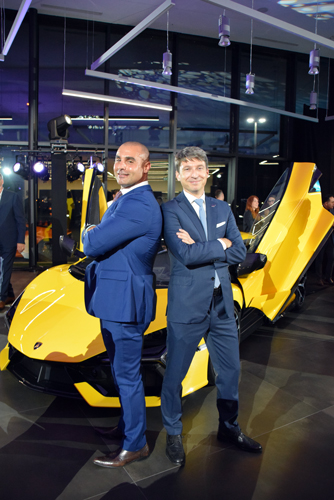 Lamborghini, as all manufacturers, will have challenges in the next few years especially considering they will be a veering towards electrification and, far from being as obstacle, Andrea Baldi sees this as an opportunity.
"We don't necessarily see this as challenging, from our point of view, we see this as an opportunity. We know what we must do to come to market with a product that is a true Lamborghini, and we think that we have the recipe to be successful. Obviously, the biggest challenge is the investment that is required. The Lanzador, a 2+2 ultra GT, that was unveiled at Pebble Beach, for example, will require an investment of 1.9 billion EUR. You know how the car industry works and how capital intensive it is so when you invest that kind of money, you need to be very disciplined with the time frame and in delivering what you're your vision is. We have constantly come to market with something that was significantly better than what preceded it. There is a limit to the volume we produce. Our goal is not volume even though we have seen positive increments every time we have come with a new product; we produce objects of desire, so it is normal that there is a line-up for a Lamborghini."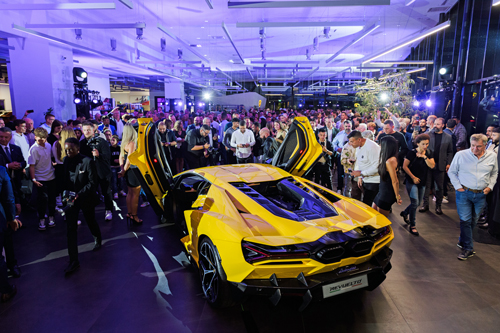 When speaking about design, it is fascinating to see who drives who and what relationship exists  between the marketing and design department at Lamborghini? Mr. Baldi gave us some insight on this dynamic relationship.
"The design center is driven by a briefing that comes from the commercial department; let's be clear, it is not just about what we think that this or that product is right for the market, but we must always consider what our DNA is about. A huge impact for our design department also comes from R&D: there are a huge amount of performance parameters to be considered and R&D has to translate this into something "tangible", a true, real-world, functional product. This "architecture" is an integral part of what the design department needs to know from a functional point of view. It then becomes a challenge to build and produce the actual vehicle. And, very importantly, it must be beautiful! So, yes, design is a fascinating and challenging job at Lamborghini."
In the year of Lamborghini's 60th anniversary, the company has set another sales record through the first half of 2023, with 5,341 vehicles delivered globally – 251 more than last year's H1 sales. The Urus continues to be the best-selling model with 3,241 units, followed by the Huracán. Both models are sold out through the end of production. These results come at a crucial time, as Lamborghini enters the second phase of the Direzione Cor Tauri program, in which the brand is investing 1.9 billion EUR – the largest investment in company history – through 2028.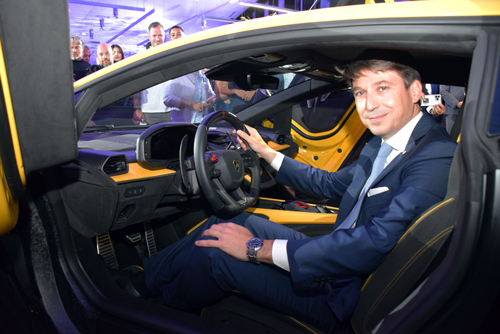 On a more personal note, I asked Mr. Baldi a few questions about his lifestyle.
V: Do you practice any sports or have hobbies?
"I don't have much time to work out, but I do like biking, and I can appreciate the analogy of lightweight materials and technology applied to the cycling world via carbon fiber techniques.
V: What kind of music does Andrea Baldi listen to?
He laughs and says, "It is very diverse because I have two daughters, a teenager and a little one that I really need to bring up to speed on everything that is relevant in music. I listen to music from the fifties right up to contemporary music, but I do have a soft spot for the music of the nineties."
V: Does Andrea Baldi have an inspirational icon, someone to look up to?
Andrea went through his "mental rolodex" and his reply was; "Pope Francis is a very inspiring figure for me. We even donated a Huracan to be offered for raising money for a charity."