Today sees the release of the Infiniti QX60 Monograph, a comprehensive reimagining of not only the brand's luxury three-row crossover for 2021 (the vehicle you see here is very much a concept), but of the what the Infiniti line-up will look like in the coming years.
Indeed, this is a crucial time for Infiniti amid strife surrounding parent company Nissan both in the economic and organizational senses and the QX60 three-row SUV is a crucial linchpin for the brand, having sold 400,000 units worldwide since its inception.
And this new one is stunning.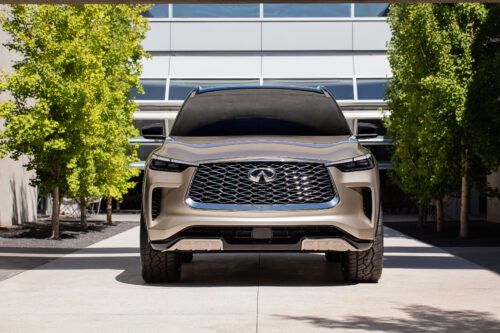 The QX60 Monograph is much chunkier than before, much more purposeful; there wasn't quite enough from the old vehicle when it came to the Nissan Pathfinder on which it was based. Now, a more squared-off profile, larger wheels and wheelarches and tires and ultra-slim headlamp lenses all do their part to create a modern, muscular and luxurious shape. The grille, meanwhile, is designed to resemble an origami model. The Infiniti logo at the centre of it all, meanwhile, lights up and the DRLs either side of it illuminate in succession, appearing to "fan out to welcome the driver" on startup, according to Albaisa.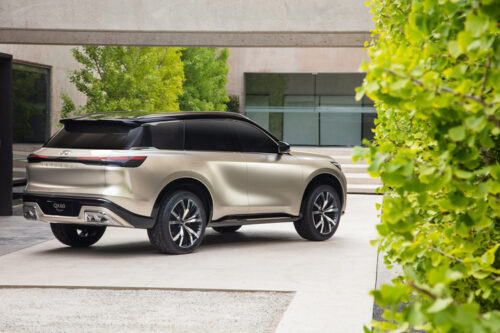 The paint, meanwhile, is ultra-reflective and according to Infiniti head of design Alfonso Albaisa, "mimics the qualities of liquid metal, allowing the surfaces of the body to capture the shadows and lights of the environment around it." From these pics, we kind of feel like it looks like what T2000 from Terminator 2: Judgement Day might look like if he melted himself into the shape of an SUV. But that's us. We're guessing that most will see the Monograph for what it is: a bold new directive from Infiniti, and one that hints at a uniqueness and brand identity that has slipped a little over these last few years.
'Round back, meanwhile, tinted taillamps do their part to appear as if part of a full-length light bar, which helps widen the rear fascia and lower the stance overall.
Unfortunately, there hasn't yet been any reveals of what the Monograph will look like inside or how it will be powered; watch this space over the coming months to learn more and for now, have a look at the photos and enjoy the curves and lines of this exciting new concept from Infiniti.