Let's explore parts of Scotland's ancient capital. Places you can't access by bus or Über. Meaning? No castle, Royal Mile, botanical gardens or Holyrood House — but 1,800 years of history, nonetheless. How? Edinburgh contains superb cycling/walking infrastructure.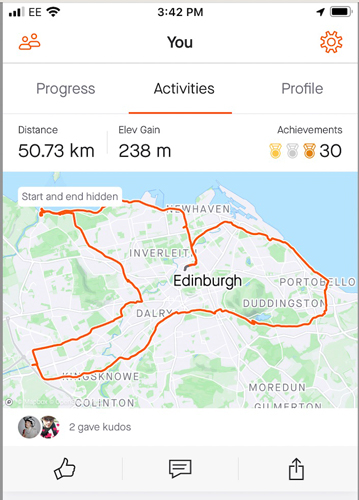 Much is repurposed Victorian railway paths that attenuate or tunnel through the many steep hills, leaving us an easier 50km ride, only four of which require roads. Bottom line? It's safer, sure, but also more comfortable: those cobblestones roads will rattle the fillings outta your head.
Occasionally, signs will direct us to 'rejoin carriageway' (British for two-way road) but for now, just 600m from our front door, say cheerio to cars and cobbles!
The National Cycle Route 75 kicks off with those reclaimed Victorian railways at the mouth of your first deep 150m tunnel. Soon after, the path spikes into five directions, all treelined and peaceful. Ours gently descends 3km northwest, offering riverside glimpses of the Water of Leith. Not long ago, such vistas would've included empty shopping carts and beer cans but a culture of civic pride's exploded here in recent decades. Careful you don't ram distracted volunteers removing rubbish alongside these paths.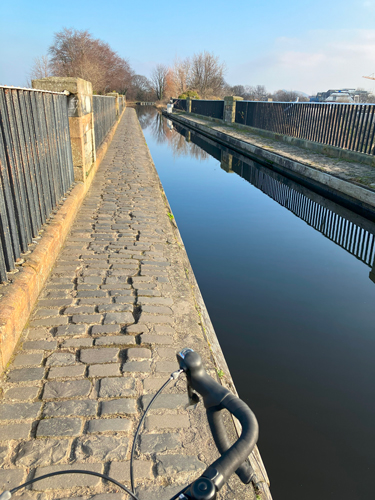 Leith, Edinburgh's deep-water port, still boasts magnificent buildings from the 1600s but only captured North American imagination in the '80s and '90s, courtesy of Irvine Welsh's junky-lit hit Trainspotting, and identical-twin S-Pop boyband The Proclaimers. Despite poshing up over recent decades, parts of Leith still retain the edge of a broken bottle. Before being subsumed by Edinburgh in 1920, Leith was independent; for generational many Leithers carried a grudge. (Now gone, the nasty if accurately named Border Bar featured toilets where men could stand in Leith and micturate into Edinburgh.) Passing a busy police station, the bike path takes us onto Leith Links, allegedly the home of the first genuine golf game. (Fuck you, St Andrew's!) Despite its name and history, golf is disallowed in this park. (Fuck you too, duffer tourists!) At the northeast end, we ride up the footbridge over tracks that still run trains, then 50m down a street onto another path to … the beach?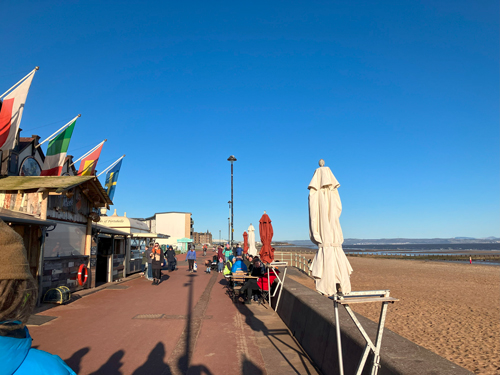 Portobello, the 'Scottish Riviera', was truly a popular seaside getaway long before mass tourism and package vacations. But with recent pandemic lockdowns, insanely hot summers and economic instability, it's become popular again. Stolidly Victorian, 'Porty' still rocks that late-empire British seaside town's look. Despite this being a winter ride, we'll need to cruise slowly along its boardless boardwalk. People love here meeting for coffee, strolling their dogs and generally slowing cyclists. So, let's turn south from the baths (pool) and after just 400m of road, onto another footbridge over functioning trains.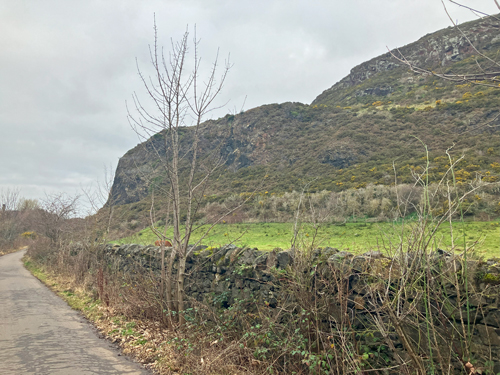 The Innocent Railway was a nickname for the former horse-drawn Edinburgh & Dalkeith line because many Victorians didn't trust steam engines. This path speeds us southeast, past the pretty village of Duddingston behind Edinburgh's Insta-cool volcano, Arthurs Seat. You'd be forgiven for thinking you were in the Highlands — what with the grazing coo in the field. Soon, a 507m tunnel spills us almost into central Edinburgh. Yes, almost. First, we're in a '70s apartment parking lot. We exit, zigzagging for a kilometre on narrow city carriageways.
'No, NOT medieval plague pits!' is the verdict regarding stubbornly popular myths about Bruntsfield Links and the Meadows. Even without those Ghost/Harry Potter Night Tour claims you've read on TripAdvisor, there's great history in these contiguous parks. Duffers golfed on the links from the 15th-century till the club got priced out to east of Portobello in the 19th. And until a century ago, locals could graze their sheep and cattle over the Meadows commons. Which eerily predicts today's pedestrian behaviour here: innocent children, phone-zoned students, and noisy tourists, all ignoring the huge bike graphics painted on your dedicated tarmac route, wander — bovine then sheepish — into your spokes. Keep a hand on a brake. By the west end of the path, it's almost safer to rejoin traffic for 600m.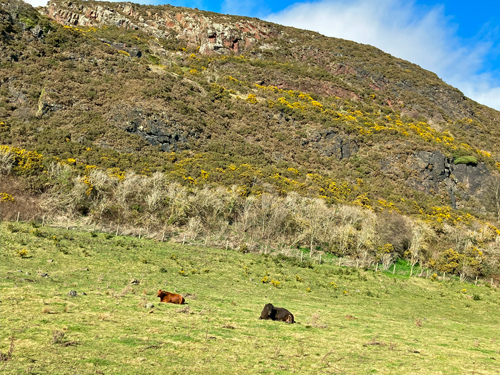 BlackBerrys were to iPhones what canals were to railways. A marvel of civil engineering, the Union Canal was completed in 1822, connecting Edinburgh to Glasgow and beyond — and just in time to be made obsolete by railways offerings more apps! When I briefly lived in Edinburgh 30 years ago, this canal had fallen into semi-oblivion. (You could've outfitted a supermarket with all the grocery carts punctuating these shallow lengths of flatness.) But that larger series of canals was redeveloped across regions, reopening to the public by 2002. Today, it's a joy to stroll, jog and ride beside. Charming and useful as Edinburgh's many welcome miles of reclaimed train routes are, they offer no views of student rowers perfecting elegant unisons. Enjoy these 10km.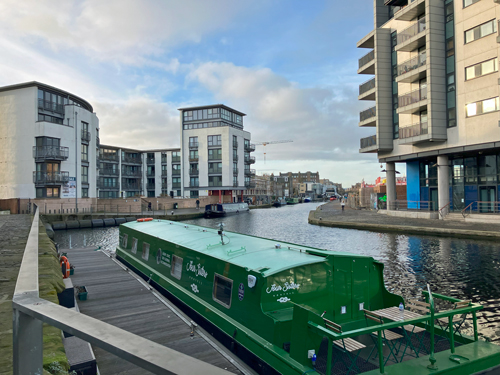 Functional modern infrastructure is the kindest description for this next leg of the route. As railroads were to canals, cars were to railroads. 3 minutes back, 50m before the west edge of Edinburgh's Bypass (aka 'dual carriageway') we exited the canal, zipped 400m downhill to another dedicated bike path heading back east, townwards. For several clicks it flanks a busy auto artery on one side and the Edinburgh Tramway, a connection to the airport, on the other. The view is blah: car dealerships and the sort of down-at-heel post-WWII suburbs that romantic mid-century ultra-conservationists like Tolkien would've hated. Speaking of infrastructure…
After 6km we're at Murrayfield, the grounds of Edinburgh's vast rugby stadium. How beloved is rugby here? Edinburgh boasts a third the population of Calgary but Murrayfield accommodates 61,144 rugby fanatics. (Even Hogtown's world-class dome doesn't seat 50,000.) I tried several times to purchase tickets for the ongoing Six Nations Championship but must've constantly been Murrayfield's 61,145th hopeful buyer. (Mind, last month I did easily score seats to Edinburgh's pro hockey team, the Capitals, whose home rink hides dwarfed by the stadium. Fans of the visiting Aberdeen Lynx — is that even plural? — were excited to quiz a hoser, eagerly trying expressions like 'Keep your stick on the ice!' and 'Drop the gloves, boys!'.) Our path circles the vast grounds, popping us briefly onto the mean carriageways of Roseburn for 300m.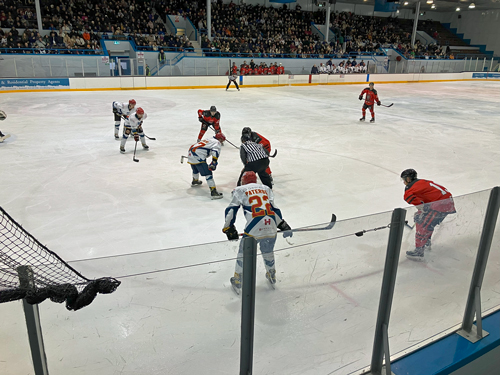 Did you know the Romans settled in Scotland a millennium before William 'Braveheart' Wallace and nearly 2 millennia before Australian-American actors started painting Wallace's face blue? Mining the movie vein deeper, this is a jumpcut! We just skipped 7km northwest on the Roseburn Bike Path — one of those five spikes mentioned above — then the Blackhall Path, past more nondescript suburbs, briefly onto the nearly deserted Marine Drive (aka no cars) before portgaging the bike up a steep path to … OK, a bit of a letdown. Bordering the village of Cramond in the northeast corner of urban Edinburgh, the stone-line foundations, remnants of a Roman fort predating Emperor Hadrian and his famous Wall 100 miles south, frankly resemble a tennis court more than the Colosseum. But, barring a few brief stretches of canal and tramway, it's the only straight lines we've seen today. Moreover, admission's free and you can hear, smell and almost see the sea from here. Let's ride.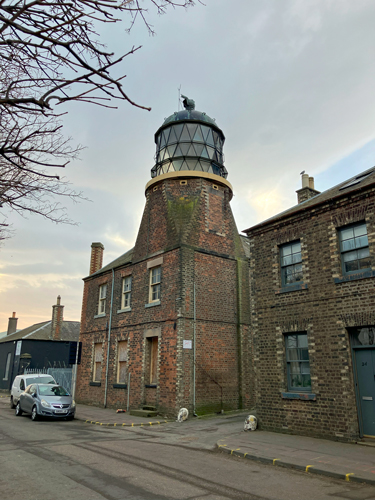 The path east along the coast floats through Granton, another former harbour village overtaken by Edinburgh. Just weeks before my wife and I arrived here last December, Granton's careful ongoing revitalization won a Future Cities Forum Award for Master Planning, Regeneration & Mixed Use. Well deserved — but it's that mixed use bit that immediately concerns you; for a full kilometre, we're back in traffic, dodging cement trucks, potholes and graders, in what feels like Lothian region's answer to where Tony Soprano hides bodies. The city skyline's just over there; seagulls cuss overhead. Soon enough though, we're back on a dedicated coastal bike path, the North Sea visible at the end of the Firth (Scots for estuary) of Forth. Then, we're in the fashionable neighbourhood of Trinity, in Georgian times the tonier side of Leith.
The Trinity Bike Path is another of the aforementioned five spikes, reuniting with them, drawing us through its own long tunnel and back through the first we experienced 2 ½ hours ago. Now we're back at that 600m of streets to the temporary home in the New Town. Tired as you are, don't remain seated during this last straightaway. Our gluteus maximae are soar enough without those final thousands of pounding cobblestones.