For some reason, I couldn't get the theme song of The Sopranos out of my head every time I would get behind the wheel of the 2022 Cadillac Escalade. Maybe it was because it oozes opulence and power, or it's just the Italian in me living up to the stereotype that we are all Mob bosses.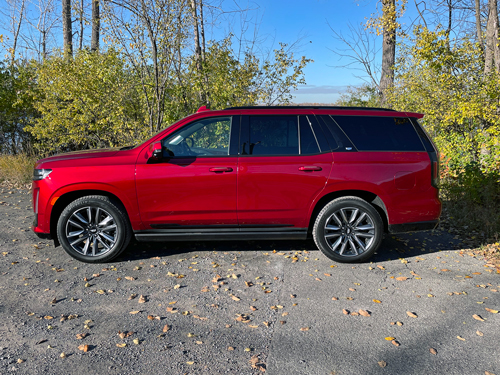 And you definitely have to be a boss to be able to afford one of these. The Sport Platinum trim we tested has a starting price of $120,498, but options pushed our ride to $132,273. That is a hefty price tag that definitely puts this out of reach of many consumers.
The options included $1,395 for the Infrared Tintcoat paint, $2,875 for Super Cruise, an extra $2,300 for Night Vision, the Cat-Back Performance Exhaust kit for $2,795 and the gloss black Escalate nameplates for an extra $160.
Powertrain: Under the massive hood of the Cadillac Escalade you will find an equally large engine. The 6.2-litre V8 produces a massive 420 horsepower and 460 pound-feet of torque, which moves through a 10-speed automatic transmission. I have to say the gearbox was not very smooth, especially when accelerating and moving between first and second gears.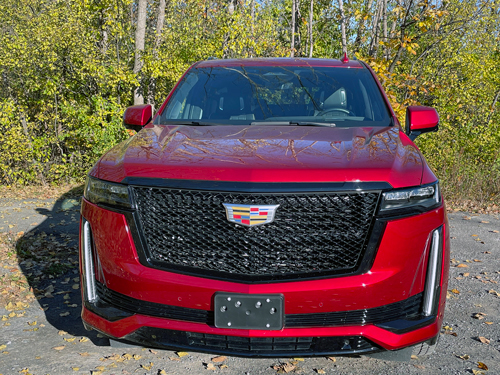 The Escalade is a four-wheel drive setup, but will move power to only two wheels as needed.
If you prefer diesel power, there is an optional 3.0L Duramax Turbo engine available (277 horses, 460 lb-ft of torque).
The V8 is not going to win any awards for efficiency. It has an estimated combined fuel consumption rating of 14.7 litres per 100 kilometres, while my reality with it was 20.9 L/100 km. With premium fuel as the recommended fuel, that is a hefty price tag.
Exterior: The Escalade does not need any help standing out in a crowd, but even so the Sport trim we tested does get some extra bling to make it unique.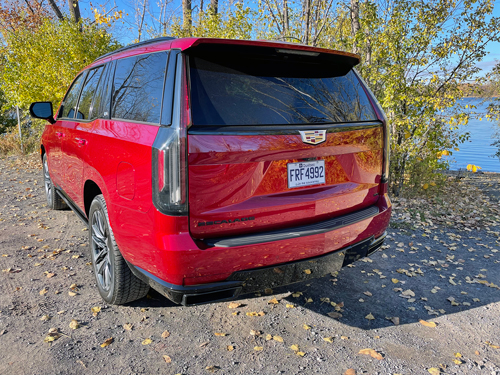 That comes in the form of the Cadillac V-Series-inspired blacked-out grille, which is both eye-catching and elegant at the same time.
Just about everything about the Cadillac is massive, including the 22-inch wheels, not to mention its ride height. Thankfully, there is a powered fold-out step that can help with that.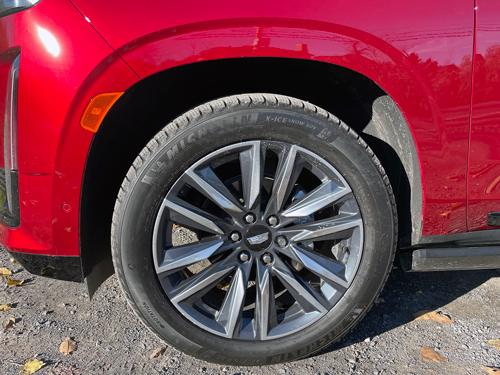 Also up front are thin and sleek horizontal headlamps that blend in nicely with that grille and include Cadillac etching around the headlamps.
Speaking of big, how about 3-foot-long LED vertical taillights! It's hard not to spot those when you hit the brakes.
Interior: The inside is as large and cavernous as you would expect, and also awash with luxury touches and features.
From the driver's seat, you are surrounded by screens, including a large 14.2-inch display for the gauge cluster, which also houses the night vision and augmented reality navigation system.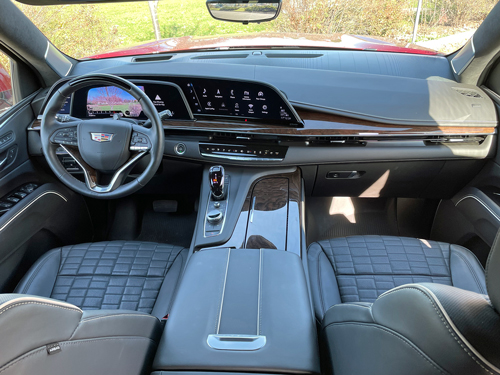 Then there is the large center screen for the infotainment system, the full colour head up display and a camera rear-view mirror.
Oh and did we mentioned it's a curved OLED display that totals 38 inches when combined? Impressive.
Seating in the Escalade is quite comfortable, as it should be. The second row Captain's chairs make access to the third row quite easy. And those seated there benefit from the seatback entertainment screens.
The front seats are heated and cooled, while the middle row also gets heated seats (outboard only), and the steering wheel is heated. The rear-most seats are also powered, so they can be lowered or raised at the touch of a button.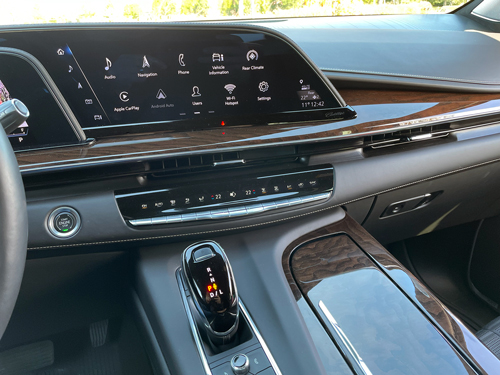 Thankfully, for as large as it is, Cadillac has a feature that makes sure everyone can still hear what's being discussed through a feature called conversation enhancement. It uses microphones to capture voices of the driver and front passenger, and have it pumped through the audio system for others to hear. A great feature for parents driving their kids around. Not so great for chauffeurs who might complain about their passengers!
Infotainment: The central screen is a large 16.9-inch one that houses the CUE infotainment system. That massive screen serves this setup well, with displays that are clearer than 4K televisions. There's a lot of tech to get used to, but the system has some clear menus and response time is excellent.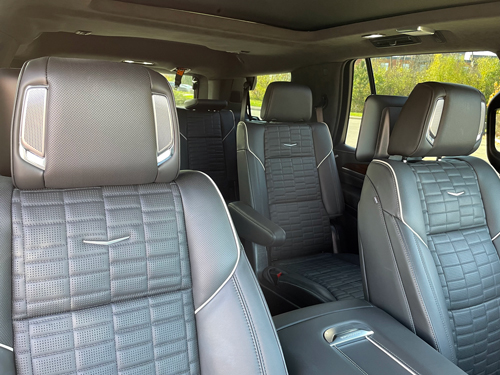 That is augmented by the AKG audio system on the Escalade Sport Platinum which features a whopping 36(!) speakers, including three amplifiers, with front and rear subwoofers. The volume can be set independently for front and rear passengers, and the 3D surround system features speakers in the headliner and head restraints.
While wireless phone charging, as well as wireless Apple CarPlay and Android Auto, are usually pretty cool features, they pale in comparison to the setup for the audio system.
Drive: The Escalade is big and it drives that way. While there's plenty of power from the engine, the sluggishness mentioned earlier does take away from some of the feeling behind the wheel, at least when accelerating from a stop.
That said, the engine is very responsive to input when you need extra power to move past other vehicles.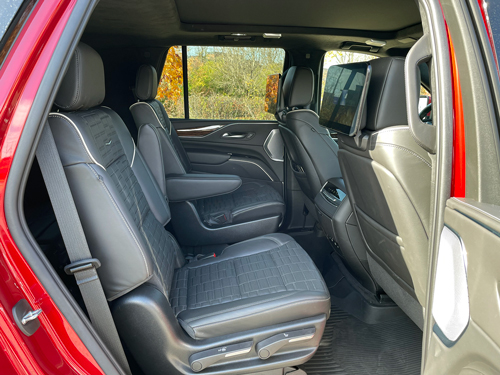 Inside, you and your passengers are well insulated from road imperfections thanks to the electronically controlled air springs and Air Ride Adaptive Suspension. You can also optimize the driving experience by choosing from the available drive modes, including Sport, Snow/Ice, Off-Road, Tow/Haul and more (not that I can see anyone going off-road with this vehicle).
Cabin noise is also kept at bay very well in the Escalade, further enhancing the driving experience for those lucky enough to be driven around in this vehicle.
The Escalade also features Super Cruise, a hands-free driving assistant for the highways, which includes automatic lane change capability.
Conclusion: The Escalade has always been synonymous with luxury and opulence. This version of it is no exception.
That massive screen setup and the abundance of technology like the augmented reality and Super Cruise are definitely some distinguishing features.
The styling is also quite brash, so you will be making a statement everywhere you go, and your passengers will be well treated in a luxurious cabin that has plenty of creature comforts so you can travel in style.
However, with a price of over $130,000, this is certainly not on everyone's radar.
2022 Cadillac Escalade Sport Platinum
Price as tested: $132,273.00
Freight: $2,200.00
Configuration: Front engine/Four-wheel drive
Engine/transmission: 6.2-litre V8/ 10-speed automatic
Power/torque: 420 horsepower/ 460 lb-ft of torque
Fuel (capacity): Premium (91 L)
Combined fuel economy ratings (L/100 km): 14.7 L/100 km
Observed fuel economy (L/100 km): 20.9 L/100 km
Warranties: 4-years/80,000 km (basic)
Competitors: BMW X7, Infiniti QX80, Jeep Grand Wagoneer, Lexus LX, Lincoln Navigator, Mercedes GLS
Link: Cadillac Canada