Ford's reveal of the 2024 F-150 just before the Detroit auto show hinged around a humble hinge. The new version of Canada's best-selling pickup will have a side-opening tailgate.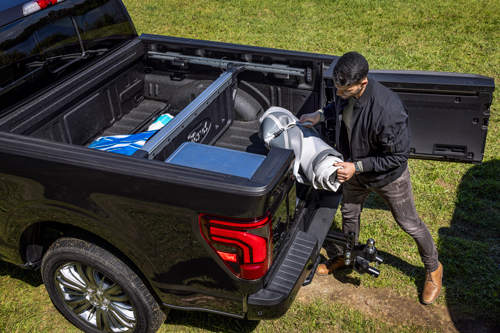 It's an option, but the new Pro Access tailgate is a feature that will appeal to a lot of buyers. Opening 100 degrees from the driver's side with just one hand – or the key fob – the gate allows for an extra 19 inches of reach into the bed. That's going to come in handy to retrieving those inevitable small items that seem to gravitate to the front corner, tucked away under the tonneau.
Ford's been thoughtful here, too, providing three stops for the door to prevent it from smashing into the trailer jack. There's also a rear bumper step, with added width and depth for the Pro Access Tailgate. The side-opening gate is not the full width of the bed, which allows it to latch in and the whole gate then opens down, like the standard issue version.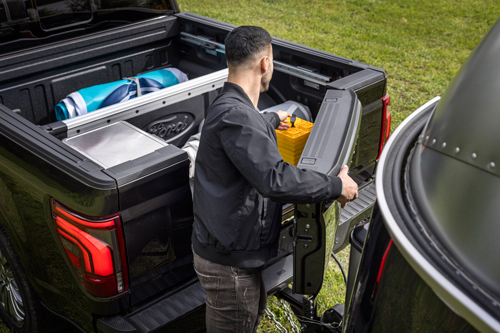 "Pro Access Tailgate is a game changer for our customers that dramatically improves and reinvents the customer experience, meaning less time crawling in and out of the bed, and a much larger cargo area accessible directly from the back of the truck," said Alana Strager, F-150 program manager.
While we're in the bed, it's also worth nothing that the new truck also has a new storage box located behind one or both rear wheel wells. It has a heavy-duty locking mechanism providing security for smaller tools and accessories that would otherwise need to be stowed in the cab. With easy access from the swing gate, tools and components are within arm's reach – even without opening the tailgate.
The bed storage box is standard across the F-150 lineup and located on the right side corner of the pickup bed. Customers who don't get Pro Power Onboard find an additional storage box on the left side of the pickup bed as standard with 5.5-ft. and 6.5-ft. boxes.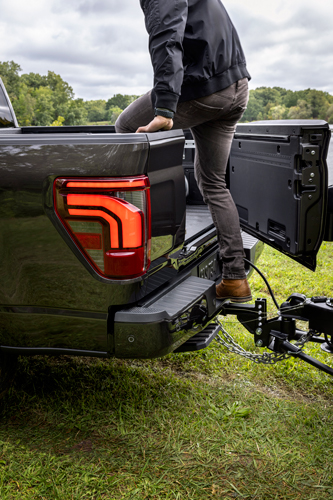 The 2024 F-150 also gets new standard equipment, including a new base engine, replacing the old 3.3L V6. It's a 2.7-litre EcoBoost, which will be offered alongside 2.7-litre EcoBoost, 3.5-litre EcoBoost, 3.5-litre PowerBoost hybrid, 3.5-litre High Output (for the F-150 Raptor), 5.0-litre V8, and 5.2-litre supercharged V8 (F-150 Raptor R) versions. The company expects the hybrid to be a popular option.
There's also a 5G LTE modem, 12-inch screen and digital cluster, a bigger fuel tank, class 4 hitch and LED headlamps. Freestanding options like moonroof, Max Recline Seats, axle upgrades, and tow mirrors will continue to be available regardless of the package, although Ford said it has reduced the number of ordering combinations by 90 percent in an effort to simplify.
The modem allows for faster mapping, Wi-Fi, and software updates. Customers can also use their SYNC 4 digital system to submit voice feedback on  functionality or improvements for their F-150.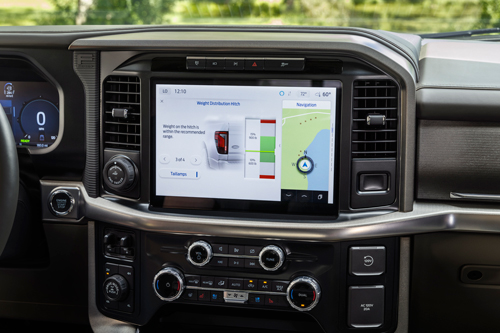 Some new tech goodies are on offer. The 2024 F-150 is the first Ford vehicle available in North America with Ford Stolen Vehicle Services. Using onboard location systems, it will alert drivers if their truck has been moved or tampered with, allowing them to get in touch with a call centre that will help track it down.
The BlueCruise autonomous features now include lane-change assist. With this option the vehicle will change lanes on its own when it is safe to do so after the driver signals. Exit Warning provides an alert of bikes, pedestrians or vehicles approaching from behind to help prevent a door being opened into traffic. A head up display can now be had on an F-150 for the first time.
The truck's appearance has received a minor facelift, with a new grille treatment, the LED lights and more distinct appearance packages designed. The Black Appearance Package is now offered on models from STX through Lariat. The Platinum series will feature a blacked-out interior and exterior accents from factory.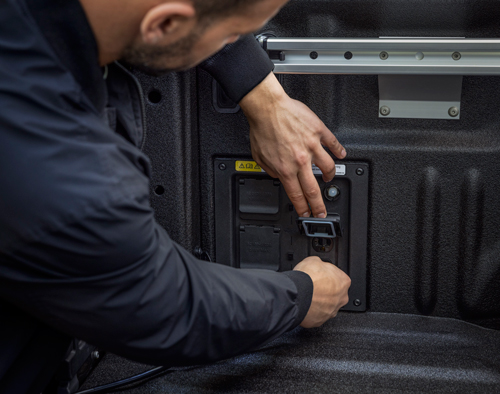 Chassis, suspension and running gear are unchanged for this new model year, with the exception of the Raptor, which boasts new FOX Dual Live Valve shocks. Position-sensitive compression control is standard, new continuously variable rebound controls work to adapt damping to match body control to the off-road environment via Ford Performance-developed offroad algorithms.
The 2024 F-150 is available to order as of September 13th, and first deliveries are expected early in the new year. Pricing will be released soon, Ford said.