Few may realize this – I didn't, until I started this work – but before Porsche started building track-ready specials that would hit your eardrums and spine as much as they hit your wallet, the more driver-focused model was actually a more entry-level model: the Carrera T in 1968. Back then, you may have gotten less sound deadening material and thinner glass, but you didn't have to pay more for less as you do now not just with Porsche, but with cars like the BMW M4 CSL and Corvette Z06 as well.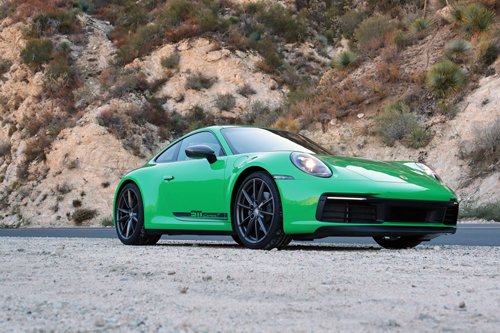 The aura of the '68 T lives on with the latest 2023 model. It gets no more power than the 911, but it gets all the features drivers respect and cherish: the option to select a manual transmission, which you cannot do with the base 911; optional carbon-backed sports seats; rear-wheel drive only; the Sports Chrono pack with its lower suspension and unique wheels and graphics package. It's a 911, just stripped to the bare necessities.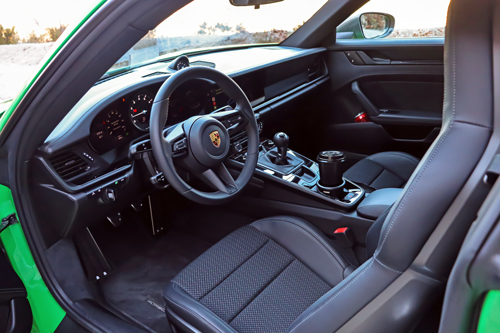 Although, this being 2022 going on '23, you still need to keep occupants comfortable so you have Apple CarPlay, dual-zone climate control, digital gauge cluster (styled to look like 911 clusters of old) and even heated seats. What you don't get as standard, however, are rear seats as they have been deleted to save more weight still.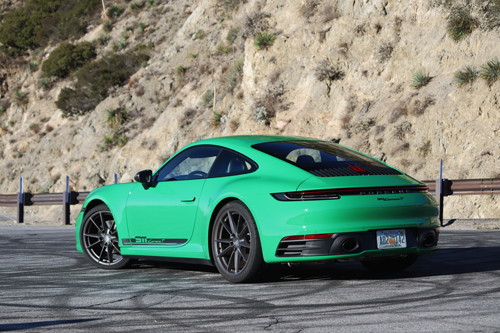 The result? A car that's laser-focused on what sports cars are all about: driving.
It's just that much lighter, that much better looking and with the stick shift and that much more involving to drive. Power comes on quickly, racing to its peak 379 horsepower output at 6,500 rpm, while its 332 pound-feet of torque takes just 1,950 to get there and that'll hold all the way to 5,000 rpm so you've got a nice, flat torque curve and power when you need it. Always.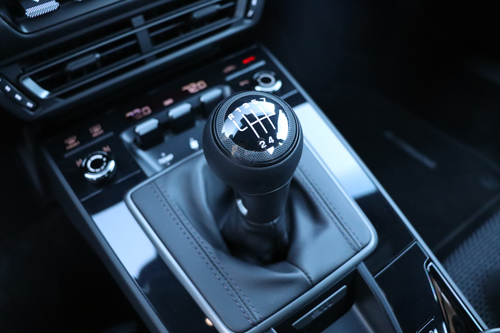 The facts and figures are one thing, but those don't always mean a car is the sum of its parts. Of course, the opposite is also true: a vehicle can be more than the sum of its parts and in its own way, the 911T is that. I say "in a way" because they've actually taken stuff away to improve the experience; the glass is thinner, a standard auto 'box is no longer the case and you can't get it with AWD. Now, they haven't gone quite as hardcore with this model as they did the last time 'round with the fabric door pulls et cetera, but at the wheel of this latest T, everything just feels so bang on.
You move through the turns with confidence, the steering communicative, the body roll almost non-existent as you roll through repetitive turns and undulations. The lever action is the perfect microcosm because everything is as drum-tight as it is and while you expect that from a company like Porsche, it never ceases to amaze just how well they can get it.