Every year, manufacturers bare the fruits of engineering labor at tradeshows, brandishing new models with clever updates to pique our interest. For the most part, engine or chassis tweaks here, a bit of finessed code there, and some fresh lipstick do the trick. The all-new 2023 Moto Guzzi V100 Mandello S isn't futzing around with mere spit-shines and sees the storied Italian brand sprinting headlong into the modern era, embracing state-of-the-art technologies by the bushel.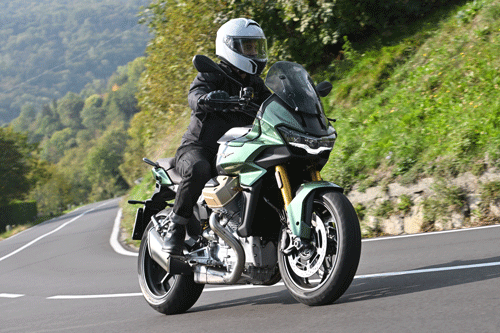 Part of a two-bike lineup, the standard V100 Mandello ($17,990) is joined by the swankier V100 Mandello S ($19,999) we sampled in the hills above Italy's picturesque Lake Como. The S model upgrades adjustable KYB suspenders to semi-active Ӧhlins suspension and enjoys a bi-directional quickshifter. Other than that, they share the same lean-sensitive rider aid package, engine, chassis, and adaptive aerodynamics.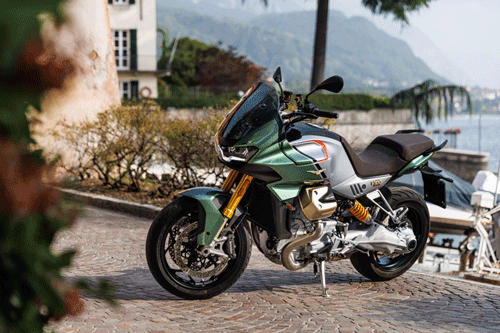 After a century of tradition building at its Mandello del Lario factory, this new Goose is flapping its wings with the Italian firm's first-ever liquid-cooled engine, dubbed the "compact block" due to its shorter design. The 1,042cc DOHC 90-degree longitudinal V-twin provides a playful 115 horsepower and 77 lb-ft of torque that packs a soulful punch paired with a burbling exhaust note, ideally suited to cruise alongside Como or wick it up in the winding routes.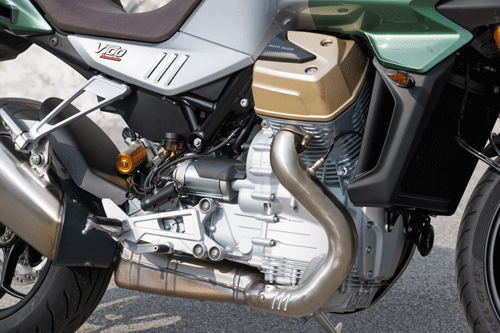 Low-inertia internal components add a sophisticated feel while introducing a healthy dose of pick-me-up to the brand's smoothest specimen yet. Of course, the gentlemanly traits continue with a counter-rotating crankshaft, used to reduce the rocking motion inherent to transverse-mounted engines whilst throttle blipping. The 6-speed transmission transfers power to a maintenance-free shaft drive and certainly makes Guzzi engines of old feel their age, though the quickshifter can act up when not in the sweet spot.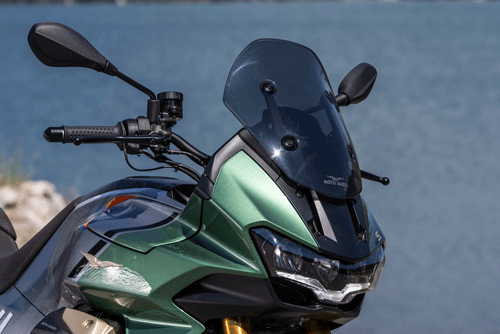 Nestled in the comfy scalloped perch, the options are wide-open for this all-arounder, featuring optional luggage. Riser handlebars keep weight off the wrists, while well-placed footpegs won't introduce cramped knees. Speaking of knees, the cylinder heads are turned 90 degrees to create extra space behind the iconic V-twin jugs, which along with the adjustable windscreen and fairing, offer a fair bit of wind protection. The adaptive aerodynamic winglets are said to reduce wind pressure by 22 percent, and although perceptible when deployed, the effect is limited.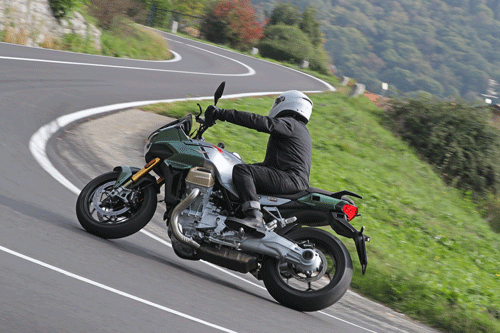 From that luxury lodging, one can put the V100 Mandello S through its paces, where its cornering acumen is displayed. Better yet, the semi-active Ӧhlins can be made as plush or pointed from the swish TFT display. The underlying sportiness is always there, even if understated by how casual and comfortable the whole affair is at lower speeds. Through the many tight switchbacks, high-speed curves, and quaint Italian villages; the V100 Mandello S didn't skip a beat, whipping through turns with confidence and ease.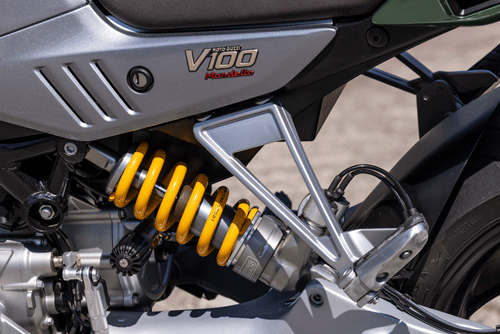 There is an eagerness in the V100 Mandello to chameleon itself into any road-going role, and when laden with Swedish semi-active suspension, the point is driven home. A purpose-tuned chassis often elevates a trek to and from the office, or across your average scenic route. Of course, those are disparate duties, and when coupled with conventional suspension, the dirty word "compromise" slips out of a motorcyclist's lips. That's not the case here, highlighting how Guzzi's latest steed won't be pinned down by strict category dogma that reverberates through the motorcycle industry.
True to the Italian brand's spirit, they've created a machine that becomes more difficult to define with each turn of the wheel. Yes, we motorcyclists have a natural leaning to label anything that falls at our feet and to wax philosophical for a moment, Moto Guzzi often does things that can only be described as, well, Moto Guzzi.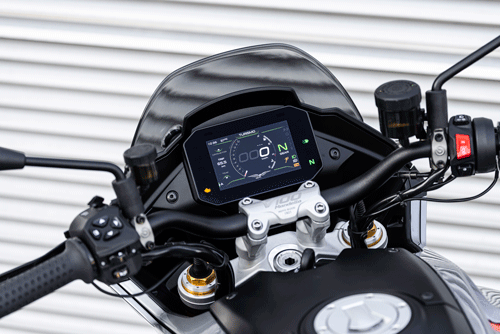 The niceties continue with an array of electronics that would feel at home on any of today's superbikes, which is yet another example of collaboration between the bright minds at Aprilia, a fellow Piaggio Group brand, tapping their decades of expertise in that department. The whizzbang gadgetry carries on with four riding modes that will turn up or temper throttle response just so and familiar territory for the Italian manufacturer.
With neo-futuristic styling at the forefront, it seems fitting that the V100 Mandello marks the first time that modern safety features such as cornering ABS and lean-angle-detecting traction control join the party. They function flawlessly and more adventurous owners can fiddle with the adjustability of various aids, but this all falls in the set-it-and-forget category for me.
Where that leaves us is looking to Moto Guzzi's bright future, guided by a tech-laden, versatile machine that's prepared ready-and-willing to take on whatever the day brings. And in that, the V100 Mandello S is a rare bird, providing a pleasant ride to soak in the sights and still ready to dive at any apex with ease.
By: Edward Narraca