There is a reverence that rises within the supercar faithful when you add two simple letters and one number to the nameplate Porsche 911. It is the dream for everyone who aspires to drive something truly great one day and celebrate fast cars, tight corners and tire smoke! Today the automaker from Stuttgart Germany launches one of it most prized sports cars and the supercar world is sure to take notice of the 2022 Porsche 911 GT3.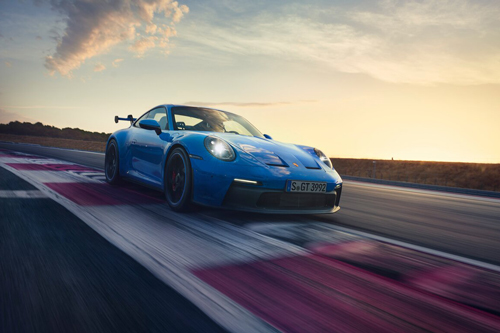 At Porsche, it starts with the basics when re-designing a sports car classic; aerodynamics and weight saving, power and power delivery and the best driving experience available. The new GT3 is no exception.
Porsche employs the venerable 4.0L six-cylinder boxer engine to deliver a stout 502 horsepower and 346 lb-ft of torque. With an enhanced rev-limit of 9,000 rpm, six independent throttle bodies maximize throttle response to deliver extreme acceleration and performance. Matched to either a 7-speed PDK automatic or available 6-speed manual transmission for the purist, the new GT3 takes 3.4 seconds to achieve 100 km/h and reaches a top speed of 316 km/h.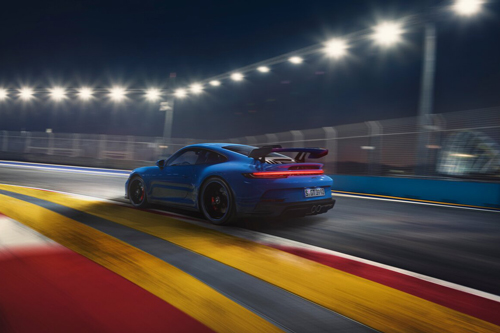 The front track has been increased by 48mm aiding in high-speed road performance. Despite the added width, body weight is down considerably with the use of carbon fibre reinforced plastic for the hood, rear wing and fixed rear wing, plus lightweight noise insulated glass on all windows.
Taking full advantage of their racing lineage, the new double wishbone front axle is a street version of the one found in the 911 RSR and 911 GT3 Cup cars. This is a first for the 911 and it marks a new era for the company. Benefits include improved high-speed stability and mid-turn cornering ability as well as faster turn-in and exit.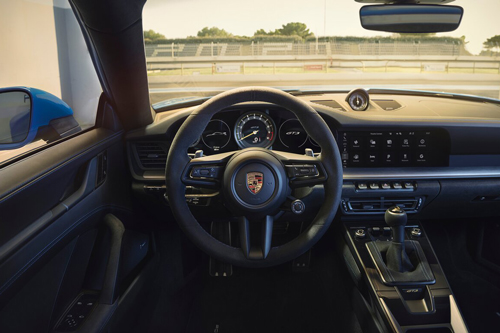 The rear multilink suspension carries over for the most part, but sees the number of ball joints increased for both front and rear to further improve handling. Slightly wider GT forged aluminum alloy wheels; 20-inch front, 21-inch rear are 1.6 kg lighter than the previous GT3.
Aerodynamics are significantly improved in both front and back. The front fascia integrates cooling intakes and an adjustable front spoiler lip and diffuser for track use. Side skirts are specifically designed for use on the GT3 allowing air to flow unimpeded around the wheels. At the rear, the rear wing is also adjustable in stages, improving downforce by 50-150 percent over the previous GT3 with settings ranging from normal to performance.
Inside, driver and passenger are well cared for. A brand new GT3 Multifunction Sport steering wheel offers a drive mode switch for the first time in the GT3. Race-Tex upholstery is standard, so too are 4-way adjustable sport seats.
Options include carbon fibre 18-way Sport Seats Plus that shave an additional 12 kg in weight. A new PDK shift lever is standard on the new GT3, so too a GT specific "Track Screen" function that minimizes information surrounding the tachometer to lessen distraction. The Chrono Package remains as an option, incorporating Lap Trigger support for those who demand to know their track performance measured in milliseconds.
The 2022 Porsche 911 GT3 is expected to arrive in Fall 2021. Pricing is not available at this time.