Any conversations discussing the foggy future for Nissan's luxury Infiniti brand were put to rest today — for the time being,, anyway — after the reveal of the all-new QX55 crossover. Actually, that's not quite correct as the QX55 isn't just any crossover, but a luxury crossover coupe the likes of what we may see from the BMW X4 or Mercedes-Benz GLC-Class. It would appear that like many manufacturers today – both luxury and otherwise – Infiniti's future is very much rooted in the CUVs and SUVs it has on offer; reference the recently-revealed QX60 Monograph to see what we're on about.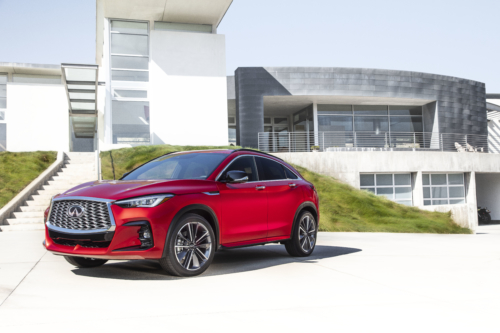 Either way, the new QX55 looks the business with an aggressively-sloped rear deck and long hood (that's really where you're "coupe-ness" comes from, as there are four doors), CUV-level ride height and one heckuva proud grille inspired by origami and that looks to even put the ultra-glam maw used by many Audis to shame. Gotta love those 20" wheels, too.
It may be tough to see this now but while Infiniti is a little behind the Germans when it comes to releasing a vehicle of this type, they maintain that they kind of started the trend way back in 2003, with the RWD-biased FX crossover. The QX55 is a continuation of that model, which bowed out after the 2017 model year.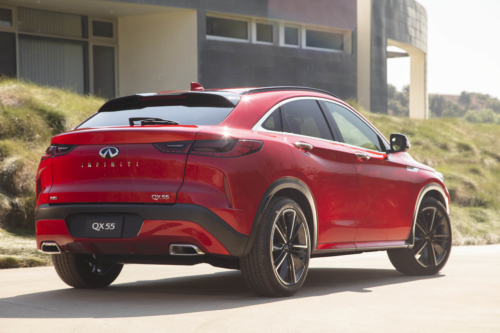 Power comes from a single engine choice, as with the arrival of the QX55 we see the latest use of Infiniti's Variable-compression turbo (VC-Turbo) four-cylinder engine, first seen on the QX50 crossover. For this application it makes 268 horsepower and 280 pound-feet of torque, fed to all four wheels (AWD will be standard in both the US and Canada) through a continuously-variable automatic transmission that is of the "shift-by-wire" variety, meaning fully electric, with no mechanical transmission linkage to speak of. According to Infiniti, that ensures even quicker "shifting" in manual mode even though with no actual gears to speak of, all you're really doing when you flip the paddle shifters attached to the wheel is shift virtually.
What the VC-Turbo engine allows for is for the driver to have either a very high 14:1 compression ratio, or lower 8:1 compression ratio so what you're getting is effectively the perfect mix of what a diesel engine provides – great, low-end torque and fuel economy – and what a turbocharged gas engine offers, that is to say great top-end boost and a nice, flat power curve.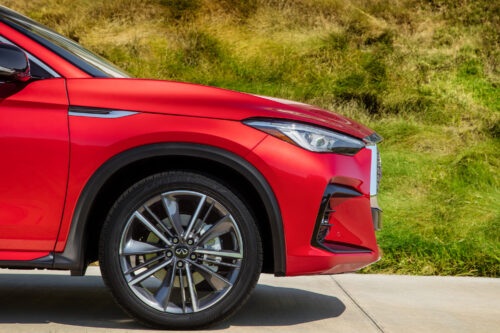 There are also four powertrain modes – standard, ECO, sport and personal – that, when selected, adjust everything from steering response and weight, to throttle response and the adjustment of the "virtual" shift points.
When the QX55 arrives in showrooms in spring of 2021, it will do so in three forms: Luxe, Essential ProAssist (bit awkward, that) and Sensory. All the trims get Apple CarPlay and Android Auto and wireless Apple CarPlay, WIFI for up to seven devices, seven inch infotainment display and push-button ignition. The higher trims get real and semi-aniline leather, 16-speaker Bose audio, 360-degree AroundView monitor and exterior ambient lighting.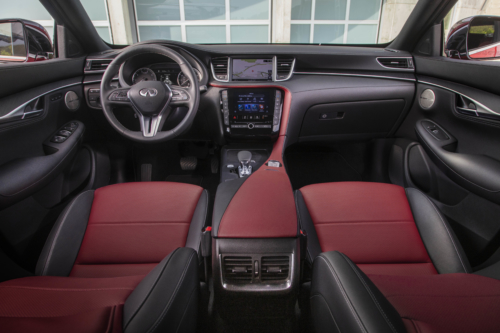 All QX55's, however, get a wild centre console that gets a two-tone treatment, with one of the tones reaching all the way from the centre armrest to atop the centre stack. They also get a stubby shift lever and dual-screen set-up whose flush-mounted screens make for what looks to be some airier interior environs. It looks very inviting, that's fur sure.
No pricing has yet been announced – we'll see that closer to the spring release – but that notwithstanding, the 2022 QX55 is a very intriguing model that we're looking forward to seeing more of. And driving, of course.
Watch this space.