Hotel X is brand new in the city of Toronto, a towering edifice of glass and steel overlooking the beauty of Lake Ontario. Close by, Porter Airlines turboprop planes take flight from Billy Bishop Toronto City Airport to destinations unknown. It has taken three years longer than expected to open this premium hotel, but from where I stand on the top floor looking down on Canada's largest city in the waning sunlight, the wait has been well worth it.
In a similar way, Infiniti has been careful to craft the new 2019 QX50 so that it truly reflects current trends in the automotive marketplace. A larger sibling to the QX30, but smaller than the QX60 and colossal QX80, the QX50 is arguably the most important SUV for Nissan's upscale brand. With strong competitors such as the Acura RDX and Volvo XC60 also new, there is no shortage of bragging rights available. If first drive events such as this have any lasting value when it comes to gauging the success of a specific vehicle, the 2019 Infiniti QX50 is certainly ready to take on all-comers and put up a very strong fight.
Power comes in the form of a first-to-production 2.0L 4-cylinder VC (variable compression ratio) turbocharged gasoline-powered engine. It produces 268 horsepower at 5,600 rpm and 280 lb-ft of torque at 1,600-4,800 rpm.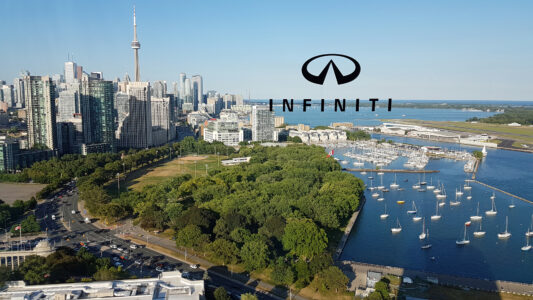 Matched with a smooth-as-silk CVT transmission, 0-100 km/h takes just 6.5 seconds with top speed reaching 230 km/h. Strong numbers for a midsize SUV suitable for carpooling back and forth to the office, taking the family away on vacation, or that never-ending journey from the baseball diamond or soccer pitch, to the horse stables and early evening dance classes. All in a day's work for the 2019 Infiniti QX50.
"Variable compression ratio technology represents a breakthrough in powertrain development. The QX50, powered by our VC-Turbo, is the first production vehicle ever to give drivers an engine that transforms on demand, setting a new benchmark for powertrain capability and refinement," states Randy Parker, Vice President, Infiniti Americas in the official press release.
In practice, it works via a multi-link system that continuously raises or lowers piston reach thereby changing the compression ratio. A higher ratio translates into maximum efficiency and power. Infiniti's VC-Turbo engine offers a compression ratio variance from 8:1 to 14:1. What this means in real world driving is a noticeable improvement in power, without the resulting downturn in fuel economy. How best to use it is up to the driver.
Pushing down on the accelerator as I enter the highway on our way to Niagara returns more power than I expected. It surges forward with a tenacity that is both easy to control and long-lasting. This is still an SUV for the city, with a little country off-road capability on the side, of course, but you sense there is more to this new engine than just some technical jargon that looks good in a brochure. Infiniti has done their homework and the results are impressive.
Exterior styling cues follow a well-charted path visible across the entire model range. Deep character lines run the full length of the body, tying its cohesive design together like a perfectly wrapped present. LED headlights are designed to look and act like a human eye, think Optimus Prime, while a top and bottom light strip offers a unique and highly effective alternative look when using the turn signals.
Inside, you sit a little higher than in a four-door sedan and this is one of the main reasons why buyers prefer SUV and CUV designed vehicles. Front seats are supremely comfortable, with easy adjustment all around. A driver-centric dash layout doesn't exclude the front seat passenger, but cocoons both in stitched leather, brushed metal and wood accents. Back seat legroom is excellent, so too the much improved and class-leading rear storage compartment with easy-folding rear seats.
Large round white on black gauges provide excellent feedback. Two center console screens highlight the Navi-system, camera images and app controls. This is framed by the HVAC and audio control buttons. The center console feature dual cupholders, ample storage, a simple gear lever, start/stop button and more. Steering wheel mounted controls access the audio system and cruise control. We also enjoy the sweet sounds of the Bose Performance Series Audio System with Advanced Staging Technology pumping through 16 speakers for a truly remarkable driving experience.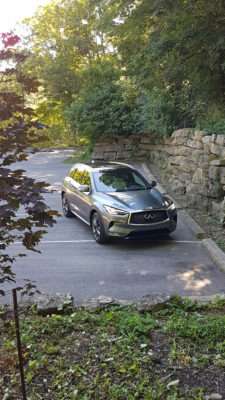 Also included in our test vehicle is the Blue Ultrasuede upper door and center console lid accents standard on the Autograph edition. In theory, adding blue suede to an elegant mix of white seats, black uppers, brown lowers, metal and wood accents has the potential to impress, but in actual fact the interior winds up looking a little muddled. With so many colours on display, it takes away from the overall positive impact you expect inside an Infiniti. I prefer the less is more approach of the Sensory edition.
The 2019 Infiniti QX50 has the power, design, pedigree and quality needed to succeed in the highly competitive midsize luxury SUV market. While I might not be sitting as high in the new QX50 as I was at the top of Hotel X in Toronto, the view from inside is equally impressive.
2019 Infiniti QX50
Price as tested: $50,790.00
Freight: $2,045.00
Configuration: Front engine/All-wheel drive
Engine/transmission: 2.0-litre turbocharged inline-four/ CVT
Power/torque: 268 horsepower/ 280 ft-lb of torque
Combined fuel economy ratings (L/100 km): 9.0 L/100 km
Competitors: Acura RDX, BMW X3, Lexus RX 350, Mercedes-Benz GLC, Volvo XC60
Related links:
Infiniti Canada