First whetting the appetite of enthusiasts with the cosmetically-enhanced N-Line late last year, Hyundai is proceeding flat-out by announcing this week the impending arrival of the full-blown Elantra N sports sedan.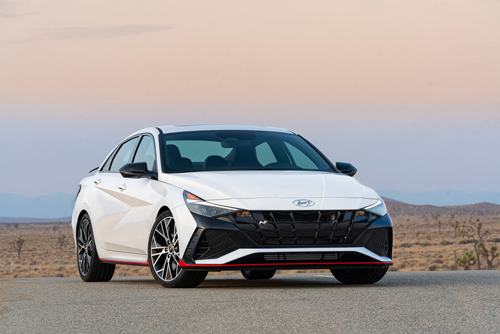 "Hyundai Motor's high-performance N brand constantly aims to provide customers with a range of exciting choices for increased driving pleasure," says Till Wartenberg, vice president of N brand management and motorsport. "Elantra N is the purest expression of our mission to date."
An impressive 276 horsepower and 289 lb-ft of torque is extracted from a 2.0-litre turbocharged four-cylinder mill built using "flat power" engineering, which the automaker says provides more output at lower RPMs, permitting better utilization of the motor's potential in everyday driving situations.
Happily, a six-speed manual gearbox with rev-matching capability is standard, though buyers can choose an eight-speed "wet" dual-clutch transmission (DCT) that utilizes an electric oil pump to improve lubrication and heat resistance for increased efficiency.
During the reveal the Elantra was shown tearing through road circuits and racetracks, taking advantage of a number of N-specific technologies also found on stable mates such as the Veloster N and upcoming Kona N.
N Corner Carving Differential: An onboard electronic limited-slip differential is capable of distributing varying amounts of torque to each wheel, helping maintain grip through high-speed cornering.
Variable Exhaust Valve System: The driver can customize the size of the exhaust valve opening, as well as ignition timing, to recreate race car backfiring sounds while the SPORT+ setting is engaged.
Launch Control: When in the N driving mode, with electronic stability control switched off, wheel spin/slip upon hard acceleration is mitigated allowing the best possible off-the-line start.
In addition, DCT-equipped models offer three more unique performance features.
N Grin Shift: Pressing the corresponding button on the steering wheel over-boosts the engine and alters the transmission mapping, unleashing maximum power for up to 20 seconds before a cool-down period kicks in.
N Power Shift: Engaged anytime the vehicle experiences near maximum throttle input, the optimal gear is automatically selected to avoid torque loss during shifting.
N Track Sense Shift: Similar to the above, the computer recognizes if road conditions are suited to dynamic driving — for example on the track — and takes over gear change duty, letting the driver focus on steering.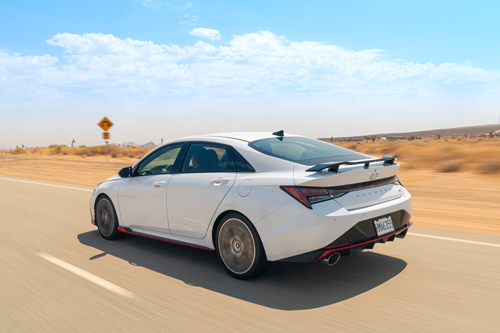 Designed to stop equally as well as it goes, there are large ventilated brake rotors (360 millimetre front and 314 millimetre rear) and high friction pads installed. Overtop are 19-inch alloy wheels shod in sticky Michelin Pilot Sport 4S tires.
This is the most aggressively styled Elantra to leave the factory yet, its face said to be modelled after a race helmet. The front bumper is largely blacked out, except for a contrasting red lip spoiler matching the rest of the red-coloured lower body aero. A neat raised exclusive wing sits atop the trunk, and an inverted triangle reflector down below is yet another nod to motorsport.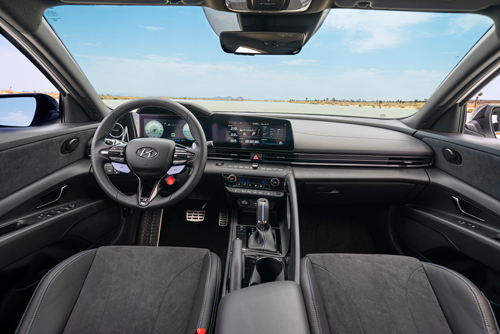 In the cabin N branding is visible in numerous spots including on the steering wheel, gear lever, seats, door sills and aluminum pedals. The sport seats are lighter and sit 10 millimetres lower than the regular vehicle, and the infotainment system features a video-game-inspired graphic interface that displays performance data in a fun manner, similar to when playing a virtual reality simulator.
Pricing is TBA — look for the 2022 Hyundai Elantra to grace our shores later in the year or early next.