On The Fifth Day Of Christmas!
The Dodge Durango has always had a bit of a tough road; after all, Dodge is just one in a conglomerate of brands at Stellantis, one of which is Jeep, the king of the SUV. So here comes Dodge with a three-row of their own to compete with the Ford Explorer and Honda Pilot and yes, the Jeep Grand Cherokee. Even though that last one didn't get a three-row version until this year, it has always been the leader of the group when it comes to mid/full-size 'utes.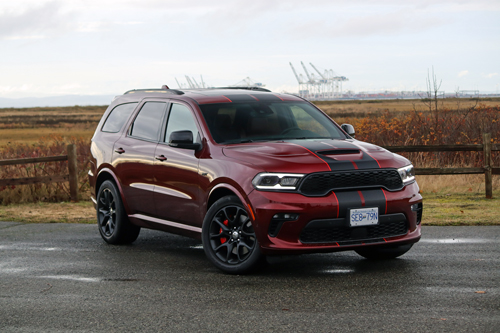 So if you're Dodge, what do you do? Well, you create some muscle car on 'roids styling, bright colours, a great interior and in the case of this Durango here, that fireblood of the muscle car, and something Dodge/SRT has done well for many years: a big, honkin' V8 that takes no prisoners.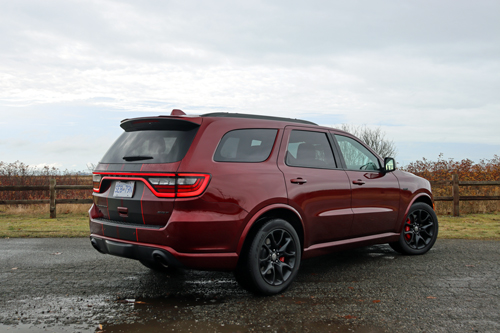 That's a 6.4-litre naturally aspirated big block Hemi under the swollen hood, and it does its business to the tune of 475 horsepower and 470 pound-feet of torque sent through a 10-speed auto 'box. There's a launch control system that makes an event of setting up even before you set off, all pointing to the fact that this is a truck meant to be driven in anger. Preferably with the Dropkick Murphys' I'm Shipping up to Boston blasting through the 825-watt Harmon/Kardon audio system. There is very little that gets one revved up like V8 power with dual potato canon-sized exhaust outlets.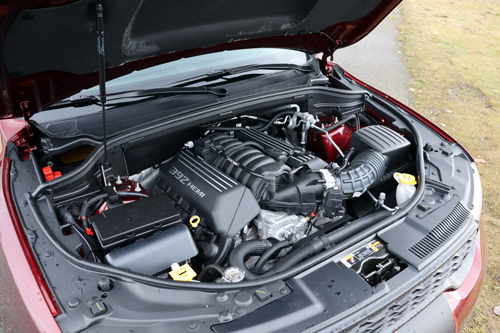 Speaking of the audio system: that's just one detail pertaining to that other thing Dodge does so well, and that's interiors. The materials used are of a top grade, the Uconnect infotainment system gets a massive screen and is upper intuitive and remember: the SRT starts life as a people-moving SUV and it has all the qualities that brings; deep storage bin in the back and deep central storage bin up front; USB ports everywhere; spacious first and second rows and the ability to tow. It is a great truck to clamber in to and drive on the daily, but when it's time to get the blood flowing it takes little more than a squeeze of the "go" pedal. Oh, and you can even get it with go-fast racing stripes; as nice as the truck shown here, I'll take mine in white with blue racing stripes, please.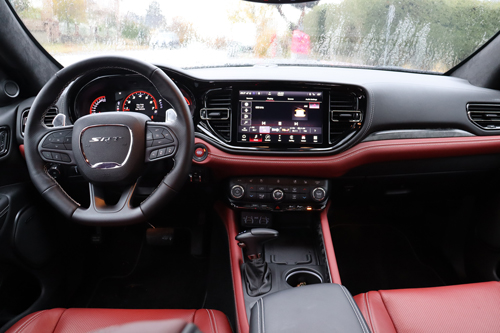 There are few vehicles I have driven in recent memory that have left a mark on me as much as the Durango SRT 392 has. Even the Hellcat version – which I have also sampled – doesn't have quite the same effect, for some reason; it's probably too hardcore, too light on the everyday aspects that this one is. The suspension is too firm, the front end with all its sueprchargery, too heavy – it'll win hearts at the drag strip to be sure, but the use case is limited.
In 392 form seen here, it finds a sweet spot in the Durango line-up where the lines cross between everyday usability, making it a tough formula to beat.