Through its Driving Experience winter program, Audi shows us the different applications of its quattro all-wheel drive system.
"We're mostly here to have fun. Let's have fun, alright?" – is what Audi Canada's public relations representative kept repeating before we headed out to Quebec's Mécaglisse ice circuit.
The message was clear: Audi had shipped a bunch of automotive journalists up to northern Quebec to play around in the snow with some cool cars. And what a roster, one comprised of some of Audi's most exciting models like the S3 sport compact sedan, the RS 6 Avant performance wagon, and the all-electric RS e-tron GT. Did I mention we were there to have fun?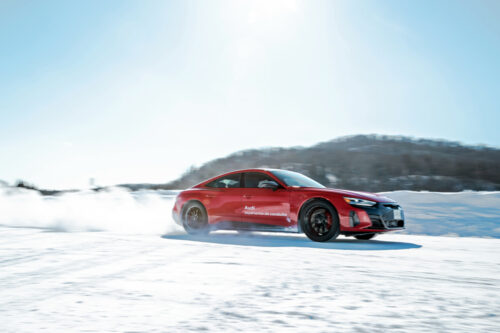 Not Porsche's Camp4, But Close
Just like the Porsche Camp4 program, Audi offers its winter driving experience to its customers. This is why the darn thing is almost a copy and paste of Porsche's activities.
That's because the architect behind both events is the same man. His name is Pierre Des Marais and he's an ex-racing driver whose experience goes all the way back to the 1980s. Today, Pierre is Audi Canada's official driving instructor. With the help of both Audi and Porsche, he put together a massive winter driving complex hidden deep within Quebec's Lanaudière region.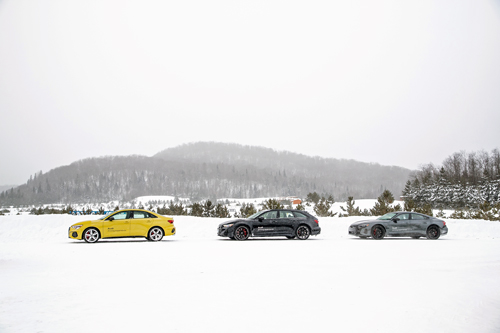 The plan was to sleep in a hotel at Mont Tremblant the night prior, then drive to the track in the morning, a one-and-a-half-hour drive east through the picturesque Laurentian Mountain range. Once there, Audi instructors waited for us at the gate in a pair of shiny new RS 6 wagons. To prevent bringing salt and dirt on the track, causing it to melt, we were ordered to park our vehicles at the gate. The wagons would taxi us to the "chalet".
Upon arrival, we were immediately split into two groups, and briefed on the day's schedule. Like in a game of Gran Turismo, our instructors would lead us into a series of exercises, each increasing in difficulty as the day moved forward. What began as cute little drifts around a series of cones with traction control set to sport, ended up with a full-on ice circuit, sliding left to right with all driving aids removed. No modifications had been applied to our cars, except for a fresh new set of Nokian Hakkapeliitta studded tires.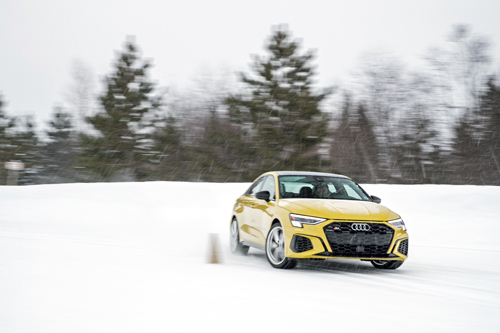 2022 Audi S3
Being the smallest, lightest, and least powerful car of the group meant the S3 was by far the easiest and most forgiving. Its small size also gave it an advantage during tight cornering manoeuvres and slaloms.
The quattro system in the S3 is a multi-clutch reactive type, formerly known as a Haldex system. This means that the car is first and foremost front-wheel drive, with its turbocharged 2.0-liter four-cylinder installed in up front in a transverse layout. When the clutch pack senses a lack of grip, it sends a percentage of the car's available torque to the rear wheels. Audi claims that the system can send up to 100% of the available power to the rear, but only if the front wheels lose traction entirely. In other words, the car reacts to its environment.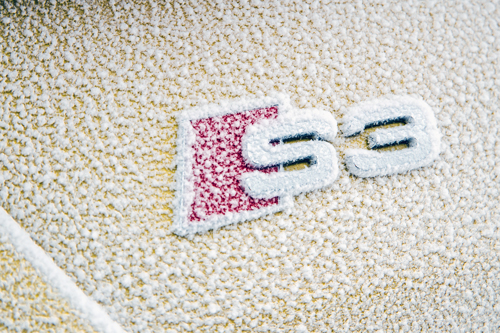 Out there in the heavy snow, the S3 was massive fun, and while yes, there's a slight delay in the way it sends the available power to the rear wheels, once it does, the car loves to wag its tail. Being short and narrow allowed the S3 to be immensely easy to correct when sliding too wide. The available 306 horsepower and 295 pound-feet of torque proved to be the right amount of power for this type of exercise. The S3 was by far the most addictive driving experience there.
2022 Audi RS 6 Avant
In these conditions, the RS 6 Avant really proved that it's all car for all people. Not only can it carry a full family with their dog, but it can bolt from 0 to 100 km/h in a blistering 3.2 seconds and drift it's way through a snow-covered winter track no sweat.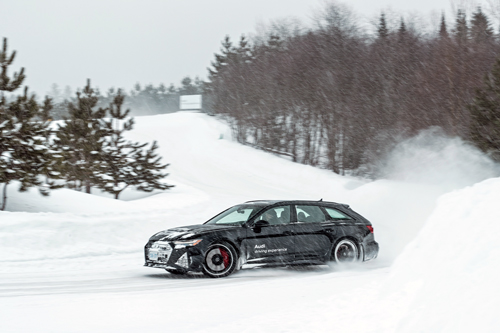 The nasty battle wagon was the big bruiser of the pack, and quite the handful to operate in such conditions. The RS 6 Avant is a long car, one that carries with it a mammoth 5 031-pound curb weight. Its twin-turbocharged, 4.0-liter V8 sits in front of the car's front axle and pumps out a colossal 591 horsepower and 590 lb-ft of torque. That engine is then paired to a 48-volt mild hybrid system for improved efficiency.
To handle all that power, Audi decided to use one of its most advanced quattro systems to date. Contrary to the S3's reactive system, the RS 6's is a predictive type, meaning it's always channeling power and torque to all four wheels. By default, the RS 6's quattro system is set to a 60/40 ratio, with a rear-bias approach. This means that most of the car's power is sent to the rear wheels first, while the front axle acts as an assist system.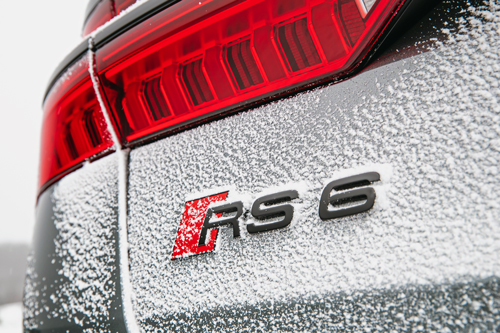 Out there in the snow, the big car acted as a pendulum once its rear end starting sliding. Using the car's heavy firepower to correct, one only needed to feather the throttle to maintain the drift as the car's front wheels clawed for grip. Transitions in the RS 6 are a handful as the long, heavy wagon switches from one sliding manoeuvre to the next with violent swings. Meanwhile, through a walkie-talkie, the instructor kept repeating to keep focusing on where we wanted to go, not where the car was heading. Easier said than done.
2022 Audi RS e-tron GT
Perhaps the most interesting and revealing vehicle was the RS e-tron GT. Being electric means its quattro system ditches differentials, driveshafts and clutch packs. It's the next generation of Audi's quattro all-wheel drive in the sense that it's essentially two electric motors sitting on each axle. Out the rear, there's a mechanical two-speed transmission like the one found in the Porsche Taycan. That's because the Taycan and the e-tron are mechanical twins.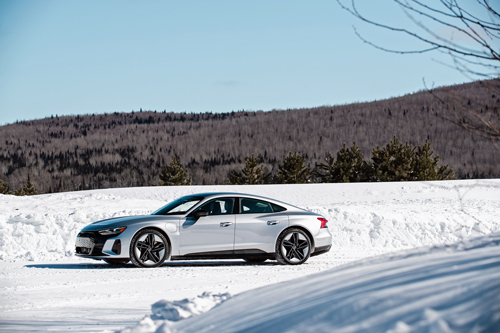 In RS form, Audi's electric supercar carries a 93.4 kWh liquid-cooled lithium-ion battery pack underneath its floor. Combined, its electric motors churn out a remarkable 589 horsepower and 612 lb-ft of torque. Power can however climb to 637 horsepower during a short Overboost moment.
Drifting an RS e-tron GT is both immensely fun and scary all at once. I say scary not because the car isn't well sorted out, because it is. It's frightening because everything is happening so fast.
Because there are no mechanical components working together to transfer the car's power, everything is much more instant. This car's all-wheel drive system is nothing more than two electric motors that react to an electronic throttle pedal, each controlled by an artificial intelligence so advanced, it makes the driver appear like a fat piece of meat holding on for dear life.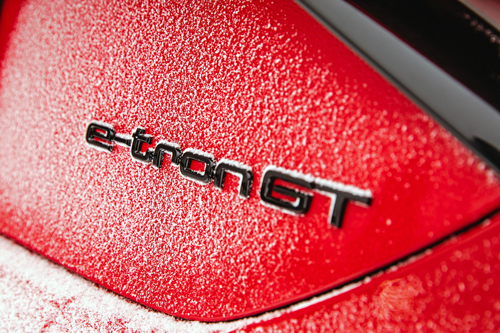 But once you master the RS e-tron GT's superhero skills, you'll realize how incredible the future of the automobile will be in an all-electric world. In an EV, power slides are nearly endless (unless the battery runs out) because the car never needs to downshift or cope with a clutch pack that didn't kick in quick enough. All one needs to do is feather the throttle to hold the slide, and the car will smoothly follow the requested trajectory.
Perhaps the only area where the RS e-tron GT showed weakness, was in the 5,200-lb curb weight it had to carry around. Let's just say that when the car decides to kick back on the other side, you ought to be awake, because it can quickly send you flying in the snowbank.
When the day was over, the tires were completely used up and, in some cases, ripped off some skirt kits from clumsy manoeuvres.
We all headed back to the chalet for a final briefing. No fancy prize, medal, or certificate here like other driving schools give out to their students after their class. Not even a pat on the back for our exploits. We regrouped in front of a few Audi spokespeople who wrapped up the day with few words: "did you learn something?" and "did you have fun?". The end.
Oh, I had a lot of fun alright. But what I learned was how Audi's different quattro all-wheel drive systems operate and change a car's behavior from one configuration to the next. But, perhaps more importantly, was the realization that even if tomorrow's cars won't run on gasoline, they'll be just as if not more engaging to drive as their predecessors.