While the war between sedans and hatches and compact SUVs and CUVs continues to slant towards the latter, it appears South Korean manufacturer Kia has decided to try and right the ship a little by completely revamping its Optima mid-size sedan, calling it something that sounds like it could be an SUV — K5, think about it – and using it to usher in a brand new styling language for Kia. Oh and that name? Also a harbinger of what's to come at Kia, as they start to transition away from model names – Optima, Forte, Sorento, etc. – and move to an alphanumeric system said to recall the nomenclature used in its home country of South Korea and in other world markets.
But enough about that. What of the car?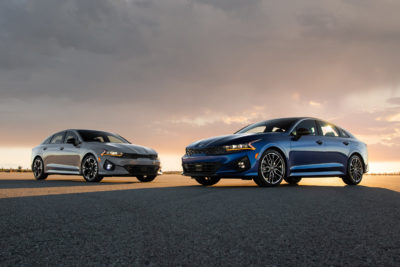 Well, while it retains the "Tiger Face" grille seen on other Kia products (albeit it's much more expanded here), that's about where it ends when it comes to brand familiarity. The LED headlight lenses are ultra-aggressive (and feature DRLs styled to look like an EKG pulse), there are cuts and strakes everywhere, a chrome garnish spanning the roofline and leading all the way around the rear glass and a fastback profile that got its start with the K5's Stinger sibling. Like the Stinger, though, the K5 gets a traditional trunk even though it looks like it should get a larger hatch, which is too bad.
Add the gunmental-y wheels (wheel sizes range from 16-19 inches) and this is a mean-looking thing that also gets a touch of the upper class while it's at it. It's very Audi-like in that way, but then Kia's kind of been walking that line ever since former Audi design guru Peter Schreyer took over design at Kia in 2006. The K5 is also the first Kia to ride on the brand's all-new N3 platform, set to underpin many a Kia model going forward.
With looks this aggressive, the question is whether or not the K5 can walk the walk as well.
In that light: upon launch, power comes courtesy of a single engine choice: a 1.6L turbo four good for 180 hp and 195 lb-ft of torque fed to the front wheels through an all-new eight-speed automatic transmission. Further "boosting" engine performance is something called continuously variable valve duration (CVVD). Essentially, what CVVD does is allow each valve to be controlled independently to maximize engine performance.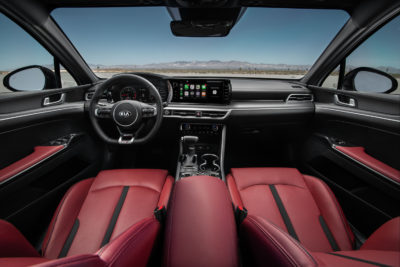 Those that lament the fact that the new car makes less horsepower than the current Optima's 2.4L four can take solace in the fact that some time after launch, a 2.5L turbo good for 290 hp and 311 lb-ft of torque will be made available. It gets a dual-clutch eight-speed auto, but it's of the "wet" variety for even smoother and more responsive performance. US models can be specced with either front- or all-wheel-drive, but there's no word yet on whether or not we'll be getting the latter in Canada. Considering both the Toyota Camry and Nissan Altima are getting AWD in Canada, however, you have to think the chances are pretty good we'll be seeing AWD K5s here.
In keeping with the need to keep up with the Joneses, the K5 gets a fully modernized cockpit with either an eight-inch or 10.25-inch touchscreen display, wireless phone charging and the ability to have multiple Bluetooth devices connected at once. Of course both Android Auto and Apple CarPlay will come standard. On cars equipped with the 8" display, meanwhile, both of those apps can be connected wirelessly. Driver aids like forward collision assist, lane keep assist and blind-spot warning system will all be on-hand.
For those looking for even more driver assistance, a "junction turning assist" feature can be added to the forward collision system, on-hand to lessen the effects of – or completely avoid – a collision with oncoming traffic while turning left.
Three trims will be available in Canada: (LX, EX, GT-Line) at launch, with just the GT-Line getting the more powerful motor. Look for pricing on the 2021 Kia K5 soon as it's due to arrive in the US in a few short weeks, with Canadian cars landing this fall.