In a move that was expected, Honda has announced that their North American, 249cc powered dual-sport machines will receive the same European bump in displacement (to 286cc) and be rebranded as CRF300L and CRF300L Rally. The upgraded engine is good for a 9.4% jump in both horsepower (31hp) and torque (19.3 lbs-ft), throughout the rev range.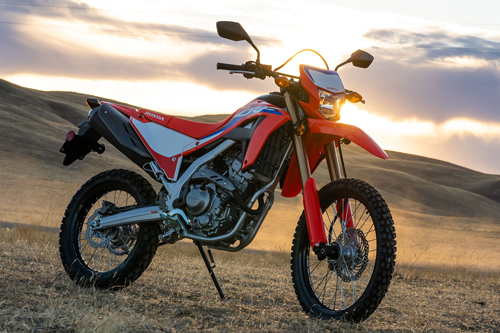 The changes to the two models run deeper than stickers, power and piston stroke though, as they've both received other significant tweaks.
The semi-cradle frame is lighter and some lateral rigidity has actually been removed to deliver a more responsive and communicative ride. The rear swingarm has received similar treatments and both bikes ride on a set of spoked, aluminum hoops (21-inch front, 18-inch rear), suspended via a set of 43 Showa forks and a Showa Pro-Link shock out back. All told, some 5kgs have been shaved from what were already fairly lightweight machines and suspension travel has increased to 250mm. The gearing in the six-speed transmission has also been reworked to offer closer ratios down low for better response in the dirt and a wider gap up top to aid in road/highway travel. Essentially, Honda has delivered more powerful, lighter, more responsive and compliant versions of their entry-level dual-sport machines — we consider that a big dual-win.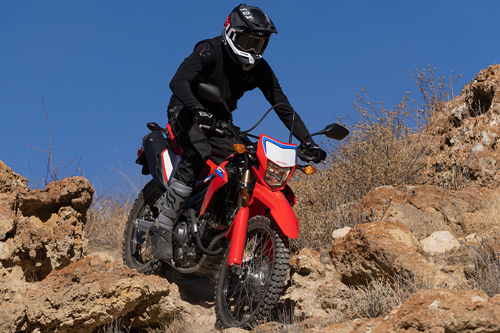 Honda reports that both bikes have also received some ergonomic improvements too. The seat is now wider while the handlebars have been shifted to deliver a more natural riding position from your keester. The footpegs have also been shifted to enable easier manipulation of the foot controls and, on the Rally, rubber inserts appear to quell vibrations. The Rally's fuel tank has also grown to 12.8L so riding from trail to trail, or even beyond, becomes a greater possibility and it even comes standard with switchable ABS (in Canada). Pricing starts at $6,499 for the CRF300L and jumps to $7,499 for the Rally. Both models should hit dealer floors this spring.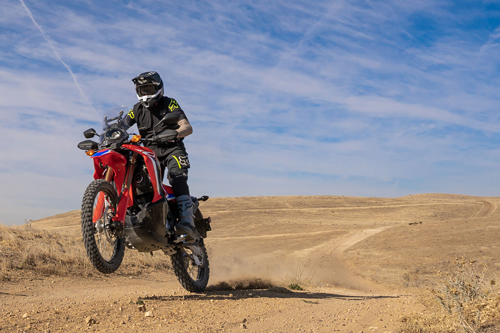 Being the more "touring" friendly of the two bikes, this new CRF300L Rally already has us plotting points on the map surrounding parts of the Trans Canada Adventure Trail. Rest assured, we'll be putting our names on Honda's list to test it out once the snow starts to melt, so watch this space for a full review later in the year.
Links: Honda Canada
CRF300L
CRF300L Rally