Let's call it the "Food" F-150. For this review of the 2021 Ford F-150 PowerBoost hybrid, I'm throwing in a little Polynesian twist: coconut shrimp and pineapple sauce with grilled vegetables.
Unlike some of my automotive journalist brethren who used cupholders or dash-top cubbies to hold dipping sauces for their chicken fingers, I'm using the Ford to cook. There's an air-fryer and a grill in the bed, yet despite the use of electricity, no utility's electrons were harmed in the process.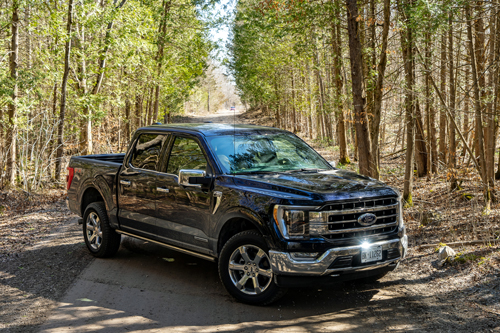 I've pulled off the road somewhere in the middle of nowhere (somewhere south of Winnipeg, actually) and set up the kitchen using the on-board 7.2-kilowatt power centre feeding four 120-volt outlets and one 240-volt outlet.
I'm barely taxing its capabilities, which Ford says include the ability to run an entire job site. If I had a small refrigerator, no problem. If I was building a shed or a deck and wanted to cook chili while circular saws and table saws and electric drills were doing their thing, easy peasy.
In addition to the grilled veggies, I chose an air-fryer recipe specifically to highlight the electricity on board.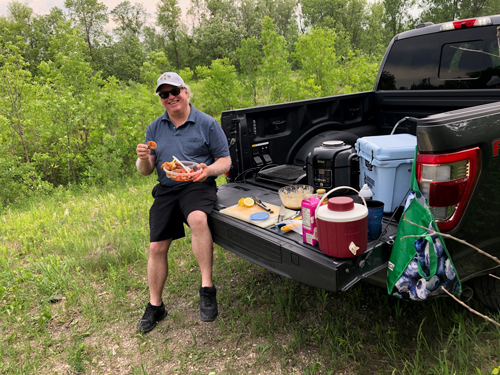 The peeled and deveined shrimp combine grated unsweetened coconut, Panko bread crumbs, egg and flour to create a crispy crust despite the lack of deep-frying. It's important for crispiness that you preheat the air-fryer first, to 410 F. Shrimp cook exceptionally quickly, so while chicken fingers and the like might take 20 minutes, these exoskeletal sensations take only five minutes per side.
I combined them with a salad of grilled vegetables — red pepper, zucchini, eggplant — and cool, crisp cucumber and cherry tomatoes for a variety of texture and temperatures. Once combined, they were tossed in a lemon vinaigrette I whipped up at home before heading out. The pineapple sauce was store-bought, though a homemade mango chutney would also be delicious.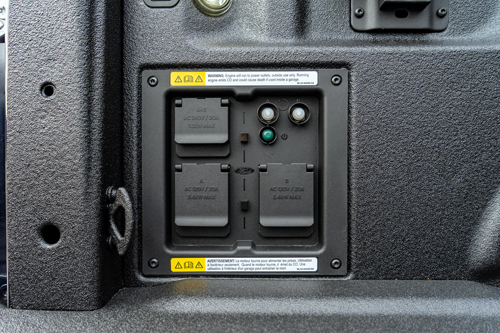 Cooking with the truck's power supply was as easy as plugging in at home, but, out of an abundance of caution given it's not my truck, I opted to place the appliances on the bed of the truck rather than the tailgate. The tailgate is very handy, with measuring marks and pockets to attach C-clamps for woodworking, but I was worried the heat from the grill and fryer might deform the plastic liner.
Because the truck is a hybrid and not a full-on electric, it splits the work of propulsion and electrical generation between the gas motor and the electric system, which is less robust than in a full electric vehicle. It means you can keep going for as long as you can keep fuel in the tank, but it also means you have to leave the truck's power on when using the on-board power. When the batteries get low, the truck will automatically start the gas engine to recharge and then turn it off again once the battery is charged.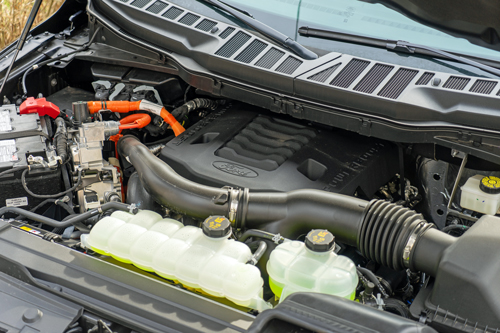 Of course, the point of this exercise is not to suggest you need to drop $83,715 on a pickup truck to cook al fresco. Hibachis and portable gas grills have been doing that for about $83,615 less for decades. Instead, it's just a fun twist on the usual car review.
While the food turned out delicious, it was the rest of the week in the truck that left me more impressed. The PowerBoost hybrid combines the 3.5-litre EcoBoost V-6 engine with a 35-kilowatt electric motor integrated into the 10-speed transmission. It is a full-on, parallel hybrid capable of full electric operation under certain conditions.
When it arrived, the truck was averaging 16.9 litres per 100 kilometres. After a week of combined highway and city driving, that average fell to 12.8, without resetting the computer. It's rated for 9.8 l/100km combined, and I suspect that's achievable.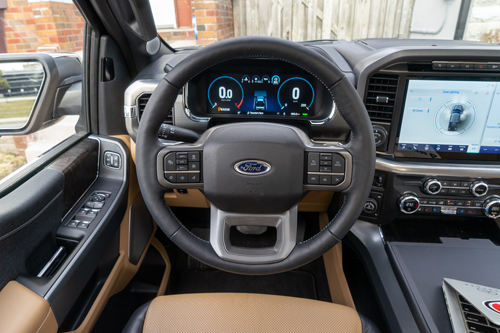 One way it does that, aside from the hybrid action, is the gas engine runs at very low, and relatively constant, engine speeds. For typical highway cruising, the tach reads an astonishing 1,500 rpm at 110 km/h. Only when you really put your foot into it does the tach rise much above 2,000 rpm.
Keeping the engine speed within a certain range — through a combination of the 10-speed transmission and help from the electric motor — allows it to run at its most efficient.
Yet despite all this fuel-sipping, there's plenty of power when you need it: 430 horsepower and 570 pound-feet of torque. That's diesel territory, and it shows in the towing ratings, too, which can reach as much as 12,700 pounds with the right accessories.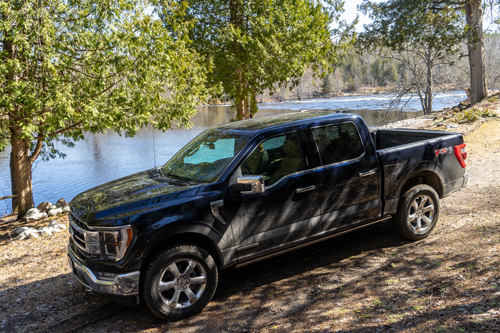 As-tested, the truck weighs in at $83,715 including $1,950 destination and delivery charges. The hybrid starts, in XL form, at just more than $50,000. In both cases, the truck does present a compelling argument for itself: the $83k as-tested price is one that gas-only trucks can cruise right past without breaking a sweat. For instance, the Limited starts at $90,000, not including destination.
At either price, a contractor can either use the 2.4-kilowatt power supply that comes standard, or for $1,000, upgrade to the 7.2-kilowatt unit in the test vehicle. Either saves the contractor the $3,000 cost of a stand-alone generator, which would require space in the bed to haul, as well.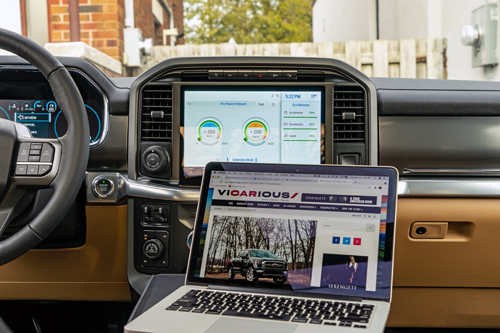 The 12-inch centre stack screen, standard on the test Lariat, as well as higher grades, is crystal clear and high-definition in quality, and its touchscreen functions are easier to use than most, owing to the size of the screen. That big screen allows Ford to space out controls on various menus more, reducing the odds of touching the wrong control. Most oft-used functions are brought out to physical controls — heated seats, climate, and so on — another nice touch.
The SYNC4 voice commands are even more conversational in nature, allowing drivers to say things such as, "I'm hungry" to get navigation directions to a nearby restaurant. You can also use the voice system to tune radio stations, adjust temperature and so on.
The 2021 F-150 PowerBoost is an impressive display of hybrid technology, and, for now, is the only full hybrid on the market. When I remember some pickups from the past averaging 24 litres per 100 kilometres, seeing this one sip fuel at 12.8 is refreshing on the eyes and easier on the wallet.
2021 Ford F-150 PowerBoost
Price as tested: $83,715.00.00
Freight: $1,950.00
Configuration: Front engine/four-wheel drive
Engine/transmission: 3.5-litre EcoBoost V-6 with 35-kilowatt electric motor / 10-speed automatic
Power/torque: 430 horsepower/ 570 ft-lb of torque
Combined fuel economy ratings: 9.8/9.7L/9.8L/100 km combined.
Observed fuel economy 12.8 L/100 km
Warranties: 3-years/60,000 km (basic)
Competitors: Chevrolet Silverado, GMC Sierra, Ram 1500, Toyota Tundra
Link: Ford Canada