Dedicated off-road rigs such as side-by-sides have been encroaching on pickup truck territory, both in terms of features and price, for some years now. The latest machine to take that approach even further up the scale? Can-Am's rugged workhorse Defender in top-shelf Limited trim. For years, the Defender line – with its dump-style box and torquey engines – has popped up on job sites and hunting trips ready to haul people and their gear over tough terrain.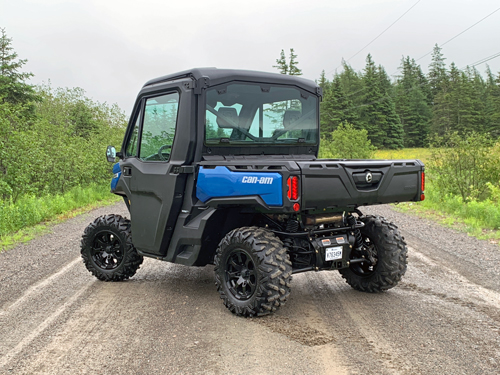 With the Limited trim, the crew from Quebec has imbued the work-ready Defender with features once reserved for the automotive market. Fully enclosed cab? Check. Power windows? Of course. Ventilation with heating and air conditioning? Yewbetcha. Toss in a tip-out glass windshield packing a wiper/washer combo and there's a case to be made this thing is better equipped than pickup trucks of just a couple decades ago.
It's also more expensive than them, too.
To be clear, those with a thirst for the great outdoors can get into a Defender for just $13,499 here in Canada – a sum which will net them a rig with 52 horsepower and a distinct lack of doors. Contrast number to the $31,799 starting sticker of our decked-out Limited and you begin to understand the breadth of this model's range, which is as wide as the prairies on which it works.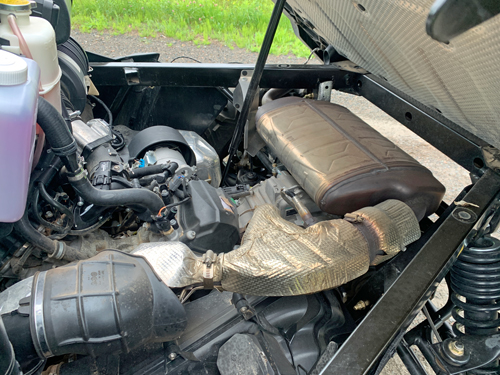 Out back of the Defender Limited is a useful dump bed that has an automotive-grade tailgate and is easily lifted skyward with a single hand. Under that cargo area, which can bear 454 kg of payload, is the brand's so-called HD10 engine, making 82 horsepower from its 976cc V-twin. That's a fair number of ponies adrift from sportier entrants in Can-Am's lineup (witness the new 200 horsepower Maverick variant for 2022) but this is a machine built for work, not outright speed. Power delivery is less manic than that of a UTV with sporty intentions, simply building velocity on flat surfaces and powering its way out of sinkholes and moors when the going gets rough.
Speaking of, arched suspension a-arms and 27-inch tires on 14-inch wheels contribute to the Limited's full foot of ground clearance. There's ten inches of wheel travel at each corner, so go ahead and crawl over that obstacle. Electronic hill descent control – like on trucks (see a theme here?) – is dead simple to use and keeps yer foot off the brake while traversing steep declines. While on the subject of stoppers, the parking brake is just a metal rod that swings down from the dashboard and prevents the brake pedal from releasing after the drivers stops. It's a simple answer to an important question, one which includes absolutely zero fiddly parts like e-brake cables or levers. Towing capacity maxes out at 1134 kg, just 227 kg shy of the Defender Limited's own curb weight (glass is heavy). Good thing there's a 2050 kg winch up front.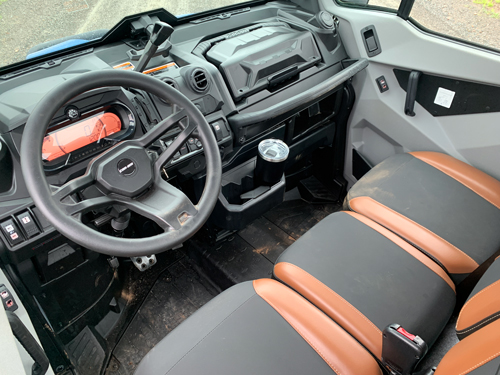 Its interior is typical Can-Am, with a set of outdated digital gauges that have been far surpassed by the likes of RideCommand tech over at Polaris. It must be said that a radio of some sort should really be included at this price point. To supplement the lack of communication, we installed a Midland FRS radio, a micro-mobile two-way unit which did a great job of permitting us to find our buddies in a rural area with no cell service. As an added bonus, the radio has a trucker-style mic permitting us to recreate our favourite Smokey & The Bandit scenes. Your author recommends it heartily.
While the brand stumbles in tech, it more than makes up for this deficiency in an important UTV area: storage. No one – and I say this unequivocally – currently does UTV interior storage better than Can-Am. In the Defender Limited, space and cubbies abound, rife with smartly engineered features. A dashboard cargo box ahead of the passenger can be removed and used as a tackle or tool box, easily carted around thank to a handy flip-up handle. Underneath the bench seat is a waterproof and removable box, perfect for either storing work items like rope and tools or into which this writer would toss his daily catch. In all, there's 48.1 litres of onboard storage space, all of it handy and – most importantly – usable.
But the reason someone would consider the Limited trim is its standard HVAC system. Automatic heating or cooling, depending on what temperature is requested by passengers via the system's digital control panel, is provided through a raft of vents including a pair located up by the Limited's windshield. On a particularly muggy and humid run, the system had no trouble defogging the glass while the wiper/washer cleared off exterior grime of which there was plenty. Pro tip: since there is no fan speed control, close all vents except the quartet of round ones on the dashboard to quickly cool the cabin with air conditioning on a hot day. Is there a better feeling than arriving at your far-flung off-road destination – whether it's for work or recreation – totally rested and comfortable instead of beaten up and dirty?
Which is, of course, the question potential buyers need to ask themselves before shelling out pickup truck money on a machine that's not road legal. If you're supplying transportation for workers (or yourself) who toil in oppressive heat or extreme cold, the Defender Limited begins to make sense if those people need to reach job sites located far beyond the reach of any standard pickup truck. So, too, will this rig appeal to the moneyed set who want to arrive at the duck blind or deer stand without looking like they swam through a bog to get there.
If this is the environment created by UTVs muscling in on the pickup truck space, bring it on.