Surprising as it may sound, the BMW M3 has been cutting up autobahns, country roads and racetracks since 1986; don't look now, but that's almost 40 years ago that BMW took their big-selling, mass market compact and proceeded to pretty much invent the compact performance sedan segment.
For 2021 BMW is releasing the sixth generation of the car with more power than it's ever had before, more chassis tech (including a 10-stage traction control system that will actually "rate" your drifts, as if you were a Formula D racer) and super aggressive styling that culminates with that grille. 2021 also sees the debut of "Competition" versions of both the M3 and M4, which is a designation we've already seen on vehicles like the M2, the M5 and many of BMW's crossovers.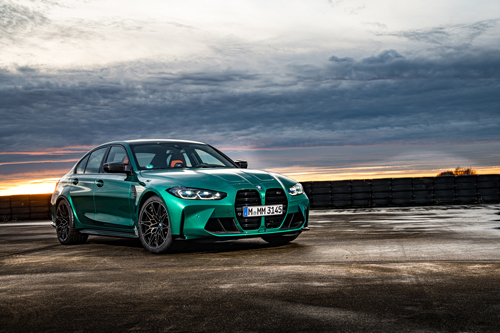 The new models are coming after a banner year for BMW M, who saw sales grow to 6 per cent worldwide. It should be noted, however, that those figures speak both to the "M" cars like the M3/M4, but also the "M Performance" vehicles such as the M240i, X6 M50i and M340i.
Speaking of that grille: BMW says that while it may look quite ornery, it speaks to the stylistic angle that BMW is aiming for with the new M3 and M4. An angle that is a pretty big departure from M-cars of old, that always kind of had a bit of a wolf-in-sheep's-clothing look to them.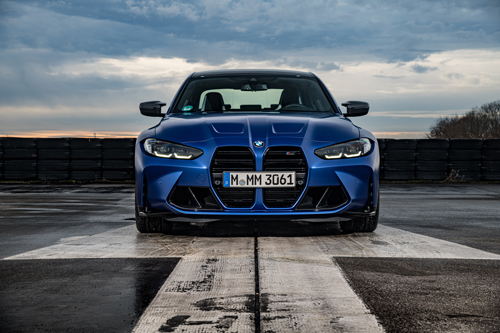 "Design-wise, brands are evolving," said Anne Forschner, BMW Creative Design project manager. "We see a big demand in our (aftermarket) performance parts. There's a big take rate for these extra expressive looks so this is a reason why we go in a more expressive direction with our M cars". Essentially, customers are looking for something a little more overt from the likes of the M3 and M4, so BMW is simply responding to that demand.
"Expressive" is probably the right word. There are huge fender flares to accommodate wider tires and track, bright exterior colours with names like Isle of Man Green and Toronto Red followed by rowdy interiors named after world-renowned racetracks like Silverstone in Great Britain and Kyalami in South Africa. Other neat details include brake calipers that are available in either red, blue or black — or gold, in the case of the optional ceramic braking system.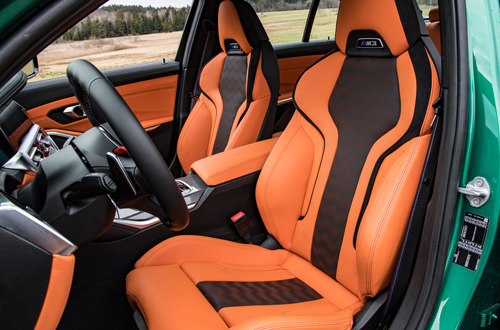 When it comes to interiors, it's not just about the colours, but the features as well. There are optional carbon bucket seats, for example, with adjustable side bolsters and removable headrests so you can more easily fit a helmet with five-point harness when you hit the track. Or the M Drive Professional package that allows the digital gauge cluster to be modified to show just the most basic info, GT racer-style, as well as switch off all traction control and stability systems and the infotainment display, so you can focus on the driving.
Of course, through all this, we can't forget that one of the original "fast" takes on a more pedestrian BMW – the 3.0 CSL "Batwing" of the '70s – was named as such precisely because it had huge wings and fender flares and diffusers. In that way, you could say these new M cars are actually going back to their roots. Speaking of roots: while the M cars kind of got their start in the '70s, the 3 Series on which the M3 is based got is start way earlier than that – think 1930s – and back then, its grille was even more gargantuan than what we have here.
The grille, of course, is responsible for gulping in as much air as possible and sending it to the engine, which is a new take on the S58 engine used on the previous-gen cars.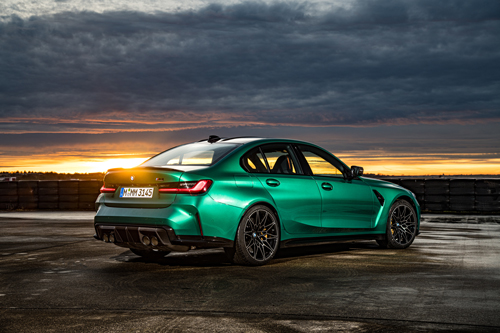 Like previous, it's a twin-turbocharged straight-six, but it gets a dollop of power to the tune of 480 horsepower and 406 pound-feet of torque in the standard M3 and M4, and 510 hp and 470 lb-ft in competition models. Both the M3 and M4 will be available with rear-wheel-drive or all-wheel-drive, but even the AWD models are kind of RWD models in that the front axle can be completely locked out in certain driving modes.
Which, of course, would allow you to fully exploit the traction control system which, along with the engine, transmission, steering and for the first time, the brakes, can be set to numerous levels, each one allowing a little more wheel slip than the last. There's also M Adaptive Suspension that adjusts to the surface below and to driver inputs within milliseconds.
It was the TCS that actually led to BMW implementing the "Drift Analyzer" tool that does…well, pretty much exactly what it sounds like. It takes your speed, your angle of attack, your steering inputs and more into account and gives you a drift rating out of five.
"We needed to develop a new traction control system," said Hagen Franke, M3/M4 product manager. "And the result of this development is the ability to now offer a 10-stage traction control system."
"By doing so…we had lots of data and we thought 'well, we have all this data floating around in the car anyway, why not show (it) to the customer?' And hence it was Drift Analyzer." So, this new feature? Discovered by accident, allegedly. Whoever said the Germans lack a sense of humour obviously haven't met the M3/M4 team…
In addition to the new power and skiddy mode, BMW is also offering a manual transmission on every RWD model. This is a nice option, although the lack of a twin-clutch automatic as opposed to the torque converter eight-speed the cars get is a bit of a head-scratcher, though BMW maintains that the eight-speed offers all the performance the cars need.
In addition to the hard-top coupé M4 and M4 Competition, a convertible version of each will be joining the ranks later this summer, leading to what BMW is calling six all-new models arriving by the time 2021 is out.
These are bound to be some real bahn-burners; we can't wait to try them out and they should be in BMW stores across Canada by the time you read this, starting at $84,300/$88,300 for the M3/M3 Competition, and $85,100 and $89,100 for the M4/M4 Competition.