Happy feet make for a happy person and BMW Canada has sent me something that makes my feet happy: a 2018 M240i Coupe.
Why? It's a test car that has three pedals like the sports car gods intended: accelerator, brake and…be still my beating heart…an honest-to-goodness CLUTCH connected to a six-speed manual transmission.
My left foot has something to do! It is no longer bored just resting there on a dead pedal while the right foot has all the fun looking after starting and stopping. It gets to operate an honest-to-goodness CLUTCH connected to a six-speed manual transmission.
Truth be told, it also makes my right arm happy to be rowing through those gears rather than just participating in steering duties.
This little car dressed in a new Sunset Orange cloak is attractive just sitting there in my driveway. It doesn't scream "look at me" but it has a pleasing presence. Can you say "sleeper?"
Equipped with more than $10,000 in options which bring the price to $61,300, the snug little coupe feels, well, opulent. Upholstery is black Dakota leather, the $4,950 "Premium Package Enhanced" includes universal remote control, glass sunroof, navigation, auto dimming exterior mirrors, lumbar support, park distance control, ConnectedDrive Services Professional and satellite radio. For $1,500 you get the "Driver Assistance Package" with adaptive LED headlights, high-beam assistant and driving assistant. The $750 "Smartphone Connectivity Package" comes with Apple CarPlay prep, wireless charging with extended Bluetooth and USB along with WIFI hotspot.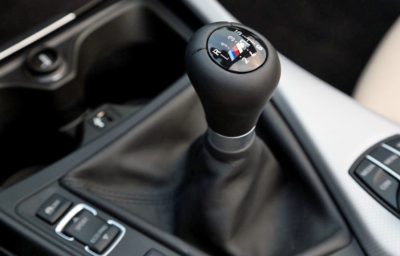 Stand alone options (besides that $895 paint) include upgraded audio system ($1,000) to keep your ears happy, M Performance exhaust ($1,500) to make your ears even happier, and 18-inch light alloy M Performance wheels ($800) to bring a little more joy to your eyes.
The cabin has plenty of room for two and there's space for two more in back if the folks up front don't mind moving their seats forward just a bit.
The trunk isn't cavernous, but its 390L is sufficient that you don't have to pack TOO judiciously for a weekend getaway.
Under the hood is an incredible 3.0L twin scroll turbo straight six engine that fills in any gaps in the happy list. It puts out 340 horsepower and 369 lb. ft. of torque that gets in touch with your accelerator foot at 1520 rpm and sticks around until the tach reaches 4500 revs. There's no discernible turbo lag unless you mash the throttle and even then the hesitation is barely detectable.
As those revs build and the speedometer climbs, my joyful left foot operates the heavy (ish) clutch pedal while my right hand works through the gears. The shifts are short and the shifter has a strangely springy sensation as it perfectly works up or down the gear set. Shifting is flawless thanks to an automatic rev match feature. If you don't like that bit of help you have to get used to it because it doesn't turn off. (I'm not so much of a purist that I object to a BIT of assist).
Omigawd this thing is fun to run. Power gets to the rear wheels so quickly.
Drive it like granny going to church on Sunday and the engine doesn't seem to mind what gear you're in. Drive it like an enthusiast and the sport exhaust emits a mellow yowl as revs increase. Drive it like you stole it and you're in danger of meeting a traffic cop.
Braking, if you apply the pedal hard, is impressively immediate although the feel is somewhat mushy if you're getting into the pedal lightly.
I suspect I would eventually get somewhere near the advertised 9.6L/100 km combined fuel economy, but I was having too much fun to go for economy and averaged just 10.9. Still not bad.
On and off-ramps are playgrounds not to be ignored. Handling is precise, turn-in is quick and steering response immediate. (Did I mention fun?)
Here's one other feather BMW can put in its helmet: my wife absolutely loved this car. And she's not a fan of coupes.
2018 BMW M240I
Price before taxes: $61,300.00
Freight: $2,245.00
Configuration: front engine, rear-wheel drive
Engine/transmission: 3.0L twin scroll turbo in-line 6/ 6-speed manual
Power/torque: 335 hp/369 lb. ft.
Fuel economy ratings: 11.1 L/100 km city, 7.8 highway
Warranties: 4 years/ 80,000 km comprehensive
Competitors: Audi TT, Mercedes-AMG C63 Coupe, Porsche Cayman
Related links:
BMW Canada