It's not usually pretty when an engine dies. Rods can be thrown, pistons can seize, and sparks can fly. It's less dramatic when an engine is killed, however. Which is just what happened to the 2019 Kia Sorento.
The Sorento lives on with some late-cycle refreshments, but it will go on without the 2.0-litre turbo.
For many manufacturers, adding power means slapping on a turbo, not an extra pair of cylinders, but Kia, which until 2018 offered a 2.0-litre turbo in addition to a 2.4-litre normally aspirated four and a 3.3-litre V-6, is going the other direction, dropping the turbo and soldiering on with just the four and the V-6.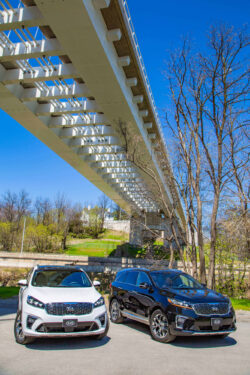 "We've always had the V-6, and if you're talking fuel economy and emissions, a turbo is probably not the way to go," said Ted Lancaster, vice-president of Kia Canada. "What do you do when you have a turbo? You put your foot in it because you want to get that turbo going."
Add to that a 60 per cent take rate on the V-6, "and there was just not a need to maintain a turbo."
It's not the only change, as the 2019 gets what Kia calls a late-cycle refresh. Lancaster said the new model is only a year away, but the advent of new Kia tech, including the next generation of UVO, including internet-based remote features, LED lighting and a new transmission, meant the company wanted to get them into production right away.
Looking like he was about to go hiking — with a backpack, camera, Tilley hat, shorts and untucked short-sleeve shirt, Lancaster wanted to set the tone early.
"This isn't a vehicle to just get to and from work," he said. "This is a vehicle for people to get off their asses and have fun."
Such is the reality of automotive marketing: present to your customers how they want to be perceived, not necessarily as they are. For at a time when obesity is still a leading health concern, carmakers still seem to think there's a huge populace just waiting to charge up hiking trails and kayak through cavernous fiords.
Whatever. Just like selling 4x4s to folks who do nothing more challenging than a gravel parking lot at the country store, the marketing works, and so does the Sorento.
Ryan Yu, product planning manager for Sorento in Canada, said a number of improvements include tuning the electric power steering system for a better response and better feedback. In addition, for perhaps the best feedback, the SX models have the power-steering motor mounted on the steering rack instead of the steering column.
Such a change was evident during our drive from Toronto's airport to Muskoka. The steering response and on-centre feel were both noticeably improved from the previous model.
The new eight-speed transmission for V-6 engines works very well, but on twisty roads it is helped immeasurably by selecting Sport mode, which holds upshifts a little later and hastens downshifts when needed. In Normal and particularly Eco — which Kia says can save 10 per cent in fuel when driven correctly — it's a bit slow to downshift when the throttle is poked.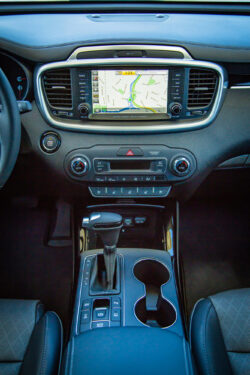 As well, LEDs come in a variety of places on all models of the Sorento, with LEDs also appearing in the headlights of SX and higher models. LEDs are the daytime running lights and positioning lights on all models, as well as taillights of higher models.
Kia let slip that the next model, the full redesign, will include a head-up display on higher-end models. Odd, since carmakers are often loath to discuss future products. I won't tell them I told you if you won't.
New also for 2019 is the ability to get three rows of seats even with the smaller engine. Not sure I'd want to load it up that much with only 185 horsepower on tap, but in a pinch. You can also get all-wheel drive with the 2.4, too.
The 3.3-litre V-6 comes standard with three rows of seats, which might be unfortunate. I think I'd prefer a third-row delete option and gain the extra hidden storage space instead.
2019 Kia Sorento
Engine: 2.4-litre normally aspirated four; 3.3-litre V-6
Power: 185 hp @ 6,000 rpm (2.4); 290 hp @ 6,400 rpm (3.3)
Torque: 178 lb-ft @ 4,000 rpm (2.4); 252 lb-ft @ 5,200 rpm
Transmission: six-speed automatic, eight-speed automatic, optional
Brakes: four-wheel discs
Suspension: MacPherson strut with stabilizer bar (front); multilink with stabilizer bar (rear)
Fuel economy (l/100 km, city/highway): 10.7/8.2 (LX FWD); 11.2/9.0 (LX AWD); 12.5/9.7 (V-6 AWD).
Price: $27,995.00 (LX 2.4 FWD); $30,295.00 (LX 2.4 AWD); $32,495.00 (EX 2.4 AWD); $34,795.00 (LX V6 Premium AWD); $38,365.00 (EX V-6 AWD); $40,865.00 (EX V-6 Premium AWD); $44,865.00 (SX V-6 AWD); $48,865.00 (SXL V-6 Limited)
Related links:
Kia Canada