For such a small word as "Eco", there sure is a lot going on at the Ford Motor Company these days when it comes to how you say it. Pronounced "eeco" as in economy when associated with the new EcoBoost turbocharged engines, we were quickly made aware at a recent first drive event in St. John's, Newfoundland that the new 2018 Ford EcoSport would be referred to as the "echo" Sport.
For economy of scale reasons alone, it would seem reasonable if there was only one way to say it. But such is the automotive industry in today's marketplace. There is always some new way of branding the latest vehicle or technology that's designed to get people talking.
The 2018 Ford EcoSport is the automakers answer to one of the hottest segments in the market, the small CUV. It bumps heads with several established players including the Jeep Renegade, Chevrolet Trax and Honda HR-V, as well as the equally new Hyundai Kona and soon to be unleashed Nissan Kicks. This was also Ford of Canada's opportunity to punctuate the fact Ford is moving away from cars and focusing on all things SUV, crossovers and trucks. But what about the Mustang? From what we hear, this is the only car to make the cut.
Four trim levels are available for the new EcoSport; S, SE, SES and Titanium. In a nod to Canadians, Intelligent 4WD is available across the whole model range. Think of the EcoSport as a Ford Escape that spent a little too much time in the dry cycle and you quickly get the idea of what it looks like. There is the signature front grille, optional halogen-beam projector with LED headlights and five unique 16-17" wheels. It looks great for a small CUV, but then so do most of its competitors, so it is good to see Ford is taking this very seriously.
Power comes two ways. The base engine featured in the S, SE and Titanium models is a 1.0-litre I-3 EcoBoost engine matched to a 6-speed SelectShift automatic transmission. It delivers an impressive 123 horsepower and 6,000 rpm and 125 lb-ft of torque at 3,500 rpm. In my drive route around St. John's and the surrounding countryside, I found this to be the more responsive and user-friendly engine of the two. This was a surprise to me as I expected the other engine to be the obvious powerbroker.
The second option, which is standard on the SES model and optional with 4WD on the other models, is a 2.0-litre I-4 engine in combination with the same 6-speed automatic. It delivers what should be a more impressive 167 horsepower at 6,500 rpm and 149 lb-ft of torque at 4,450 rpm.
In real world driving, especially while traversing the hills and valleys in a surprisingly warm Newfoundland, I had to keep my right foot in it at all times so as to not the let the power fade. Whereas, in the 1.0L 3-cylinder, power arrives sooner and seemed, at least in my and my co-pilots opinion, to make it easier and more enjoyable to drive. On straight roads or cruising the highways of Southern Ontario and the Prairies, the 2.0L may prove to be the preferred choice.
Steering feel is solid, something you might not expect in a compact CUV such as this. Independent front and non-independent rear suspension is both easy on the road and in tight spaces. While the overall wheelbase is obviously small, I was pleasantly surprised at how comfortable the EcoSport is to drive, even when the road is less than perfect. On that note, it should be an excellent choice for big city driving in Toronto and Montreal, as well as the many other famously potholed Canadian cities.
Inside, there is a surprising amount of head, leg, shoulder, hip and arm room for such a compact space. I could even fit in the back seat, albeit the front seat was pulled forward as much as possible. I might even consider taking a road trip with four adults assuming there were enough stops to get out and stretch for a few minutes. For those families with two adults and two small children or pets, the EcoSport is a viable option you should definitely consider.
Rear seats flip and fold for added storage, allowing you to pack in a bike or two if the back seat is not required. A hidden rear storage compartment makes it convenient to park the vehicle and leave some valuables behind without the worry that prying eyes will see everything inside the rear storage compartment.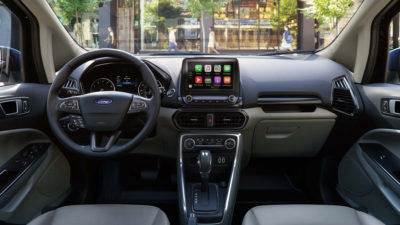 I drove both the SE with standard moonroof and the Titanium 4WD model during the course of a full day. This allowed me the opportunity to experience what is most likely to be the top-selling 1.0L SE model with cloth seats and automatic climate control, as well as a fully-loaded 2.0L Titanium an 8-inch touch screen and Navigation. When it comes to features and usability, I would be hard pressed to chose one over the other.
Pricing for the 2018 Ford EcoSport starts at $22,099 for the SE and tops out at $28,599 for the Titanium before adding any options. The value priced SE model I drove for the morning session starts at $25,099, but with the added Convenience Package with 8" navigation and more listed for a final price with transportation and handling of $1,790 at $28,639. It's not inexpensive for a spritely CUV, but comparable to the rest in the hard-fought segment of the market.
Newfoundland is a harsh province that has wrecked many a fair vessel over its long and storied history. But not the new EcoSport, it handled the roads and off-roads with ease. If a compact sport utility is in your sights, set sail for a Ford dealer and take one out for a test drive. Try the 1.0L EcoBoost first, it might surprise you.
2018 Ford EcoSport
Trim level: SE
MSRP: $26,849.00
Options: $1,750.00
Freight: $1,790.00
Configuration: front engine, 4WD
Engine/transmission: 1.0-L EcoBoost I-3/ 6-speed automatic
Power/torque: 123 hp/125 lb-ft
Fuel economy ratings: 8.6 L/100 km city, 8.1 highway
Warranties: 3 years/ 60,000 km basic, 5 years/100,000 km powertrain
Competitors: Chevrolet Trax, Honda HR-V, Hyundai Kona, Mazda CX-3, Nissan Kicks
Related links:
Ford Canada