The word traverse means "to travel across or through" and so it was my day started out on what should have been a most excellent adventure. Then I arrived, after a 20-minute drive, at the Burlington Skyway to a chorus line of red brake lights and a police blockade. My journey seemed doomed, even the alternate route was backed up for five kilometres. This was certainly not the travel day I had expected, but I had to press on.
The official media introduction of the 2018 Chevrolet Traverse was taking place in Shediac, NB. It sounded fantastic when I first accepted the invitation for vicariousmag.com to attend. But now, stuck in the cumulative mass of frustrated commuters and finally within eyesight of the airport, it appeared there was little chance I would catch my flight because of a second backup. My traverse would end before it really got started.
Of course, every good travel story has a few surprises and I made it to the gate with seven minutes to spare. Sometimes airport security is efficient and Air Canada was equally up to the task. Now It was on to New Brunswick!
The 2018 Chevrolet Traverse is all new. This is not a simple refresh or mid-model shakeup, it is a top-to-bottom new edition of the model and an important one at that. In fact, like my last-minute arrival at the gate, the new Traverse enters the hot sport utility market just in the nick of time.
Longer, larger, more refined and roomier than the previous version, Chevrolet, like everyone else these days, is hot on the trail of building more SUVs than cars. And why not, the market demands it. In fact, Chevrolet is introducing a total of 4 new crossovers in calendar year 2017 with Bolt EV, Trax, Equinox and Traverse all new or significantly refreshed.
Two engine choices are available in the 2018 Traverse. First, a 3.6-litre V6 matched to a 9-speed automatic transmission delivers 305 horsepower and 260 lb-ft of torque. Available in front-wheel drive and all-wheel drive configurations, the V6 equipped Traverse can tow up to 2,268 kg while delivering impressive fuel economy. High Country models are equipped with a unique twin-clutch AWD setup.
The second, and what is certain to be a solid choice in the new fuel conscious economy, is a 2.0-litre turbocharged 4-cylinder engine also matched to a 9-speed automatic. Available in the front-wheel drive RS model only, it offers 255 horsepower and 295 lb-ft of torque, plus improved fuel economy over the V6 highlighting 11.7 and 9.0 L/100 km city and highway. Towing capacity is rated at 680 kg, not great but it will haul a little extra cargo should the need arise.
Driving through the New Brunswick countryside near Shediac, world-renowned for its fine beaches and a big lobster statue, most of my time is spent in the 7-passenger High Country edition. It is fully-loaded, with Loft Brown fine grain leather, embroidered front headrests, soft touch materials, bright metal accents and 2nd row captain's chairs. This is a place I could easily spend copious amounts of time on the road.
Creature comforts await your arrival, especially in the Premium, Redline and High Country vehicles we drive during the event. Ventilated front seats and heated rear seats are included plus a heated steering wheel for those cold winter days in Canada. A power tilt/telescoping steering wheel and driver memory seat, plus an 8-inch touchscreen infotainment screen in the center console that lifts to expose a hidden storage area, are just some of the interior highlights. The hands-free power liftgate is convenient and something most luxury CUV buyers have come to expect these days.
A fully battery of safety features includes lane keep assist, low speed collision braking, forward collision alert, high beam assist and more. The High Country edition adds collision avoidance with mitigation braking and adaptive cruise control. All occupants are well protected with multiple airbags throughout.
Inside, road and wind noise is almost non-existent. In fact, you quickly forget this is a full-size SUV. The same can be said for how the new Chevrolet Traverse drives. It is easy to handle on the road, takes corners with precision given its size and capabilities and is surprisingly easy to maneuver in tight spaces as I found out in a backing up competition using only the center monitor. Perfect score!
A total of 11 build combinations, down from 136 in 2017, makes it much easier for potential buyers to choose their model. A favourite of mine is the Traverse Redline, memories of late 60's Hot Wheels flooding my mind with that name.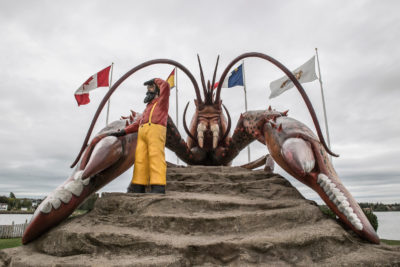 As a journalist I am not supposed to play favourites, but in this case the Redline edition is undeniably hot! It looks aggressive from every angle with gloss black trim, 20" black wheels and neutral density taillamps (black); a compelling case for top marks as one of the best looking utility vehicles in the entire General Motors fleet of crossovers.
Pricing starts at $36,790 for the FWD LS and tops out at $60,390 for the High Country AWD. GM Canada expects the mid-price LT True North, priced at $49,390, to be a strong seller.
Leaving Shediac in the rear-view mirror, passing the giant lobster one more time on the way to airport, it wasn't long before I was once again stuck in Toronto rush hour traffic wishing I was still driving the quiet and responsive 2018 Chevrolet Traverse. If you're going to be sitting idle and going nowhere fast, it may as well be in complete comfort and style.
2018 Chevrolet Traverse
Trim levels: LS, LT, Premier, True North, Redline, High Country
Base Price: $36,790.00-$60,390.00
Freight & A/C tax: $1,895.00
Configuration: front-engine, front-wheel/all-wheel drive
Engine/transmission: 2.0L 4-cylinder turbo/3.6L 6-cylinder/ 9-speed automatic
Power/torque: 255 hp/ 295 lb-ft, 305 hp/260 lb-ft
Fuel economy ratings (L/100 km): 3.6L 6-cylinder
FWD: 12.9 / 8.7 city/hwy
AWD: 13.7/ 9.4 city/hwy
Competitors: Ford Explorer, Honda Pilot, Hyundai Santa Fe, Mazda CX-9, Toyota Highlander
Related links:
Chevrolet Canada