Over the years, I've driven some highly impressive vehicles. From sheer power to technological gadgets and/or overall design, I'm extremely lucky to have been behind the wheel of some extremely unique and interesting vehicles.
Then there's BMW's all-new M5.
I feel like I was, perhaps, one of the last journalists on the face of the planet to drive the newly redesigned and engineered BMW M5. Looking at other's reviews I wondered how they'd managed to let the beastly sedan put them under such a spell. So glowing were the reviews that I picked up the M5 with such nonchalance, I was hoping to be disappointed — if only to be different from my peers.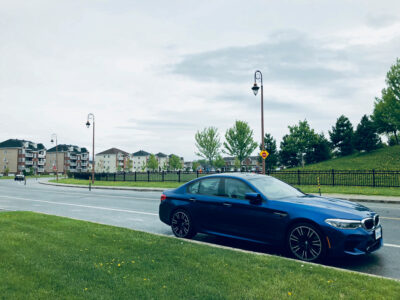 It took me a while to properly find the words to describe this vehicle as a whole. And even then, the words were all too dirty to even hope to print or reveal in public. I was reduced to facial expressions and hand gestures, which were just as obscene.
But I'll try my best here to be civil and not get too carried away … but I make no promises.
Let's start with the fact that the BMW 5 Series has always been my favourite. Not that we should have favourites, but really it's the ideal blend of the 3 Series and 7 Series, perfectly placed in the middle. You'll notice I omitted the 6 Series because it's really in a realm of its own (and requires a whole other platform and article to discuss properly).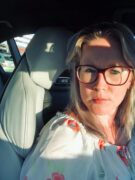 The 5 Series perfectly blends style and features in a package that offers so much more interior space than the 3 Series without overdoing it like the moving land yacht that is the 7. In terms of engine power and choices, the 5 Series has also always offered a healthy choice with plenty of power on tap and good handling ability, despite its larger size over the smaller 3 Series sedan.
Now, hand it over to the engineers in BMW's M Car department et voila. A beast is bred.
There's been some discussion about the BMW M5's actual horsepower output, something about the numbers being much less than they actually are according to a proper dyno test by another motoring publication vs. what BMW wants you to believe. The dyno test has the M5's power number hovering in the 700 horsepower region.
Insert expletives here.
BMW lists the 2018 M5 as having 600 horsepower and 553 lb-ft of torque. Sent to all four wheels, since the M5 is AWD (unless in Sport + mode in which case power is sent to the rear wheels only), the power is palpable the moment you hit the start/stop ignition switch.
I'll give you a moment for the goosebumps to settle or is that just me?
In all honesty, the amount of power and pickup this sedan has is shocking. So. Shocking. It's instant, despite the 4.4L V8 TwinPower Turbocharger (turbo lag is for losers apparently). It's also intoxicating and highly addictive. I was desperate for situations where I just had to merge quickly or accelerate to "avoid" an incident.
I wish there was a better way to describe the sensation of speed in the 2018 BMW M5. It's about so much more than "going fast" (and with a 0-100 km/hr time of just 3.4 seconds it can most definitely go fast); it's the whole experience behind the wheel. And not just for the driver.
Never before have I had a passenger scream at me to stop accelerating for fear of vomiting. And, again, I've driven some seriously fast and powerful cars over the years, with someone sitting in the passenger seat. The level of g-forces exuded upon straight-line acceleration from a standstill is so intense that my poor passenger was reduced to flailing her arms wildly and begging me to stop for fear of ruining the M5's interior with the lunch we'd just eaten together.
Handling in the BMW M5 is sublime and pinpoint accurate. The 8-speed M Steptronic transmission is no slouch and gear changes are flawless and smooth. Add in the M Servotronic that automatically adjusts steering input depending on road conditions (or to your liking via the onboard system that lets you customize your steering feel as well as throttle response and suspension), as well as the active M Differential to help with the traction when all those many ponies are put to use.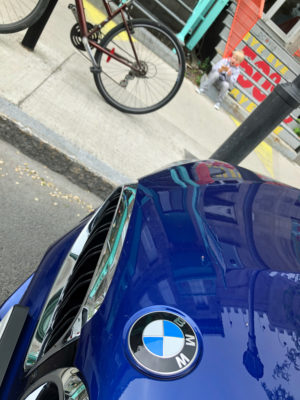 It's easy to forget the M5 is as big as it is when the throttle is depressed. There's next to no body roll when cornering (even cornering hard … or so I've heard), and the speed is so blistering you'll forgive the sedan for its 1,982 kg weight (only 8 kilos lighter than the previous generation … but I won't judge, I know how difficult diets can be).
And the sound. My God the sound. Equipped with the optional M Sport Exhaust system, downshifting to hear the V8 burble, pop and fart is as addictive as depressing the right pedal.
Everything about this car is visceral, real, and despite the coddling luxury, extremely raw.
It's pointless to go on about interior amenities and space because that's not what this car is about. And after all, it is a BMW so you'll find the best that BMW has to offer including M-branded bucket seats up front, contrast stitching, soft-touch material and leather galore, as well as BMW's updated iDrive system that gets better with each generation of vehicle.
I'm rarely left speechless (much to my friend's and family's dismay), but this luxury sedan with the beefy engine rendered me almost incapacitated after a week behind the wheel. It managed to take my breath away, and even to steal a few neurons replaced with giddy excitement and a supreme adrenaline rush.
Would I spend the $133,800 (final price tag on my particular tester that included a $4,900 Marina Blue Metallic paint job as well as a $1,200 carbon fibre engine cover) on a 2018 BMW M5? You bet your a$$ I would. But I'd likely need someone to help me with bail money afterwards…
2018 BMW M5
MSRP: $113,000.00
Price as tested: $133, 800.00
Configuration: Front engine, AWD
Engine/transmission: 4.4L turbocharged, 8-speed automatic
Power/torque: 600 hp/553 lb-ft
Fuel economy: Doesn't matter when you're driving an M5
Competitors: Audi RS5, Mercedes-AMG E63, Cadillac CTS-V, Porsche Panamera Turbo
Related links:
BMW Canada