The four-door sedan market is dead, long live the SUV in all its variants. Certainly, this is a simplification of the current trend taking place in the world of automobiles, but it has a ring of truth as buyers continue to look at sedans with contempt.
Enter Alfa Romeo into the fray, first with the gorgeous and fun-to-drive Guilia sedan and now a few months later the equally compelling Stelvio SUV. If ever there was a reason to consider going rogue in the marketplace and tossing a coin to choose which one wins, this is it. Watch for our Giulia review coming soon!
My test drive this week takes place in the 2018 Alfa Romeo Stelvio TI Sport AWD. Under the hood, it features a 2.0L aluminum 4-cylinder turbocharged engine. Matched to an 8-speed automatic transmission and all-wheel drive (AWD), it delivers a robust 280 horsepower and 306 lb-ft of torque. It burbles along to a happy tune, though sometimes there is a little too much bravado coming through the firewall at highway cruising speed for my liking.
Spirited is a word Alfa's are renowned for and this version of the Stelvio, while not the most powerful when compared to the beastly Quadrifoglio, it is more than capable of bringing a smile to your face. Let's face it, 505 horsepower is a nice number to tell your friends over an Iced Capp® at Tim Hortons. But not many of us would ever want to endure the weekly fuel bill associated with the bragging rights. Especially in today's market of $1.34 plus per litre for regular fuel depending on where you live in Canada.
From a design perspective, I see a little Jeep and Maserati in the overall shape and stance of the Stelvio. It has a distinctive Alfa Romeo edge to it, but there is also a blending of more than just one brand in this SUV. Personally, I think it is one of the best looking midsize SUV's currently in the market. It is a stunner and will certainly garner a few comments from people who want to know a little more, especially in the colour Rosso Competizione Tri-Coat ($2,500 option).
Inside, the joy continues for the most part as the look and feel is equally Italian in nature. Black leather seats, real aluminum accents and subtle wood trim is the order of the day here. In some ways, I find it a bit understated and I am surprised at the lack of colour featured on the steering wheel logo. But spend a little time in the Stelvio and any concerns I may have had for the potentially ho-hum interior quickly dissipate with the drive.
Seats are very comfortable, both front and rear. All controls are within easy reach, and it doesn't take long before I have mastered the center console dials, steering wheel controls, power windows and mirror adjustments with a certain sense of pride. It does take a few days to remember the start/stop button is located on the left side of the steering wheel, but even that makes the experience of driving the Stelvio a little more epic. And those paddle-shifters in the TI, love them!
If I do have one complaint, it's with the audio system. The screen is so small by comparison to other vehicles in this segment that it would be humorous if it wasn't so annoying. Moving through the settings is easy enough, but I must constantly backtrack to switch stations. The icons are also less than engaging than expected and you would think with the intuitive Chrysler UCONNECT system in the fold, Alfa would take advantage and use it here. Have you seen the 2019 Dodge Ram 1500 center console- WOW! Hopefully this will change in the future, but for now be prepared for less than a stellar audio interface in the Stelvio. As for the sound quality, no criticism here for the optional Harmon/Kardon premium audio system.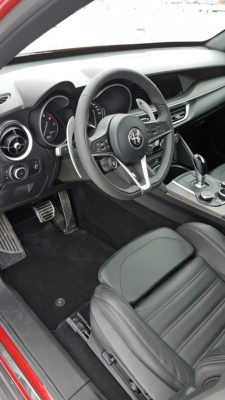 When it comes to storage, the Stelvio is as good as anything else in the market. Pack your bags for a road trip, or take the kids to hockey, horseback riding lessons or a Saturday morning flea market, it can handle it. And it's Italian, so you are certain to look good while doing it all.
In the market for a midsize SUV like everyone else on the planet currently? Consider the newest Alfa Romeo before you make a final decision, it deserves to be on your list of must see vehicles. It's not just the romantic choice in this category, its also a smart choice when it comes to drive, comfort, style and space. Heads or tails, Alfa Romeo has you covered!
2018 Alfa Romeo Stelvio TI Sport AWD
Price as tested (before taxes): $67,502.00
Configuration: front engine/All-wheel drive
Engine/transmission: 2.0L turbocharged gasoline engine/8-spd automatic
Power: 280 hp/306 lb-ft
Fuel-economy ratings (L/100km): 10.8L city / 8.3L highway
Warranty (basic): 4 years / 80,000 km
Competitors: Audi Q5, BMW X3, Mercedes-Benz GLC300, Lexus RX350, Volvo XC60
Related links:
Alfa Romeo Canada
CAR (Canadian Auto Review)