Oh, snow! How I love to hate you! You make everything so pretty yet so difficult at the same time. You make me cold, but my little guy loves to play with you. Your stifling silence as you fall is glorious, but clearing you off my car is hell. Every year we go through the same bittersweet relationship, the same give-and-take that keeps us both at each other's throats. And yet, somehow, we always manage to get along (eventually), especially when the right vehicle is involved.
Now, I'm sure you're all thinking my Christmas Car is some sort of Land Rover or big brute Jeep or even a pickup. Well, you'd all be wrong… and I'd almost be slightly offended that you might not know me as well as I thought you all did!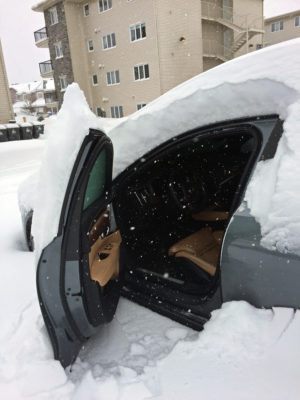 No, my top pick out of all of this year's amazing rides has to be the 2017 Volvo S90 Inscription (MSRP $73,925). And yes, it handles the snow like a pro, and it looks damn good doing it, too.
While I had the sumptuous Swede in my possession, Mother Nature had a bit of a hissy fit and dumped more than 40cm of snow in a single night, and on top of my lovely Volvo. I was worried at first, as I traipsed through thick snow that reach well past my knees, and proceeded to shovel more than a foot of snow off the top of the luxury sedan. I wasn't sure this classy beast was capable of handling the disaster surrounding it.
I was wrong.
Upon clearing the car and firing up the 2.0L turbo-supercharged engine (good for 316 horses and 295 lb-ft of torque), I put the car in drive and proceeded to gracefully plow through the massive pile of snow I'd left in front of it and all around it (as the ultimate test). Volvo's AWD is a thing of beauty, and it handled the situation like a gentleman, never slipping, always in control.
There's something to be said for a vehicle that looks to be a high-powered businessman's corporate transport car, but can also handle the nastiest winter weather Mother Nature throws its way. Oh, and not to mention a 5-year-old in the backseat every day, groceries in the trunk, numerous Starbucks runs, karate practices, and of course the daily trek to the office.