Tesla is dominating automotive headlines these days, but before it came along with its shiny brand of high-performance electric vehicles, the Toyota Prius was one of the best-known cars to pack an electric motor under its hood, even if it worked in concert with a gasoline engine.
By 2010, the Prius was into its third generation and its tenth year on the North American market. During that first decade, Toyota worked hard to refine the Prius's performance and endow it with the kind of durability the brand was known for, even though it was arguably the most technologically advanced car the company had ever produced. The result was a car that was every bit as reliable as it was fuel-efficient.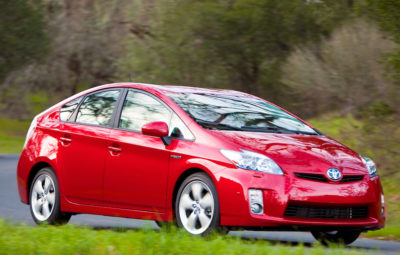 A 2012 service bulletin sought to address complaints of gas engines that ran rough and produced a loud knocking or rattling noise at idle in cold weather. The fix was a redesigned intake manifold whose replacement was covered by the car's new vehicle warranty.
One of the 2010 model's improvements was rear disc brakes to replace the previous generation's drums. That modern touch came with a drawback: The regenerative braking system built into the Prius's drivetrain means the friction brakes don't do as much work as those in conventional cars, and so the rear calipers were prone to seizing up due to corrosion, particularly in cold climates where winter road salting is common. Seized calipers tend not to release fully, creating drag that increases fuel consumption and prematurely wears out the brake pads. The fix is not complicated, but the problem can be avoided with regular brake inspections and some simple maintenance.
It might be a surprise to learn that despite having a high-powered battery to help the drive the car, the Prius also has a regular 12-volt battery that serves to start the car up when the driver pushes the power button. And like many modern, electronics-intensive cars, the Prius is known for wearing down that battery. Symptoms of a weak one include poor fuel economy and the appearance of random, usually unrelated warning lights in the instrument cluster.
Speaking of the instrument cluster, some Prius owners living in humid places like Singapore, Brazil and parts of the southern U.S. say they've noticed fungus growing on the clear plastic in front of the display.
Bottom line: The Prius is not a particularly luxurious or fun-to-drive car, with its plasticky interior and so-so acceleration, but it has demonstrated nearly bulletproof reliability and can achieve impressive fuel economy. If you're not quite ready for an electric car but still want something efficient and high-tech as a daily driver, the Prius should be at the top of your shopping list.