Remember the Suzuki Kizashi? In my opinion, it was one of the best small sedans to come from Japan, but alas, it didn't last long and eventually Suzuki pulled out of North America. What a shame. Here is a throwback to 2011 when the Kizashi was new and very exciting. 
The stampede lasts ten minutes as we stand off to one side, hot air whooshing past at a blistering pace. To be in the presence of such immense power is humbling. My eyes connect with the lead longhorn, it snorts in contempt as one who has walked this same path every day for years. Leading the herd, it turns right at the last possible moment, disappearing into the cold, harsh reality of the stockyard pen. Peace reigns once more as the dust settles and cars reclaim the cobblestone streets of Cowtown, USA.
Fort Worth, Texas is renowned as the site where the Wild West begins. Anyplace east of town is for city slickers. Head west and you are on your way to wide open spaces and a scorching landscape. At least that's how it was at the turn of the 20th Century. Today, Fort Worth is known mainly as a place where modern day cowboys play on 3" high artificial turf and cowgirls wear hip-hugging white shorts, tight blouses, western boots and holster shiny pom-poms at the ready.
The times they are a changing. In much the same way, the auto industry was once dominated by automobiles from North America and Europe. During this era, there was no reason to assume the landscape would be altered by anyone, anytime soon.
Japan entered the fray with inexpensive, less than inspiring automobiles that soon grew to become affordable, quality vehicles with style and reliability as trademark attributes.
Suzuki, a less recognizable brand outside of Japan, has a long history of building quality vehicles, including some of the most desirable motorcycles on the planet. But it had yet to tap into the luxury car market and take its rightful place alongside other respected Japanese automakers including Acura, Infiniti and Lexus. Much like the Wild West has faded into memory; Suzuki shifts the landscape with the introduction of the all-new Kizashi.
Power comes from a 2.4-litre 4-cylinder engine with 16-valve technology. Performance ratings showcase 180 hp at 6,500 rpm and 170 lb.-ft of torque at 4,000 rpm. The multi-point fuel injection engine mated to a CVT transmission with manumatic control returns economy ratings of 9.3/6.8 L/100 km city/hwy.
Stretching the legs of the Kizashi requires a sharp whip and tight control of the reigns. With a gross vehicle weight of 2,070 kg, it is somewhat heavy for a medium sized sedan and feels like it until the 4-cylinder engine spools up and hits the trail. Once underway, power delivery is smooth and quiet, an unusual accomplishment when compared with other similarly designed powerplants.
Equipped with Intelligent All Wheel Drive (iAWD), feed-forward technology transfers power front to back helping reduce traction loss. A switch allows me to turn of the system, causing the Kizashi to act in 2WD mode while saving a little extra fuel.
Dallas, Texas is a short forty minute drive from Fort Worth as we leave for the greener pastures of a big city and fine lodgings. Our destination of choice on this day is the only Forbes Travel Guide 5-star, AAA Five-Diamond Texas hotel; Rosewood Mansion on Turtle Creek, Dallas.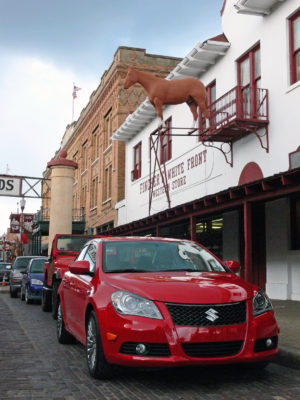 Pulling up to the rounded, cobblestone courtyard, a central fountain greets our entrance as bellmen attend to the luggage and whisk the car away. I take a moment to watch the interaction of the front hotel staff. Kizashi is not a name most of them seem to recognize, but all are impressed. Perhaps it's the Bright Red paint colour dazzling in the sunlight. Then again, sitting beside the other luxury cars parked at Rosewood Mansion, it doesn't look out of place.
A total of 143 luxurious rooms and suites define this exquisite resort property in the heart of residential Dallas. Once inside, our Premium Room features warm earth tones, comfy surroundings with a king size bed, separate sitting area and French doors opening out to a cozy balcony overlooking the quiet, tree lined street below.
A casual walk of the property leads to the outdoor heated pool with Jacuzzi tub. Chaise lounge chairs offer the perfect retreat from a busy day on the range and it isn't long before the sun starts to set and our thoughts turn to dinner.
The Mansion Restaurant is considered one of the best in "Big D". On this night, Executive Chef Bruno Davaillon and his team dazzles us with a duo of prime filet and braised short rib, assorted chocolates and cheese for dessert. The setting is intimate with honey coloured walls and contemporary artwork. After dinner, a private tour of the cellar reveals an outstanding reserve of red and white wines from around the world.
The wind picks up during the night causing the trees outside to move back and forth in front our balcony window. My mind plays tricks as from the parking lot I hear the sound of a potent creature snorting and pawing the ground, waiting to once again own the road and let the rest stand in awe. The desire for supremacy, it seems, is not limited to the confines of a stockyard pen in Fort Worth, Texas.
2011 Suzuki Kizashi
Configuration: front engine/ all-wheel drive
Engine/transmission: 4-cylinder/CVT
Power/torque: 180 hp/ 170 lb-ft
Fuel (capacity): Regular (63L)
Fuel economy ratings: 9.3 L/100km city; 6.8 L/100km hwy
Competitors: Acura TSX, Chevrolet Malibu, Honda Accord, Hyundai Sonata, Toyota Camry, Volkswagen Jetta
Related links:
Rosewood Mansion on Turtle Creek, Dallas