There's a new electric performance car brand on the way.
Volvo's performance division, Polestar, unveiled its first models and a bold vision to become an electric vehicle powerhouse on Tuesday.
The company released details of its first vehicle, the 600-horsepower Polestar 1. It will roll off a brand new production line at the Polestar Production Centre in Chengdu, China in mid-2019.
The Polestar 1 is a two-door, 2+2 seat Grand Tourer Coupe, the company said. It won't be an electric vehicle, but an electric performance hybrid.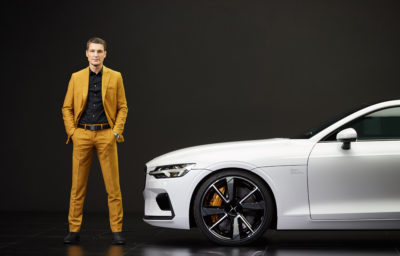 It will have a range of 150 kilometres on electric power alone, but will also have an internal combustion engine in support.
"Polestar 1 is the first car to carry the Polestar on the bonnet. A beautiful GT with amazing technology packed into it – a great start for our new Polestar brand," said Polestar CEO Thomas Ingenlath.
"All future cars from Polestar will feature a fully electric drivetrain, delivering on our brand vision of being the new standalone electric performance brand."
The company says that the Polestar 1 is the world's first car to be fitted with the all-new Öhlins Continuously Controlled Electronic Suspension (CESi) advanced chassis technology.
And you won't really own a Polestar, but you can have a subscription to one, the company said.
It is moving away from the traditional business model and instead will offer two of three-year subscriptions that will allow customers to also rent other vehicles in the Volvo and Polestar range.
As mentioned by Ingenlath, all other Polestar models will be fully electric.
That starts with the Polestar 2, which is set to begin production later in 2019. It is set to be a midsized battery-electric vehicle, competing against the Tesla Model 3 and others.
The third Polestar named, you guess it, Polestar 3, is to be a SUV-style vehicle.
If you are interested in a Polestar 1, the company is already taking "expressions of interest" from potential customers.