Day 2: The first car I'm listing in my portion of our "12 Rides of Christmas" series is the Mercedes-AMG A 35 4Matic sedan.
I feature it because the world of the entry-level Mercedes – in North America, anyway – was represented by one vehicle (or two, depending on – well, read on): the B-Class. You could make an argument for the Smart ForTwo, but that vehicle kind of exists in its own world – there are no Three-Pointed Star logos to be seen anywhere on it – and my gut says that 8 out of 10 people wouldn't even know that the Smart was a Benz.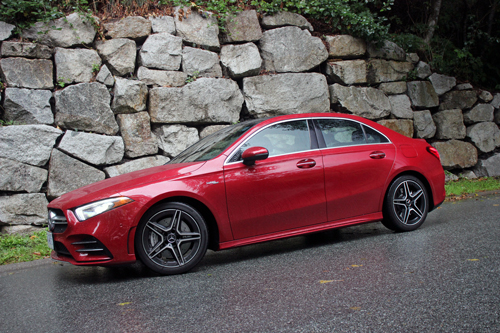 The B-Class was a fine auto – kind of a tall hatch slash people mover – but you kind of got the sense it was an entry-level Benz.
With the A 35 – the whole A-Class line, to be honest – you don't get that same sense. It starts with the styling of both the sedan and hatchback (we're focusing on the former for the purposes of this story) which is spot on, and in the case of the sedan, does a great job of reflecting vehicles further up the line-up, namely the C- and E-Class cars. It sports great details like the shape of the headlights, the bloody great big Benz log at the centre of a blacked-out grille, two-tone wheels, 3D-look taillights, subtle trunklid spoiler, huge dual tailpipes and underbody diffuser. This here is a compact sedan dressed in much more purposeful digs, and I absolutely love it.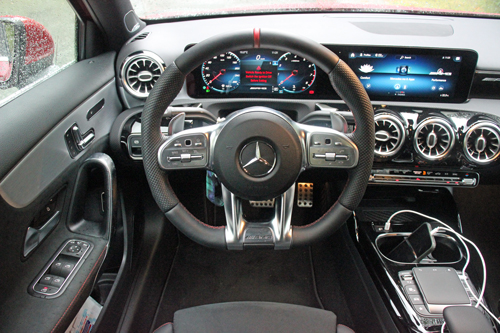 The "just like my big brother" theme continues inside: there, we find dual 10.25-inch displays for your gauge and infotainment displays, displays that can be controlled wither via touchscreen, central touchpad or thumbpads on the wheel (one for the gauge display, one for the infotainment, including Apple CarPlay) as well as numerous themes that change not just the look of the gauges, but also of the ambient lighting and what gets displayed on the infotainment screen. Or, in the case of the "Lounge" theme, automatically turns on your audio system to go along with neon pink and blue ambient lighting. This is all high-class stuff that goes shot for shot for much more expensive stuff in Mercedes' line-up.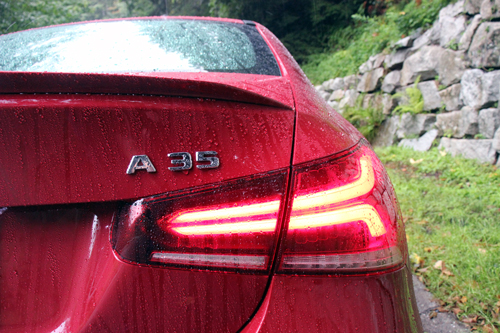 This, of course, is all before you even fire the A 35 up. Once done, you can immediately hear that those big tailpipes aren't just for show as this is a pop-banging powertrain that sounds like small, high-powered turbo-fours should. Speaking of high-powered: that's 302 horsepower and 295 pound-feet of torque, fed through a seven-speed auto to all four wheels. No; you don't get the badge on the engine cover that denotes this as a one-man, one-engine old-school AMG car, but that doesn't change the fact that acceleration is incredibly brisk, all four wheels biting for traction initially, then settling in to a nice rear-biased set-up that's an absolute joy to wind through the corners on your favourite twisty road.
And all for less than 50 grand, thank you very much.