The new for Canada 2019 Mercedes-Benz A-Class Hatchback made its debut in Toronto last night at an invitation only event. If the turnout of curious onlookers is any indication, the new A-Class looks to already be a winner in the marketplace.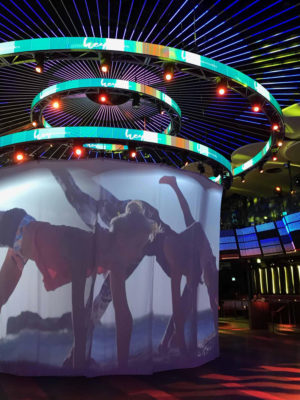 Held at the REBEL Entertainment Complex on the Pier side of the city's downtown core, it was wall-to-wall excitement with the 20's and 30's crowd as the curtain dropped and the newest member of the Mercedes-Benz family in Canada took centerstage. Let the line-ups at dealership across the country begin!
Official press release: About the new Mercedes-Benz A-Class
Pricing starts at $35,990 for the A 250 Hatch and $37,990 for the A 250 4MATIC Hatch, and includes impressive standard features such as a panoramic sunroof, LED High Performance Headlamps, Mercedes-Benz User Experience (MBUX), Mercedes me connect (Mmc), and DYNAMIC SELECT.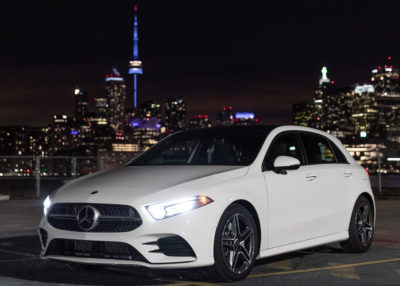 The new A-Class is the first Mercedes-Benz model to feature MBUX, a completely new multimedia system that is ushering in a new era in connectivity. MBUX is customizable and adapts to suit the user, with an ability to learn thanks to artificial intelligence. The A-Class also comes equipped with Mmc, an app-based platform that effectively connects drivers with their vehicles. Mmc allows drivers to monitor their vehicle status through an app on their smart phone and to take advantage of convenient features such as Remote Start and Remote Door Lock/Unlock.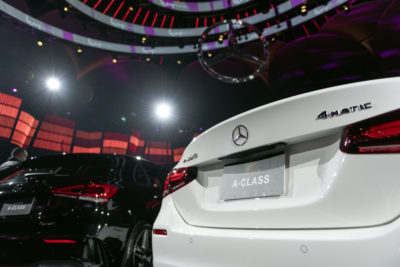 The interior of the new A-Class features a modern avant-garde look that suits its advanced infotainment system. It evokes a feeling of spaciousness that is amplified by a panoramic sliding sunroof, which is a standard feature in a Mercedes-Benz compact car for the first time. The vehicle's unique interior architecture is apparent in the innovative design of its dashboard. For the first time, there is no overhang above the digital screens on the dash. As a result, the wing-shaped main body of the dashboard – available with either two 7-inch displays (17.78 cm), or two 10.25-inch displays (26.04 cm) – extends from one front door to the other without visual interruption. The optional 64-colour ambient lighting enhances the free-floating effect of the dash.
With DYNAMIC SELECT as a standard feature, drivers can choose between four different drive programs – ECO, Comfort, Sport, and Individual – which set options for the engine, transmission and steering.
The exterior of the new A-Class reflects sportiness, dynamism and emotion. Visually, the vehicle is lengthened by a character line along its side, while the sloped "shark-nose" design of its hood emphasizes its upright front. The wheel arches, which can accommodate 17- to 18-inch wheels, underscore the sportiness of the new A-Class. Its LED High Performance Headlamps and Tail Lamps, which come standard on the A-Class, provide a new dimension of lighting technology in the segment.
Related links:
Mercedes-Benz Canada