Kawasaki's original W1 was Team Green's mid-sixties response to motorcycling's British invasion and arguably, one of its most important motorcycles. Thanks to a small corporate investment, Kawasaki was able to trace some design drawings and produce their own version of BSA's venerable A7. To set themselves apart though, Kawasaki milled and mounted the largest displacement engine to come from a Japanese marque, a 650cc parallel twin that offered a significant power advantage (50 hp) and noticeably better build quality: A legend was born.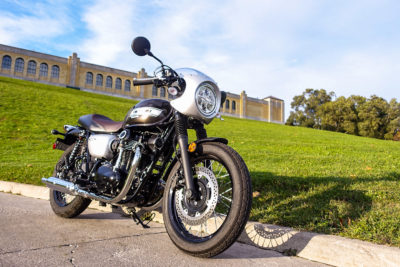 Fast forward 53 years and, as much as our motorcycling landscape has changed, plenty has stayed the same. At least visually. Nostalgia's pull on a petrolhead's heartstrings is stronger than ever. You can't swing a wallet-on-a-chain without hitting a cafe racer, scrambler or some other classically styled bike in most dealer showrooms and Kawasaki is no different. Their 2018 Z900 RS and Cafe version are arguably some of the finest examples of a modern classic available today, paying noble homage to the iconic Kawasaki Z1 while delivering the modern niceties of ABS braking, competent suspension and ride-by-wire throttle. So, it was a bit of a surprise that, after shuttering the line three years ago, Kawasaki re-introduced their W line for 2019.
Unlike the Z900 RS, the 2019 W 800 ($11,499) isn't an homage bike. No, the new W is rolling epitome of old-school, right down to its bias-ply tires. You can fire its ignition without pulling in the clutch; there is no sensor. The dash consists of an analogue tach, speedo and a handful of idiot lights. It flexes, wobbles and gyrates with every input. Speed is built with little to no alacrity and the vibrations below 4 thousand RPM (and above 6,500) are enough to numb at least one arm, an arse and a leg long before the tank runs dry. This is a deeply flawed motorcycle… And yet it's absolutely brilliant.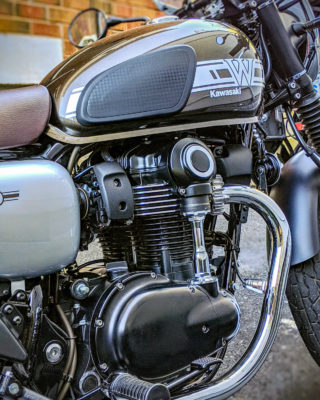 First of all, just look at it. Fork gaiters, finned headers, a two-toned seat and peashooter pipes combine to make any sepia-toned memories of a time "when sex was safe and motorycling was dangerous" immediately tangible. And is that a bevel-drive I spy?  Were it not for the LED headlight, the 2019 W800 Cafe could pass as an immaculately kept barn find.
Fire the 773cc, vertical twin and your ears are greeted by the muffled hum of mechanical harmony as the beveled-gear to my right spins the single-overhead camshaft into a lopey idle. Throttle response is smooth and the pull on the clutch is light and forgiving. That two-tone saddle is slender and sits low enough (790mm) to accommodate most riders while the reach to the clubman style bars is comfortably aggressive. The mid-mounted foot controls placed my knees in direct contact with the rubber pads affixed to the tank and despite a bit of weight on my wrists while riding, I found things comfy enough for my 6-foot (183cm) frame.
Zipping into traffic, the W800 Cafe is nimble and power delivery is anything but intimidating. Peak torque hits above 4,000 rpm, but there's enough shove down low to lead a pack of cars away from an intersection. Keeping revs low and lugging around town generates a buzz that some might find off-putting but that I'd call character. It gives the Dubya a decidedly aged feel to go with its look that I immediately dug. If picking up good vibrations isn't your thing, learn to work the engine and transmission a little differently and things will smooth out as the engine finds harmony between 4 and 6 on the tachometer. Best of all, thanks to taller gearing and a lack of monstrous power, you can do this without gambling with your license.
On the highway, the W800's engine hums along perfectly at and above posted limits. It's handling attitude however can feel a bit twitchy. You see, Kawasaki baked in a touch character here too. The double-cradle frame is stiff enough, to be sure, but soft-ish suspension and those bias-ply tires accentuate the W800's ability to communicate its limits. Performance focused riders out there may not approve of these niggles but again, I was a big fan. You see, there are plenty of bikes out there that can easily outperform their riders abilities but the W800 is one of those mechanical rarities that can actually teach about limits long before catastrophic speed is achieved: better to ride a slow bike fast, than a fast bike slow, right?
Which makes the W800 an excellent choice for newer riders. It's timelessly stylish, comfortable, controllable and sized right for just about anyone. At 222kg, it's not exactly a lightweight but those slim tires and low seat make it easy to manoeuvre. There's just enough power to keep riders of all talents smiling but its delivery is smooth and predictable enough to forgive rookie mistakes. Even the braking, which has ABS as standard, is metered, communicative and never too snatchy unless you're absolutely decisive with your inputs. The W800 could well be one of the best things for motorcycling, except for one problem.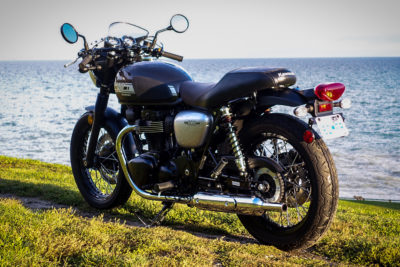 Well there's two problems actually, and they come from the competition.
Triumph's Street Twin nets riders "premium" branding, modern technology (selectable riding modes), more power and undercuts the W800 by a stack of nine Sir Robert Bordens ($10,600). And then there's Royal Enfield. The Royal Enfield Continental GT 650 matches the W800 on aesthetic charms and mechanical stats, but the componentry bolted up comes from a higher shelf: braking is handled by Brembo, tires (which are radial, by the way) by Pirelli and there's even a sixth gear. Of more interest though, is that the World's oldest and largest motorcycle company is selling that similar (and arguably better performing) bike for $3,200 less ($8,240+).
Those savings alone will speak volumes to potential buyers, as they should. And I'm not entirely sure why the W800 is as pricey as it is. But don't overlook it for a second. If a retro ride is on your radar, swing a leg over the W800 and take it for a test ride: It's old school charms stand out in a sea of modernized Triumphs and, in my opinion, offers a smidge more fun and approachable education than that Continental GT. Plus, it'll probably look and run just as good in another 53 years.
2019 Kawasaki W800 Cafe
Price as Tested: $11,499.00
Engine/transmission: 773cc, SOHC Vertical Twin
Horsepower: 35kW (48ps) / 6,000 rpm
Torque: 62.9Nm / 4,800 rpm
Fuel (capacity): Premium (15 L)
Weight: 222kg
Competitors: Triumph Street Twin, Royal Enfield Continental GT 650, Suzuki SV650X, Honda CB650R
Links:
Kawasaki Canada