For the 2016 edition of "Sabrina does Christmas in her hometown", I got the keys to a shiny, midnight blue 2017 Infiniti QX60 with carte blanche to put the required 1,000 kilometres on this spanking new vehicle. Despite its intimidating size, the QX60 turned out to be the ideal wheels for a long journey. It was comfortable, packed with all you could wish for in terms of convenience and a reliable ally driving on some very difficult road conditions.
Introduced four years ago as the JX35, Infiniti pressed the reset button on their nomenclature in 2014 and changed its name to QX60. The makeover also included a newly styled front nose sporting LED headlamps, redesigned fog light crates, a mesh front grille and chiseled hood lines. I for one like what Infiniti has done to their lineup and if the QX50 concept unveiled at the Detroit auto show is any indication of what the maker has in store for the years to come, I am looking forward to it.
The QX60 is big, but reasonably sized, especially compared to the Nissan Armada I drove the previous week. It was a behemoth that made me feel like a turtle carrying a shell twice my size on my back, with a lot of wasted space for one person.
Interior space is luxurious and comfortable, both front and back. Despite featuring seven available seats, the space really is optimized for five occupants. Without looking like a row of milk crates turned upside down, as is the case with several large SUV's, the third row of seat remains better suited to "Mom, can we give my friends a ride back from soccer practice" situations rather than the annual extended family road trip. I would not recommend installing someone back there on long trips, unless you have a less favourite child.
Having a third row forces you to sacrifice some cargo space. At a total volume of 447 litres with the rear seats in an upright position, this is less than most current compact crossovers. To maximize both passenger space and cargo capacity, the third row needs to be folded down. Access to the back also requires you to contort your body, despite the second row seats sliding forward, emphasizing the utility-over-comfort purpose of the back row.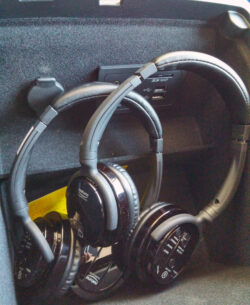 All occupants benefit from a generous list of options. The QX60 I drove was equipped with both the Premium and Technology packages. It featured a full infotainment system with 13 Bose speakers, navigation, intelligent cruise control and a pair of 8-inch displays located on the back of the driver and front passenger's headrests, ready to be enjoyed by the fussiest of passengers. It also included a set of two wireless headsets, heated front and second row seats, a heated steering wheel as well as a boatload of safety features such as lane departure warning, blind spot warning and intervention, predictive forward collision warning and backup collision intervention.
The QX60 is powered by a 295 horsepower, 270 lb-ft of torque 3.5L V6 engine, teamed with a continuously variable transmission, or CVT. Thanks to Nissan's recent improvement of their CVT, what started off as a slow-reacting, gutless transmission, has now evolved into a more responsive system that doesn't completely ruin the fun of driving.
I discovered this first hand in the 2017 Nissan Maxima, its performance surprised me and I am glad to see this has spread to the entire Infiniti lineup. When you consider the mission here is for utility and not performance, this transmission does a good all-around job from takeoff to the occasional sudden acceleration at speed. With a fuel economy average of 12.9 L/100km and a 74-liter tank, stops at the pump are a little on the expensive side, but scarce.
Vehicle handling is smooth and thanks to the excellent all-wheel drive, there is a sense of confidence you can get to your destination no matter what the road conditions are like. I had to face a pretty intense episode of freezing rain during my Holidays in Montreal. It was the kind of weather that turns highways into an unpredictable ice rink and forces everyone to slow down to 50 km/h and keep the hazard lights flashing all the way.
Taking the first corner, I realized the surface was a lot more treacherous that I had anticipated so I switched into snow and ice mode. Among other things this lowers the output to the wheels to avoid spinning and keep better control. With two hands anchored on the wheel, I tackled a slippery highway with no problem. Surprisingly, the empty left lane offered very little challenge for this road warrior. With proper caution, the QX60 and I made a fabulous team against the elements! I felt safe, but not cocky, driving it in difficult road conditions, which is the ideal mix to tackle bad weather. Confidence inspires better driving.
In the realm of accessible, premium three-row SUVs, the 2017 Infiniti QX60 is a great contender. Competitively priced to start at under $50,000, it is anywhere from $8,000 to $20,000 less than its main competitors. Even the version I drove came fully equipped for the price of an entry-level comparable German SUV. Affordable luxury, reliable behaviour and comfort for all, except maybe those in the very back, it offers a great package when premium space is required.
2017 Infiniti QX60 AWD
Price (before taxes): $63,140
Freight: $1,995.00
Configuration: front engine, all-wheel drive
Engine/Transmission: 3.5L, V6/CVT
Power/Torque: 295 hp/270 lb-ft
Fuel (capacity): Premium (74 L)
Combined fuel economy ratings: 10.0 L/100 km
Observed fuel economy: 12.9 L/100 km
Competition: Lexus RX350, BMW X5, Mercedes-Benz GLE, Audi Q7
Related links: